Trump Wants Better WTO Treatment, Adviser Hits Back at Critics
(Bloomberg) -- President Donald Trump said he doesn't plan to withdraw from the World Trade Organization, but wants the U.S. needs to be treated more fairly by the global body.
The U.S. won't exit the Geneva-based organization "at this point," Trump said Friday. His top White House trade adviser hedged on the question on Saturday, saying any decision was up to the president, and pushed back at critics of U.S. trade moves from companies including auto-maker General Motors Co.
Axios news agency reported earlier in the day that Trump had repeatedly told top White House officials he wants to exit the WTO, citing people familiar with Trump's thinking. The Stoxx Europe 600 Index and U.S. futures wobbled on the story before recovering. Earlier Friday, White House officials sought to ease concerns over the report, with Treasury Secretary Steven Mnuchin calling it an "exaggeration."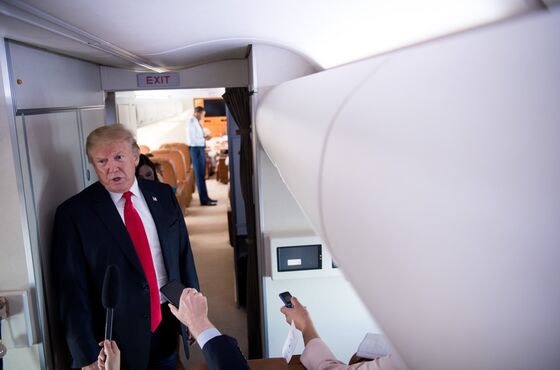 Trump spoke about the WTO aboard Air Force One en route to Bedminster, New Jersey. The remarks capped a month in which global tensions surged after America's major trading partners retaliated against U.S. tariffs by imposing restrictions of their own.
In the latest escalation, Canada on Friday said it would levy duties on C$16.6 billion ($12.6 billion) of American goods in response to American tariffs on steel and aluminum imports. U.S. tariffs on $34 billion of Chinese goods are set to take effect on July 6 and a further $16 billion could follow. China has vowed in-kind retaliation.
Trump has said his tariffs are designed to protect domestic industries that have been hammered by what he feels is an unfair global trading system. Trump has long criticized the WTO for allowing countries such as China to levy high tariffs on U.S. goods such as cars, even as its economy has matured. The president has stopped short of publicly pledging to withdraw from the group.
"They have to treat us fairly," Trump said Friday about the WTO.
White House trade adviser Peter Navarro, speaking on CNN on Saturday, deflected a question over whether the administration wanted to withdraw from the international treaty, saying, "That's the president's decision."
"What we are trying to do is get that organization to a place where we have free, fair and reciprocal trade," he said. "The WTO has a set of rules that disadvantage this country."
Navarro also pushed back against criticism of Trump's tariffs on steel and aluminum imports from U.S. companies including GM and motorcycle maker Harley-Davidson Inc., calling it "smoke and mirrors." GM on Friday said tariffs broadly applied to imported vehicles and auto parts could cause the company to shrink its U.S. operations.
On Friday, White House legislative director Marc Short echoed Mnuchin's comments about the Axios portrayal of Trump's thinking. He told reporters "the president has expressed frustrations with international organizations, from a sovereignty perspective. But I think that the president also believes that there's extensive tariffs assessed on American products overseas. That it's not a reciprocal tariff."
Pulling out of the WTO would isolate the U.S. from the world economy, said Rufus Yerxa, a former deputy director general at the WTO. "If you want to change it you have to make serious proposals, but you don't just walk away," he said.
While the U.S. can exit the WTO, it's uncertain whether Trump could do so without approval from Congress, where many lawmakers -- including Republican proponents of free trade -- would likely put up a fight. The move also would put U.S. exporters at risk, as other WTO members could raise tariffs on American imports. And the U.S. would also forfeit any ability to overturn other countries' unfair trade practices in the WTO dispute-settlement system, a mechanism that has often worked to the advantage of the U.S.
"Congress would not accept that," said Bill Reinsch, senior adviser at the Center for Strategic and International Studies in Washington. "They are very well aware how it has benefited the U.S. When we file a complaint, we generally win."