Top Rubber Maker Bets on 30 Billion Gloves to Protect Its Profit
(Bloomberg) -- Germs, disease and slumping profits -- those are just some of the impurities rubber gloves may shield against, according to the world's top producer of the agricultural commodity.
Thailand-based Sri Trang Agro-Industry Pcl aims to increase rubber glove output by about 74 percent to 30 billion gloves annually in the next two years, boosting the product's profit share to account for about half of its net income, the company's vice president Vitchaphol Sincharoenkul said. That'll help offset any losses in natural rubber exports when the price of the commodity slides, he said.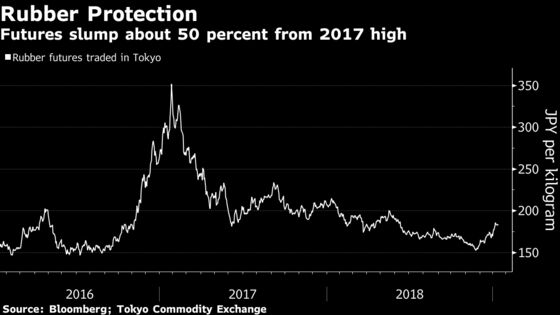 "We're expanding the gloves business as part of a strategy to grow," Vitchaphol said in an interview on Tuesday in Bangkok. "We can't rely too much on exporting raw materials to tire makers anymore. Making more gloves would be a perfect hedge for the future."
Rubber prices have fallen about 50 percent in the past two years as supply in top growers Thailand, Indonesia and Vietnam surge after a bout of replanting earlier this decade. Weakening global growth is also threatening demand, especially from tiremakers, with China -- the world's largest automobile market -- posting a drop in car sales last year for the first time in more than two decades.
Having both natural rubber and gloves contributing the same level of profit will offset the risk of price volatility, he said. For example, when natural rubber prices are low, gloves will become more profitable. But when prices are high, rubber exports in the form of sheets, blocks and liquid will have a higher profit margin than processing it to make gloves. At the moment, gloves make up about 40 percent of profits and 15 percent of sales for the company.
"There's more room to grow even though there's a lot of players in the glove sector," he said. "The market is still expanding and we see a high single or double digit growth in demand each year."
The company forecasts rubber prices to remain low this year unless there's a drastic cut in supply or a surprise gain in demand. Sri Trang's revenue growth for 2019 will likely be 5-7 percent if prices remain at current levels, Vitchaphol said.