Top Carbon Market Launch Won't Help China Tame Emissions Yet
(Bloomberg) -- China's national carbon market opened with a flurry of trades that sent prices surging, yet it'll be years before the system helps the top polluting nation curb its emissions.
State-owned oil giant China Petroleum & Chemical Corp., known as Sinopec, and China Energy Investment Corp., one of the world's top coal producers, were among companies to join the start of trading Friday, when carbon allowances rose to a 10% daily limit within about 10 minutes of the launch.
Carbon allowances opened at 48 yuan ($7.42) a metric ton and traded as high as 52.80 yuan, according to people familiar with the details.
Those prices are a fraction of the rate in the European Union, where carbon traded at a record of 58.64 euros ($69.22) on July 1, and reflects the limited initial scope of China's system. China's market so far covers only about 2,200 companies in the power sector and has been criticized over generous pollution allowances that may do little to compel emitters to take action.
Prices closed at 51.23 yuan a metric ton at the end of trading Friday, with 4.1 million tons of trades conducted, according to the official WeChat account of the carbon market.
President Xi Jinping is looking to financial markets to help China's drive to peak its emissions by 2030 and reach carbon neutrality by 2060, a daunting task in a nation that still relies heavily on fossil fuels and in 2019 spewed out more greenhouse gases than all of the world's developed nations combined.
The decision to prioritize a carbon market over more stringent targets for industrial polluters reflects China's efforts to balance climate ambitions and growth. Coal will account for at least half of electricity generation for years to come as power demand increases, meaning China will need far tougher action in later decades to hit its targets.
Europe's maturing carbon market has seen prices rise "to levels that will likely kill off coal for power generation and also challenge the economic viability of natural gas," Henning Gloystein, an analyst at Eurasia Group, said in an email. Modest initial prices in China "won't immediately induce a drastic shift," but will prepare the ground for a potential tightening of the system in the future.
The trading system is intended to force companies to pay for at least some permits to release carbon dioxide, encouraging them to use fuel more efficiently and reduce pollution. One key problem is a potential surplus of permits that could mean polluters will be able to easily buy allowances at a cheap price.
Emissions totaling about 4.5 billion tons of carbon dioxide equivalent will be covered this year, which compares to China's national total of 14.09 billion tons in 2019. Europe's market covers about 1.4 billion tons, according to Refinitiv.
"It's a major step forward," said Zhang Jianyu, chief representative at the Environmental Defense Fund's Beijing office. "There are some issues this market needs to address urgently," including the quality of the emission data, allocation methodologies and work to expand the market to other key industries including cement, aluminum and steel-making.
For the carbon market to be effective, China also needs to continue its mammoth roll-out of solar, wind and nuclear energy to provide an alternative to coal or gas. "China's launch will unlikely accelerate emissions reduction in the near term, that's because there is not enough surplus renewable capacity to quickly transition," said Prakash Sharma, head of markets and transitions, Asia Pacific, at Wood Mackenzie Ltd.
In Shanghai, home to the exchange that's hosting the market, dozens of government officials, power producers and bankers crowded into conference rooms Friday at an office building on the city's famous Bund, watching data and price charts showing early trades on a bank of giant monitors.
Other launch ceremonies took place in Wuhan and Beijing, and the meetings were addressed -- either in person or via video-link -- by Vice Premier Han Zheng, who sits on the Politburo's Standing Committee and oversees the country's carbon neutrality efforts. About 400 people from enterprises, research institutes and government departments were invited to the Wuhan presentation.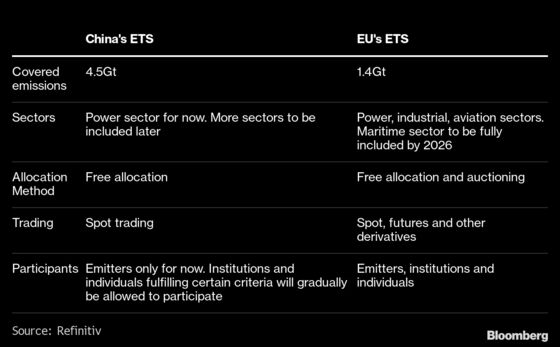 Prices were above expectations as key polluters like Sinopec and PetroChina Co. looked to secure additional emissions licenses. The firms are facing a potential allowance deficit and also preparing for the potential future addition of chemical refining industries into the system, according to Refinitiv analyst Yan Qin. "The number of quotas can only go down," she said in an email. "Power producers may be quite nervous."
Sinopec alone traded 106,000 tons of emissions allowances in the morning session and was expected to more than double that total before Friday's close, according to Unipec, one of China's largest oil traders.
The trading debut comes after repeated delays and smaller pilots in a number of provinces, where carbon was typically priced at around 40 yuan a ton. Authorities aim to quickly extend the system beyond the power sector to other industries, Vice Minister of Ecology and Environment Zhao Yingmin told reporters Wednesday.