Energy Companies Grab Partnerships in $20 Billion Deal Trifecta
(Bloomberg) -- Two of North America's biggest pipeline companies and the top U.S. natural gas exporter are all absorbing subsidiaries in moves aimed at curbing future tax obligations following a federal overhaul.
Williams Cos. said Thursday it will buy the remaining stake in Williams Partners in a $10.5 billion all-stock deal. Cheniere Energy Inc. is buying up the partnership that holds units in its Sabine Pass LNG terminal. And Calgary-based Enbridge Inc. said it made all-share offers to the boards of its units to acquire all outstanding securities.
Pipeline stocks plunged in March after regulators said so-called master limited partnerships can no longer charge customers for taxes the companies don't pay, limiting their appeal as an investment vehicle. Thursday's announcements follow a similar move by Kinder Morgan Inc. in 2014, with Energy Transfer Partners LP potentially next in line.
Analysts were generally positive on the moves. "We've been expecting all of these to happen at some point," said Michael Kay, an analyst at Bloomberg Intelligence. They "are an effort to clean up their corporate structures."
It's not the end of MLPs, he said, but it means there will be "a smaller field of players."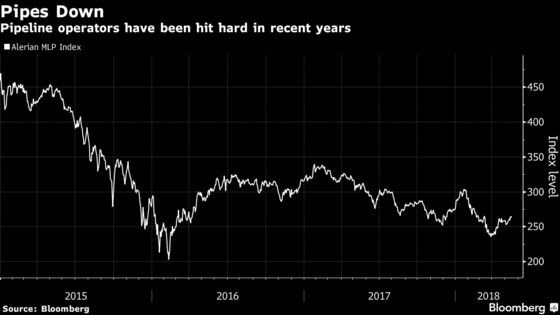 Tulsa, Oklahoma-based Williams will acquire the outstanding stock of Williams Partners at a ratio of 1.494 of its shares for each unit of the subsidiary, according to its statement. The transaction represents a 6.4 percent premium to public unit holders, based on Wednesday's close.
President Donald Trump's tax overhaul has pummeled pipeline stocks, sending the Alerian MLP Index down almost 4 percent this year even as crude oil prices surge. The Williams decision extends the period in which the company isn't expecting to be a cash taxpayer through 2024, and will immediately add to the money available for dividends, according to its statement.
"Given Williams' existing structural flexibility and the exposure of a portion of its interstate natural gas assets to the income tax allowance ruling, we view the acquisition as an effective step in addressing the income tax allowance issue," analysts at industry consultant Stephens Inc. wrote in a research note after the announcement.
Enbridge's plan affects units of Spectra Energy Partners LP, Enbridge Energy Partners LP, Enbridge Energy Management LLC and Enbridge Income Fund Holdings Inc., according to a separate statement. The proposed exchange ratios reflect a value for all the publicly held securities of C$11.4 billion ($8.9 billion), or 272 million Enbridge shares, if completed on the terms offered.
Enbridge expects the deals to be "approximately neutral" to its three-year financial guidance and positive to its post-2020 outlook due to tax and other synergies.
Enbridge's action "simplifies its organizational structure and reduces near-term risks," Gavin MacFarlane, a vice president at Moody's Investors Service, wrote in a note to clients. "We still see structural subordination across the corporate family, but this is a big step in a credit-friendly direction."
Cheniere, meanwhile, joined the party on Thursday by announcing it's offering 0.45 shares in a $529 million transaction structured as a merger. The offer represents a value of $28.24 per share based on the May 16 closing price, according to a statement Thursday. Cheniere already holds about a 91.9 percent stake in Cheniere Energy Partners LP Holdings LLC.
Energy Transfer is considering a similar move, Chief Executive Officer Kelcy Warren said on an earnings call earlier this month. A purchase of Energy Transfer Partners by Energy Transfer Equity LP, which owns incentive distribution rights, makes sense for the company in light of the tax overhaul, Warren said.
"These simplify the story in the minds of investors," said Pavel Molchanov, an analyst at Raymond James Financial, in an email Thursday. "Better yet, consolidation can reduce the cost of capital."