Lithium Giant Staying Nimble in Fickle Car-Battery Market
(Bloomberg) -- The world's largest lithium producer is planning to expand production in Australia, chasing the market for a form of the metal increasingly being used by the makers of electric car batteries.
Albemarle Corp. will halt plans to expand its lithium carbonate production in Chile, the company said on Thursday. Instead, it will plow funding into a Western Australia project that produces lithium hydroxide, a rarer form of the metal that's growing in use and currently sells for higher prices than the carbonate form.
Lithium hydroxide works better with cathodes containing higher levels of nickel, helping cars go further on a single charge. Global demand for lithium overall is expected to almost triple by 2025, according to Bloomberg NEF, as carmakers such as Tesla Inc. look to boost sales of battered-powered vehicles.
Lithium miners, meanwhile, have struggled to meet demand, and prices for the metal have tripled in just four years.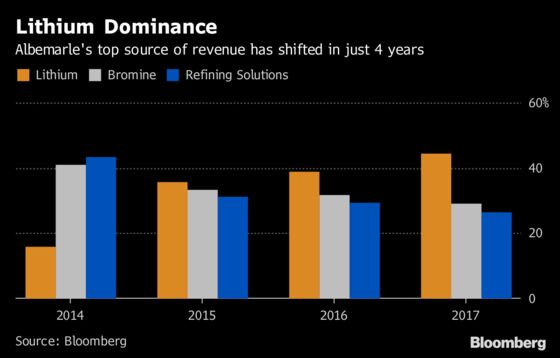 "The challenge at this point in the cycle is that lithium companies must ramp their capital spending amidst a backdrop of some uncertainty around lithium pricing," Chris Berry, a New York-based analyst and founder of research firm House Mountain Partners LLC, said by phone on Thursday. "For Albemarle to maintain its market share with such robust lithium demand growth, the company needs to execute their capacity expansion plans perfectly."
Albemarle is planning to boost its overall production of lithium across its operations in Chile, China and Australia to 225,000 tons per year in 2025 from 65,000 tons in 2017, the company said in its earnings report. In just four years, lithium has gone from being Albemarle's least important product to representing 44.5 percent of the company's revenue in 2017.
On Thursday, the Charlotte, North Carolina-based company posted mixed third quarter results that sent shares down 2 percent at 4:15 p.m. to $105.57 in New York trading. Capital expenditures were up, reaching record levels, but Albemarle missed estimates for sales.