Latin America Price Surprise Fails to Move the Dial on Rate Bets
Inflation surprised to the downside in Brazil and Mexico in January, but that isn't necessarily boosting bets of additional interest rate cuts in Latin America's two largest economies.
Meanwhile in Chile, a surge in consumer prices is making it tougher for the central bank to further ease monetary policy to support an economy hit by social unrest.
Brazil's annual inflation unexpectedly slowed to 4.19% in January, just after the central bank announced it was interrupting its record-breaking monetary easing cycle. In Mexico, prices rose 3.24% from the same month a year ago, below analysts' estimates for a 3.28% increase.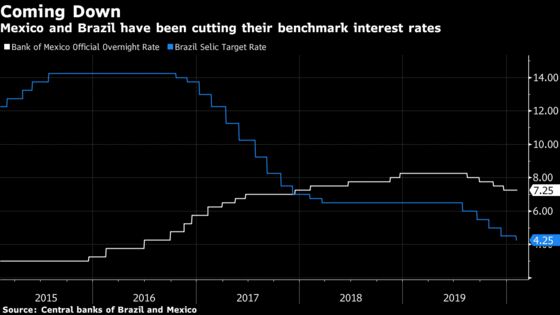 In the past year, tame inflation in both Mexico and Brazil has allowed their central banks to take the lead in buttressing weak growth. Mexico's activity has been undercut by investor uncertainty over President Andres Manuel Lopez Obrador's policy direction. In Brazil, unemployment is high and government officials are cutting back on spending as much as possible to boost public finances.
Brazil's central bank on Wednesday cut rates by a quarter point to an all-time low of 4.25% following four previous half-point reductions. In a statement accompanying its decision, policy makers said they would pause the easing cycle to observe its impact on the economy.
Brazil's better-than-expected inflation, which was largely helped by slower food price increases, "doesn't prove the central bank wrong" in its decision to stop cutting rates, said Adriana Dupita, Latin America economist with Bloomberg Economics. "Underlying inflation is now compatible with targets, and that -- coupled with the lagged effects of monetary policy -- justifies the cautious approach."
In Mexico, service prices fell in January following a 0.57% jump the month prior. That monthly drop reflects declines in airfares, tourism packages and hotels which together shaved 14 basis points off headline inflation, Goldman Sachs chief Latin America economist Alberto Ramos wrote in a research note.
Still, Mexico's core inflation accelerated to 3.73% from 3.59% annually. That means the country's central bank "will remain cautious, and probably has less room to cut than what the market is pricing in," said Bank of America economist Carlos Capistran.
Mexico's central bank on Feb. 13 is expected to deliver its fifth straight borrowing cost cut of a quarter-point, lowering the interest rate to 7%. Analysts in Citi's latest economist survey expect the key rate to fall to 6.5% by year-end.
Inflation outlooks for Brazil and Mexico remain more benign than that of regional peers including Chile, where central bank President Mario Marcel warned late last month of price pressures from a weaker peso. Chile's annual inflation accelerated to 3.5% in January, its fastest pace in more than three years, on the back of higher gasoline prices.