Top Fund Manager Is 'Hoovering Up' Huge Amounts of Cheap Credit
At a time when the chaos in global markets seems unending, a top-rated fund is pivoting toward taking on more risk and loading up on corporate debt.
Half of the Allianz Strategic Bond Fund is now in investment grade credit, a turnaround from most holdings being in government bonds in January. This shift away from highly defensive is based on the global economy rebounding toward the end of the year, according to Mike Riddell, who manages the $1.5 billion fund with Kacper Brzezniak. This would bode well for riskier assets such as corporate debt.
"In the last few weeks we are buying a lot of very cheap assets at distressed prices, which shouldn't be distressed at all," said Riddell in a media webcast by Allianz Global Investors. "It is really a great opportunity to be picking up lots of very cheap assets, we have actually been hoovering up a huge amount of corporate bond issuance."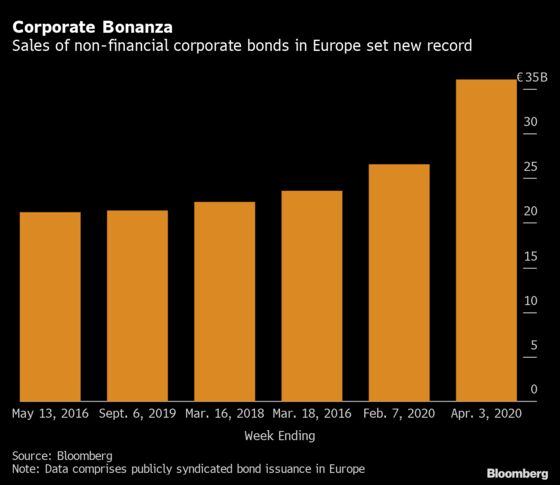 The fund has beaten 98% of its peers over the past three years. In March, a tumultuous period for markets, it also outperformed and returned 7.8%, according to Bloomberg data. The past month saw stocks, bonds and even havens such as gold crash as the rising death toll from the coronavirus shuttered nations and businesses.
March was particularly brutal for companies globally, with many of them rushing for government bailouts. In all this uncertainty corporates are ramping up borrowing to build reserves, with worldwide debt sales surging past $200 billion in the past week.
U.K.-based Riddell, now working from home with the City of London deserted, pointed to how some solid and highly-rated corporates are issuing debt at levels seen for single-B junk rated names back in January. His top holdings include debt from Walt Disney Co. and he also bought issues from United Parcel Service Inc., Coca-Cola Co. and McDonald's Corp.
"There is no way that higher rate single-A companies in the U.S. are going to be allowed to go bust because of what I think is a temporary crisis," Riddell said.
Read more:
Giant Bonds From Oracle, T-Mobile Drive Record Global Issuance
The past week has been a record one for global corporate debt issuance. In the U.S., the biggest sale came from Oracle Corp. with a $20 billion offering, while T-Mobile US Inc. raised $19 billion. In Europe, Anheuser-Busch InBev NV led the way with a 4.5 billion-euro ($4.9 billion) deal, which Riddell's fund snapped up along with Nestle SA.
Before the spread of the virus, effectively a fifth of the fund was instead shorting the credit market. Those bearish positions were closed in March after a sell-off in corporate bonds, making returns of 4%, with Riddell then able to use the fund's liquidity to grab the new issues.
"To give an idea of how much 'free money' was available for investors who came into the crisis liquidity rich, Disney, which is a very strong A-rated corporate, issued 30 year bonds yielding 2.85% more than U.S. Treasuries of a similar maturity," Riddell said. "The position in Disney, which was 2% of the fund, has returned 30%."
Now, with the current deluge of monetary and fiscal stimulus expected to eventually trickle through to the economy and given the recent collapse in oil prices, Riddell sees a revival in consumption and corporate investment once the virus spread abates.
"You can have a lot of things that are headwinds suddenly become tail winds in six to nine months from now," he said. "My base case is that by the fourth quarter this year we could be having a very strong response from the global economy and we just have to get through this bad patch now."