Top European Lenders Fill Pandemic Void as U.S. Banks Eye Home
(Bloomberg) -- As U.S. banks shift their focus to America amid the coronavirus pandemic, a select group of European lenders sees an unexpected window to win back market share.
BNP Paribas SA has been the most aggressive, leading the five biggest corporate loans in Europe since the beginning of March, according to data compiled by Bloomberg.
Banco Santander SA, Credit Agricole SA and HSBC Holdings Plc each had a top role on two of the region's largest loans since the pandemic. JPMorgan Chase & Co. was the only U.S. bank to take the lead on more than one of those transactions, the data show.
For a small cadre of European banks, the crisis is throwing up unprecedented opportunities to deepen ties with major companies and win clients, work that they hope to parlay into other business down the road. It's also giving them a chance to claw back ground that has been lost since the financial crisis to their more aggressive U.S. rivals, who are pulling back from some lending in the region.
"This situation is a searching pass for the idea to have a strong European bank," said Robert Buess, a Zurich-based partner at Oliver Wyman who advises financial institutions. "It's a good moment for banks to win back market share in investment banking and other businesses by providing loans in difficult times."
But it doesn't come without risk. The coronavirus pandemic is roiling Europe's already feeble financial industry, driving up provisions for bad loans and prompting billions in writedowns. And while the likes of Goldman Sachs Group Inc. and Morgan Stanley are becoming more selective on lending in the region amid rising demand back home, Wall Street firms continue to have a firm grip on more profitable businesses like mergers and initial public offerings.
Still, at Paris-based BNP Paribas, the group charged with making loans to corporate clients has never been busier. In one particularly manic week after the outbreak, BNP Paribas got requests for more than 90 new credit lines, according to people familiar with the matter.
The marching orders from the top have been to get out there and lend, the people said. And this has been well beyond the safe confines of state-backed aid programs in their home markets. BNP Paribas, France's biggest bank, was sole underwriter on U.K. oil giant BP Plc's $10 billion facility last month, according to people with knowledge of the matter.
Santander has also been targeting large, established European companies such as Daimler AG and Royal Dutch Shell Plc where it can leverage its lending capabilities to win market share, one person said. The Spanish bank has seen a pickup in lending as a result of the crisis, with average daily loan origination in March growing by 16% from February, Chairman Ana Botin said at an April 3 shareholder meeting.
Risk teams at lenders including BNP Paribas and HSBC have been swamped with requests for new loans and are speeding up reviews to keep up with demand, the people said, asking not to be identified because the information is private. They're trying to make decisions within hours, instead of the usual days-long process.
The flurry of activity is a welcome change from recent years when European banks were more focused on building up capital buffers after the 2008 financial crisis. Lenders in the region raised equity, exited non-core businesses and pared back trading operations. All the while, U.S. banks were expanding in Europe, poaching clients and staff from their struggling competitors on the continent.
Many European lenders, including Deutsche Bank AG and Commerzbank AG, are ramping up lending in their home markets through government programs, the people said. Germany and Italy have each allocated more than 30% of gross domestic product to direct spending, bank guarantees, and loan and equity injections, for a combined $1.84 trillion in aid, figures from the International Monetary Fund show.
Spokespeople for BNP Paribas, Commerzbank, Deutsche Bank, Goldman Sachs and Morgan Stanley declined to comment. A representative for Santander declined to comment ahead of the bank's earnings, while a representative for HSBC said he couldn't immediately comment.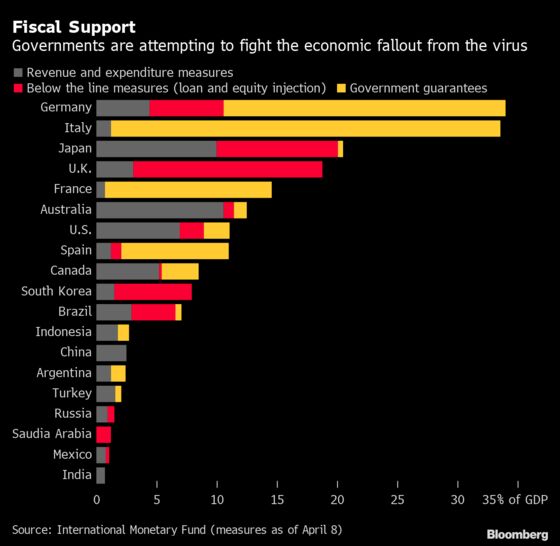 European lenders' increased activity comes at a time when U.S. banks are being inundated with borrowing requests from cash-strapped American companies. Like all banks, they're having to be more selective about who they provide funds to, and in some cases may need to turn down transactions with longtime European clients.
BNP Paribas, Santander, HSBC and Deutsche Bank topped the rankings for bookrunners on European corporate loans so far this year, with all gaining market share, according to data compiled by Bloomberg. Bank of America Corp. and Citigroup Inc. -- among the biggest U.S. balance sheet lenders -- slipped in the league tables for the same period, as did Goldman Sachs and Morgan Stanley, the data show.
The trend hasn't gone unnoticed, with the Financial Times and Reuters also writing about American lenders retrenching, leaving an opening for their European counterparts.
"Large U.S. financial institutions no doubt feel obliged to support their largest clients now," said Julian van Kan, the head of Mitsubishi UFJ Financial Group Inc.'s financial institutions group for Europe, the Middle East and Africa. "If you look at all the support in whatever form provided by central banks and governments, it's an obligation by virtue to deploy the money to where it's coming from."
In one recent example, two major U.S. lenders that were in talks to join Daimler's 12 billion-euro credit line this month ended up not participating, the people said. A representative for Daimler declined to comment.
The stronger European banks will win market share from U.S. lenders and their weaker regional competitors by lending to local companies that have been neglected, said Davide Serra, the founder of Algebris Investments.
"If you are a U.S. bank in Europe, you are basically a tourist," he said. "You only stay if prices are not high and if the weather is nice. When it's not, you run for the hills."