Doubt Grows on Celgene Deal as a Bristol-Myers Holder Balks
(Bloomberg) -- Doubts are beginning to gather around the pharmaceutical industry's biggest-ever takeover after Bristol-Myers Squibb Co.'s second-largest shareholder said that it doesn't favor a $74 billion takeover of Celgene Corp.
Wellington Management Co., which manages about $1 trillion in assets, said in a news release that it "does not believe that the Celgene transaction is an attractive path" for broadening Bristol-Myers's business. The firm holds 7.7 percent of Bristol-Myers shares, and said Wednesday that it had sold some of what was until recently the biggest stake in the New York-based drugmaker.
Shares of Summit, New Jersey-based Celgene plunged 9.2 percent to $82.65 before U.S. markets opened Thursday, well short of the roughly $101 in cash and stock that the offer is worth. Bristol-Myers gained 2.1 percent.
Wellington's objection and the subsequent swings in the stocks are a sign that the companies could face a difficult path to close a deal that investors never seemed to love in the first place. Celgene shares haven't traded at the offer price since the deal was announced. That consistent spread in the shares -- likely to grow wider at Thursday's open -- is a sign of investor doubts. It could also bring out other dissidents to join Wellington.
"Wellington's decision is likely to prompt other funds who remain unconvinced by the upside of the acquisition to identify themselves in the coming weeks," said Geoff Meacham, an analyst with Barclays Plc. Meacham who still expects the deal to close, in part because of a lack of other suitors for the drugmakers.
Bristol-Myers, in an internal letter sent to employees, said it still believes the Celgene transaction is the best path forward for the company.
"While we are very disappointed by the position of Wellington Management, we will continue our discussions with shareholders about this unique opportunity to create sustainable value," Chief Executive Officer Giovanni Caforio said in the memo made public in a filing Thursday.
Representatives for Celgene couldn't immediately be reached for comment. A Wellington spokesman wouldn't comment beyond the company's new release.
The opposition to the deal comes just days after activist investor Starboard Value nominated five directors to the board of Bristol-Myers. Starboard hasn't said what changes it may be seeking at the company. It has acquired 1 million shares in the drugmaker.
Wellington is one of the few supersized money managers that doesn't own a substantial stake in both Bristol-Myers and Celgene. BlackRock Inc., Vanguard, Invesco Ltd. and State Street Corp. all have big holdings in each of the drugmakers. State Street declined to comment.
The proportion of investors who hold both companies and thus would benefit from the acquisition indicate that "it would still be an uphill battle for an activist to prevent the deal from closing," Brian Abrahams, an analyst with RBC in London, said in a note to clients.
Wellington said that the terms of the transaction as laid out when the deal was announced ask shareholders of Bristol-Myers to shoulder too much risk. The investment firm also said that integrating the two companies could be a bigger lift than depicted by management and that "alternative paths to create value" could be more attractive.
Since the deal was announced there has been speculation that investors could step in to try to halt the deal or that another bidder for Bristol-Myers could emerge. Celgene has traded at a discount to the deal's price in a reflection of that wariness in the market -- as of the close of trading on Wednesday, Celgene was valued at roughly $64 billion.
"The market is pricing in an increased likelihood that the deal falls apart," said Ashtyn Evans, an analyst at Edward Jones & Co. who has a hold rating on Bristol-Myers shares. "It's difficult to predict whether or not there is enough pushback for that to happen."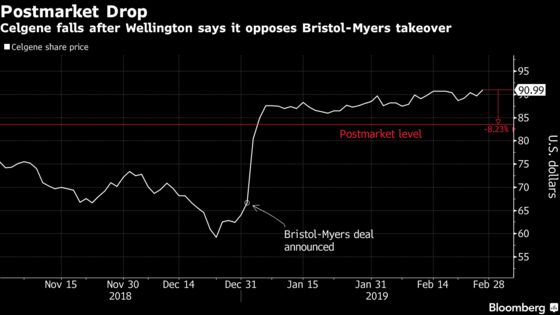 The deal, which is expected to close in the third quarter of this year, has a termination fee of $2.2 billion, according to a securities filing.
Wellington's opposition to the deal could add momentum to any effort by Starboard to block it. Starboard hasn't said whether they will try to mount a campaign against the deal, but it could mount a proxy fight for its nominees at Bristol's upcoming annual general meeting regardless of the outcome of the vote on the transaction.
Starboard is likely to have a strong argument for its board slate. A rejection of the deal would be a clear sign that investors are dissatisfied with Bristol's current state; approving it would give Starboard an opening to argue its nominees would do a better job overseeing the newly formed company.
In January, Bristol-Myers agreed to buy Celgene in a record-sized cash-and-stock deal that would unite a pair of drugmakers battling for advantage in a crowded market for innovative cancer treatments. At the time, some observers balked at the deal's rich price, citing among other things concerns about Celgene's longer-term sales prospects for its top drug.
Both companies had faced investor wariness about their prospects before the deal was unveiled. Bristol makes an immunotherapy drug called Opdivo that accounts for roughly a quarter of its sales, but that has trailed a rival medication from Merck & Co. Celgene, meanwhile, has been looking for a follow-up for blockbuster blood-cancer therapy Revlimid.
The proposed union of the two companies represents a big bet that combined mass will help overcome the obstacles confronting their respective cornerstone products. It will also fan the flames of deal speculation in an industry that's coping with political pressure to rein in drug prices, the looming threat of expiring patents and disappointing clinical trials for some cancer treatments.