Top Australia Polluter Blasted Over 'Easy Way Out' on Emissions
Australia's largest energy retailer plans to clean up its climate act overnight -- by splitting out all of its coal-fired generation.
AGL Energy Ltd. is aiming to separate into a retail and renewables business tentatively called 'New AGL' and a power generation unit, 'Primeco.' New AGL would have zero Scope 1 and 2 greenhouse gas emissions on day one, the firm said in an investor presentation.
Scope 1 emissions are normally a utility's biggest, as they cover those produced by fossil-fuel power plants during generation. But New AGL will no longer be operating the coal plants covered by that classification and will instead source about 75% of its energy from PrimeCo, which will need to account for that pollution.
Plans for the separation are being finalized, and AGL will listen to feedback before determining whether the new generation unit will be listed, and how much ownership of that company New AGL will retain, AGL Chief Executive Officer Brett Redman said in an interview.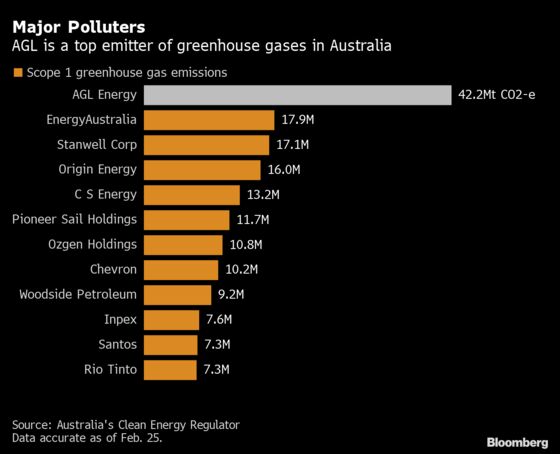 "AGL is splitting into two good strong businesses but they have different roles to play in the market," Redman said in the Tuesday interview. The coal plants are generating profits and there's no current intention to accelerate the firm's current targeted dates to close the operations, which span through to 2048, he said.
PrimeCo. will sell about half of its output to New AGL, leading to questions about how distinct the two new companies will be and also over the terms of any power purchase agreements. Details of planned agreements will be made public later, though the pacts will reflect current market rates, according to Redman.
"AGL has chosen the easy way out, leaving the hard decisions around coal closure to whoever is chosen to run PrimeCo," according to Dan Gocher, director of climate and environment at the Australasian Centre for Corporate Responsibility, a shareholder advocacy group. "Any responsible investor will surely avoid" the new generation unit, Gocher said in a statement.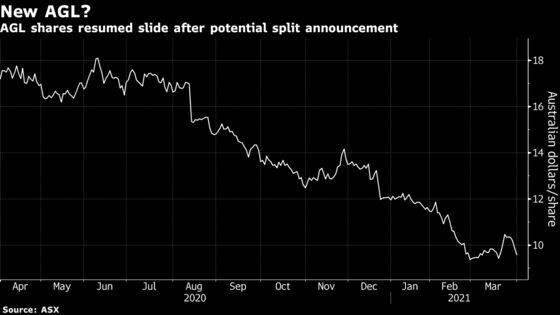 There are international precedents for the kind of break up AGL is proposing. Germany's EON SE previously split off its coal plants into Uniper SE. At its flotation in September 2016, Uniper's valuation was about a third of the book value EON applied to the unit just a few months earlier, though the stock has since more than tripled in value