Toll Brothers Slumps Most Since May After Home Orders Plunge
(Bloomberg) -- Toll Brothers Inc. reported its first drop in orders since 2014, led by a big falloff in California demand, a sign that high-end property markets are cooling. Shares slumped.
The luxury-home builder's fiscal fourth-quarter results, announced Tuesday, included a decline in orders of 13 percent from a year earlier. The average estimate from analysts was for an increase of 5 percent.
Toll Brothers is heavily focused in segments and geographies that are cooling -- high-end homes and California, specifically. In California, which is facing an affordability crisis and a decline in foreign demand, orders fell 39 percent.
Affluent home shoppers are hesitating as rising mortgage rates cut into their buying power and sinking stock prices erase savings. Toll Brothers Chief Executive Officer Doug Yearley said Tuesday the market softened further in November because of rising interest rates and "the effect on buyer sentiment of well-publicized reports of a housing slowdown."
Toll has some advantages. It has carved out a niche as the only large publicly traded luxury builder, its land is typically well located and its customers are less sensitive to higher buying costs, according to Drew Reading, Bloomberg Intelligence analyst. "There are many positive factors underpinning the economy that we believe are supportive of the housing sector longer-term, and our affluent markets particularly," Yearley said in the statement, citing low unemployment and a strong economy overall.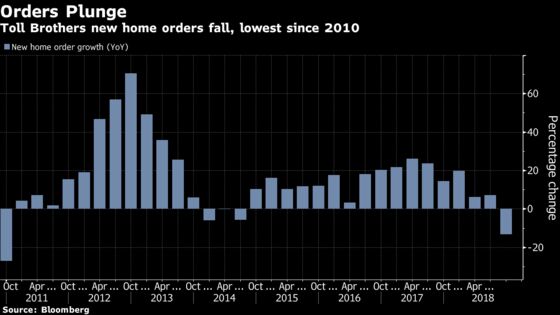 Toll Brothers shares have slumped 30 percent this year through Monday's close, compared with a 28 percent decline for the S&P supercomposite homebuilding index. Shares fell 9.2 percent, most since May, at 9:44 a.m. in New York.
Net income rose 62 percent to $311.0 million, or $2.08 a share. That beat the highest analyst estimate in a Bloomberg survey.
Read the quarterly statement here.