Tobacco Use Among Men Declines for First Time, WHO Says
(Bloomberg) -- The number of male tobacco consumers is on the decline for the first time on record, a sign of progress against smoking-related illnesses, global health officials said.
After two decades of steady increases of men smoking and using oral tobacco products, rates are projected to continue dropping in coming years, according to a report from the World Health Organization. Males make up more than three-quarters of the world's tobacco consumers.

While overall global tobacco use fell by about 4% to 1.34 billion people between 2000 and 2018, that drop is largely attributable to women. Tobacco-control measures like taxes and public smoking bans are contributing to the reduction, according to the WHO, which urges governments to ban contact with cigarette makers. Other policies include prohibiting tobacco advertising and offering cessation support.
WHO Director-General Tedros Adhanom Ghebreyesus said the data represent a "turning point in the fight against tobacco."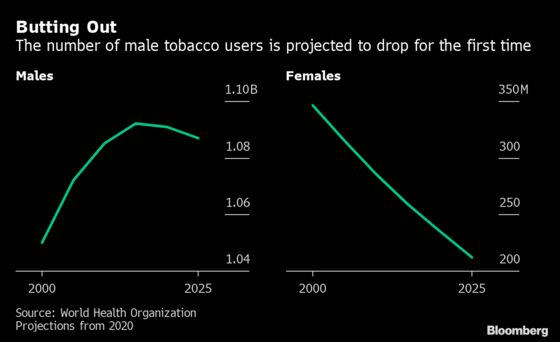 The number of male users is projected to fall by some 2 million next year compared to 2018 and by an additional 4 million in 2025.
The WHO didn't cover e-cigarettes in the report, and Ruediger Krech, director of WHO's department of health promotion, told reporters he couldn't say whether e-cigarettes have had an impact on the drop. The WHO plans to publish a first statement on the risks associated with e-cigarettes in February.
A separate report by researchers at University College London has shown that the rise of vaping since 2011 correlates with a pattern of declining smoking prevalence. The study said vaping helps roughly 50,000 to 70,000 U.K. people quit smoking each year.
Still, governments are on track to miss a target to cut global tobacco use 30% by 2025, according to the WHO. The decline will probably be 23%, based on current progress, the WHO said.
More than 8 million people die each year from tobacco-related diseases, with most of them in low- and middle-income countries, according to the WHO.