Tiny Waste Management Stock Soars 1,500% in One Week
(Bloomberg) -- Now the rally makes sense.
Shares of smallcap Avalon Holdings Corp. surged more than 200 percent after a new holder disclosed a massive stake. The news brought the stock's five-day rally to more than 1,500 percent in trading before exchanges opened Monday. The surge was short-lived, however, as the shares fell 41 percent from Friday's close in regular trading.
A filing late Friday showed that Bahamas-based MintBroker International Ltd. took a new 1.92 million share stake in the Warren, Ohio-based waste management company. This equates to about 60 percent of Avalon's outstanding shares and makes MintBroker the top holder by a long shot, according to data compiled by Bloomberg.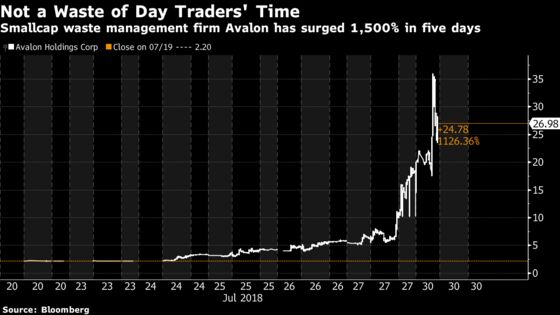 Nathan Michaud, founder of day-trading website InvestorsUnderground.com, called Avalon the "most talked about stock this weekend" in a tweet Sunday. Michaud's handle @InvestorsLive has accumulated more than 90,000 followers.
Avalon provides waste management services to industrial, commercial, municipal and government customers in the U.S. Northeast and Midwest, according to the company's website. It also owns the Avalon Golf & Country Club in Warren.
Avalon wasn't immediately available for comment.