Tiny Commodity Carriers See Demand Bonanza From Container Crisis
(Bloomberg) -- The boom in container shipping is firing up demand for some of the world's smallest commodity-hauling vessels. 
With rates to hire 20-foot steel boxes soaring this year, charterers are looking to the smallest ships to lower their costs. It has helped push products like steel, aluminum and grain, which would normally be sent in containers, into the small bulk vessels.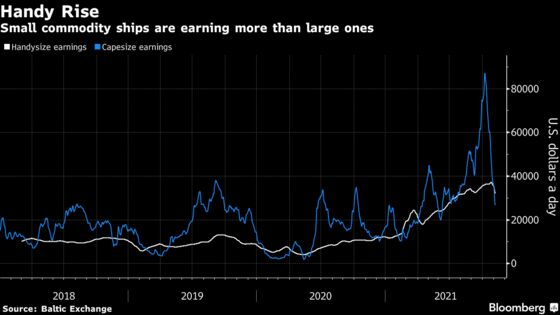 The move means that earnings for some of the world's largest bulk ships, known as capesizes are now lower than tiny ones. Capesize vessels were earning about $27,000 a day on Thursday, while the handysize ships fetched $32,000 a day.
"We're carrying cargoes that have come out of containers," said Jan Rindbo, chief executive officer of DS Norden, which has a fleet of so-called handysize tankers. "It's a trend we have seen for most of this year where, relatively speaking, the smaller ship types have outperformed capesizes."
Rindbo said that among the cargoes that his company has been carrying have included grains and aluminum ingots. They would normally be shipped in containers, he said.