Tilray Snatches Biggest-Pot-Stock Crown Away From Canopy
(Bloomberg) -- Canopy Growth Corp., the first marijuana unicorn with a $1 billion valuation, just lost its crown as the king of cannabis stocks.
Tilray Inc., the Canadian pot company that went public two months ago, soared to a market capitalization of about $14 billion to surge past Canopy Growth at a mere $11.5 billion. That makes Tilray almost twice the size of aluminum giant Alcoa Inc. and bigger than Barrick Gold Corp., the largest producer of precious metals. Never mind that Barrick had revenue of more than $8 billion last year, compared with Tilray's $20 million.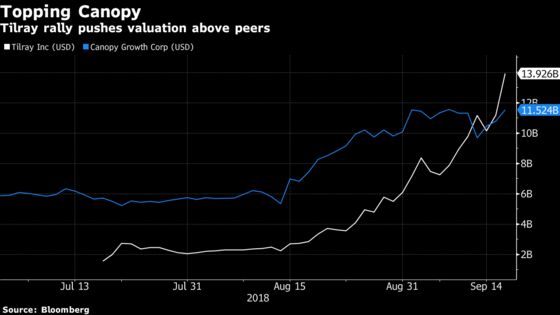 Tilray, based in the Vancouver Island town of Nanaimo, got a jump on some of its Canadian rivals by listing on the Nasdaq instead of the Toronto Stock Exchange, giving it more access to U.S. investors. It hasn't looked back since Cowen & Co. took it public in July at $17 a share. It's now trading above $150, with the latest boost coming from a deal announced Tuesday to export cannabis into the U.S. for medical research.
Some investors are betting the party won't last as Canada gears up to legalize pot on Oct. 17. More than a third of Tilray shares are being shorted, meaning traders are betting on a decline, according to data from S3 Partners LLC.