Tiffany Optimism for Better Second Half Offsets Stingy Tourists
(Bloomberg) -- Tiffany & Co. reported first-quarter sales that fell short of projections, but sees improvement ahead even as spending by tourists continues to drop. The shares rose, erasing a decline in premarket trading.
Comparable sales, a key retail metric, fell 2% worldwide on a constant currency basis, missing the average of analysts' estimates for a 1.2% drop from Consensus Metrix. Revenue also fell from a year earlier, but the company sees that measure increasing by a low-single-digit percentage over the full year.
While the company fell short in a wide range of areas, sales to local customers improved, particularly in China, according to Chief Executive Officer Alessandro Bogliolo. He predicted Tiffany "is positioned for improving trends in the second half of 2019."
The company will need growth in markets such as China to offset "dramatically lower worldwide spending attributed to foreign tourists," who are an important revenue driver.
Growing U.S.-China tensions are another cloud on the horizon. China issued a warning Tuesday about travel in the U.S., citing "frequent" shootings, robbery and theft there. Luca Solca, an analyst with Bernstein, highlighted the risk in a note to clients: "The big question is whether it will still be fashionable to be an American in China."
While flat same-store sales in Asia outpaced estimates for a drop, most other region performed worse than expected. In the Americas, a comparable sales decline of 4% was almost almost twice as big as predicted.
The results were "balanced by negative investor expectations approaching the quarter," Goldman analyst Alexandra Walvis wrote in a note to clients on Tuesday.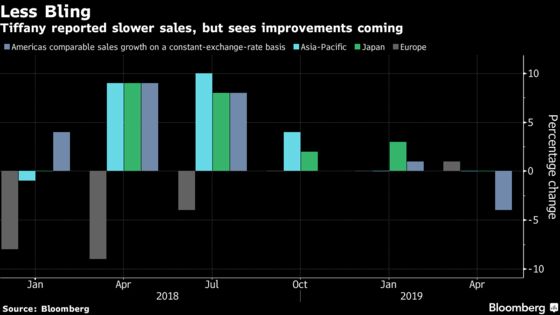 Tiffany shares jumped as much as 5.3% to $94.95 on Tuesday, the biggest gain in more than four months.
Click here for more financial details.
Click here for company statement.