Tiffany Down Most Since 2015 With Chinese Tourists Spending Less
(Bloomberg) -- Tiffany & Co. slumped the most in almost four years after revitalization efforts hit a snag in the third quarter. The luxury jeweler reported lower spending by tourists, sapping momentum ahead of the critical holiday period.
Same-store sales rose 3 percent in the third quarter on a constant currency basis. That falls short of analysts' average estimate for a gain of 5.6 percent.
Like other luxury companies, Tiffany is feeling the impact of Chinese tourists' restraint. Sales growth was offset by "lower spending attributed to foreign tourists, primarily Chinese, in certain regions."
Tiffany cited "mixed results" in parts of Asia, including a decline in wholesale travel-retail sales in South Korea. That could heighten concern in the luxury industry about the health of Chinese spending amid reports of a customs crackdown on unauthorized imports.
The jeweler enters the crucial holiday season in need of a boost. Chief Executive Officer Alessandro Bogliolo and head designer Reed Krakoff have sought to re-imagine the 181-year-old jeweler to appeal to younger shoppers, but the results may spark questions about their strategy.
The company has ramped up marketing heading into the holidays. Selling, general and administrative expenses rose 15 percent in the quarter, though that's below the previous period's growth rate. Tiffany has brought on younger celebrities, such as Zoe Kravitz, Elle Fanning and Maddie Ziegler, to represent the brand in its advertising.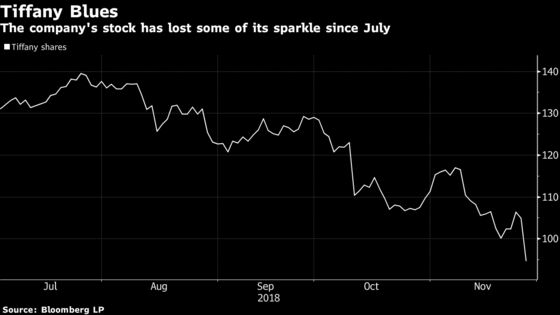 Tiffany shares fell to as low as $93.20, the most since January of 2015. The stock had soared to a high of $139.50 in July, propelled by the rebound in sales, before declining in the second half of the year as optimism fizzled in Wall Street.
The stock has risen 1 percent this year through Tuesday's close.
For more on the results click here.