The Revamped Tiffany Flagship Will Have More Sales, VIP Space
(Bloomberg) -- Tiffany & Co. sees an expanded sales floor and more VIP space replacing administrative offices at the company's 10-floor "precious property" on New York's Fifth Avenue.
Chief Executive Officer Alessandro Bogliolo shared more details on the store's renovation in an interview Tuesday. With a sizable percentage of sales coming from the property, the company sees the project as key to its future.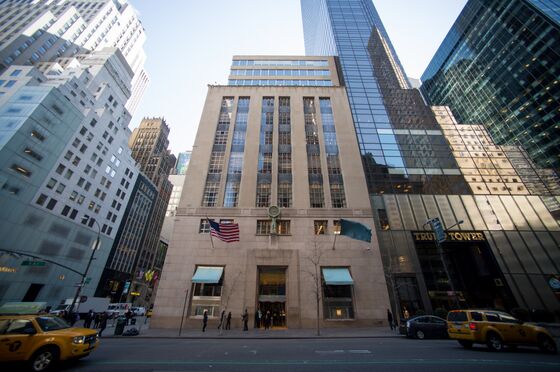 The idea is to make sales faster and easier. During the holiday shopping season, customers are subjected to long checkout lines and wait times due to inadequate space, Bogliolo said. Jewelry takes too long to get from the vault to shoppers' hands.
"It's an immense project," Bogliolo said in an interview Tuesday. "In the last six months, we have spent a huge amount of time in order to really look at the entire structure of the building and see what was the best way to exploit every single floor."
Tiffany owns the 124,000-square-foot (11,500-square-meter) building, which sits in one of the world's prime shopping areas. It's right next to Bergdorf Goodman, an Apple Store and Trump Tower. Only 45,000 square feet is active selling space. The rest is made up of offices and administrative areas, which will be "dramatically" reduced, said Bogliolo.
Though the shop has several selling floors, access to the upper areas is hindered by slow elevator banks. The renovation, which Bloomberg News reported will start next spring, will seek to remedy this.
The workshop, where Tiffany's elite jewelers craft the brand's most high-end pieces, will remain at the flagship, though the area may be renovated at some point. Shoppers who buy the one-of-a-kind items often meet with designers and craftspeople in person.
Tiffany plans to spend as much as 2 percent of its global sales on the renovation, which it hopes will be complete by the final quarter of 2021. Total costs could reach as much as $250 million, according to Bloomberg calculations based on last year's revenue. The store accounts for as much as 10 percent of Tiffany's worldwide sales each year.