Tidjane Thiam's Fall From Grace After Spying Scandal: Timeline
(Bloomberg) -- Tidjane Thiam was one of the highest-profile chief executive officers in financial services, and a rare black chief of a European company. On Friday, he was ousted from Switzerland's Credit Suisse Group AG after months of fallout from a scandal that revealed the bank was spying on senior employees.
"We saw a deterioration in terms of trust, reputation and credibility among all our stakeholders," Chairman Urs Rohner said. The following is a timeline of Thiam's tenure and how the events unfolded.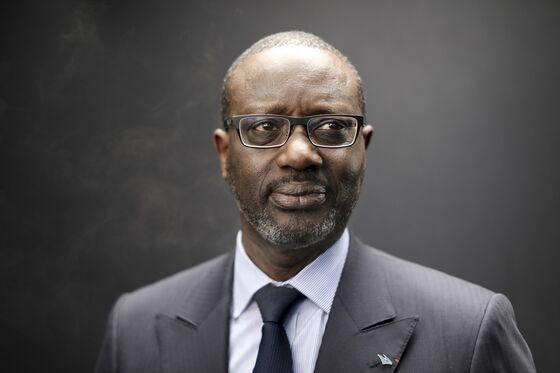 March 2015: Credit Suisse poaches Thiam from British insurer Prudential Plc, replacing Brady Dougan as CEO. The shares surge. Dougan, an American, resisted the investment-bank downsizing that Thiam would end up executing. The new Ivorian-born CEO refocuses the bank on wealth management.
October 2015: Thiam promotes Iqbal Khan to the management board, in charge of international wealth management. Under Thiam, Khan enjoys a steady rise that will soon prompt speculation that he could eventually succeed the CEO. The two men are so close that they eventually become neighbors in the upscale Zurich suburb of Herrliberg.
November 2017: After a tumultuous stock slide in the year after Thiam took over and began restructuring, the CEO is confident enough to give his first profitability target. The shares approach a two-year high.
January 2019: Thiam and Khan get into an altercation at a party at Thiam's house, prompting Khan to complain to the bank's board. The public won't know about the falling out until September, when the spying scandal breaks, but inside the bank it's now an open secret that the relationship between the two men has soured. People familiar with the matter later say the two tussled over issues related to their adjoining as well as Khan's career prospects.
February 2019: Khan is passed over in a corporate reorganization that sees two colleagues elevated. The following month, he sets a target of 2 billion francs of pretax profit at his unit.
July 2019: Khan leaves Credit Suisse to pursue a career outside the bank. In a statement, Thiam thanks him and wishes him well. He also points out that he had "identified" him as a "great candidate" for the wealth management job years earlier.
August 2019: People familiar with the matter say Khan is in talks to join arch-rival UBS Group AG. Eight days later, UBS says Khan has been tapped to head wealth management.
September 2019: Zurich prosecutors launch criminal proceedings after Khan complains he was threatened by unidentified people, just days before his Oct. 1 start date at UBS. It emerges that Khan was followed by unidentified men while driving his car during the previous week. He took pictures of his pursuers, leading to a physical confrontation in Zurich. People familiar with the matter say Credit Suisse had decided to keep tabs on Khan after he agreed to join UBS, hoping to prevent him from poaching private bankers.
Within days, Credit Suisse's board begins an inquiry into the surveillance. Thiam and Rohner vow that the "truth will emerge." Outspoken U.S. investor David Herro, one of Credit Suisse's biggest shareholders, says it would be "damaging" to oust any senior manager over the surveillance of Khan. Former Credit Suisse and UBS chief Oswald Gruebel takes the opposite tack, saying Thiam should be fired if the reports were confirmed. By the end of the month, the scandal claims another victim as a contractor for Credit Suisse commits suicide.
October 2019 : On the day that Zurich police begin investigating the contractor's death, Credit Suisse exonerates Thiam -- and ousts Bouee, who had been his chief lieutenant at three companies for more than 10 years. The bank says Bouee acted alone in ordering the surveillance, informing neither Thiam nor the board of his intentions. Rohner apologizes to Khan and his family, and says Thiam enjoys the backing of the board.
The bank that month reports mixed third-quarter earnings. Its presentation is overshadowed by questions about the scandal. On TV, in his first public comments on the matter, Thiam says he didn't order the spying and calls it "inappropriate" and "disproportionate." Of his longtime colleague Bouee, he says, "I'm not sure you can describe him as a friend... He is somebody I respect. I value him as a professional."
Rohner apologizes to Khan and his family, and says Thiam enjoys the backing of the board; the bank also says it found no evidence that Khan attempted to poach employees. Thiam tells staff in a memo that "full accountability" has been taken with the departure of Bouee.
December 2019: A second spying cases emerges. This time, former Chief Human Resources Officer Peter Goerke is the target. Bouee is blamed again, with the bank declaring that he was fired for cause. Credit Suisse paints the former COO as a rogue operative who kept all executives and directors in the dark about his activities. However, Chairman Rohner would later say that this case changed the situation, as a pattern started to emerge.

Credit Suisse is trying to brush off a third accusation that comes up this month, related to a U.S. employee who left years earlier. In a case dating from 2017, Colleen Graham, a former senior compliance executive in the U.S., alleged in a court filing that the bank had her followed. Credit Suisse said it had investigated Graham's claims "and found them to be entirely baseless," and said the U.S. Department of Labor also dismissed her claims. It turns out later that the bank's lawyer still met with Graham as recently as last week to discuss her claims.
January 2020: By now, Swiss regulators are looking into the matter, hiring an independent auditor. SonntagsZeitung reports that Swiss authorities requested all files regarding Thiam and Khan from 2019. NZZ am Sontag says Thiam, in 2018, asked Khan to collect "dirty material" on Claudio De Sanctis, a top private banker who left for Deutsche Bank AG that year. Thiam takes to Instagram to reject what he calls "entirely false and defamatory" reports.
As tensions mount, people familiar with the matter say Chairman Rohner is preparing a list of possible successors for Thiam and was working to replace him. Credit Suisse issues a statement, attributed to the chairman, saying "the story has no factual basis and is rejected by Credit Suisse." Herro, the investor, says he wants Thiam to stay.
February 2020: Soon after Bloomberg breaks the news of the chairman's plans, Herro steps up his campaign to keep Thiam in the job and suggests racism may be involved. "People don't want to see the board or anyone tinkering with management," he says on Bloomberg TV. "It seems envy from the competitors, or perhaps something else given that Mr. Thiam looks a little bit different than the typical Swiss banker."
Herro, Silchester International Investors and Eminence Capital warn the board of directors that if there was a choice to be made, Rohner should be the one to go. The power struggle appears to be tilting in favor of the CEO. But behind the scenes, Rohner is reaches out to other investors and the board gets behind the chairman.
Feb. 7, 2020: Credit Suisse says its board unanimously accepts the resignation of Tidjane Thiam and appoints Thomas Gottstein as the new CEO. Thiam will leave after presenting the bank's fourth-quarter results next week.