Thyssenkrupp to Break Up German Giant in Fight for Survival
(Bloomberg) -- Thyssenkrupp AG will shrink and focus on higher-margin businesses as the coronavirus pandemic speeds the break up of one of Germany's last mega-conglomerates.
The company said it's considering the sale of units that make steel and submarines as it fights for survival. Once a byword for German engineering prowess, Thyssenkrupp will be gradually split apart as Chief Executive Officer Martina Merz follows the path taken by other behemoths from Siemens AG to General Electric Co.
"CEO Merz is moving to a more aggressive mode, which will see some continued restructuring but also potential widespread corporate deals, which we believe are likely to transform the group rapidly," Christian Georges, director of metals and mining research at Societe Generale SA, said in a note.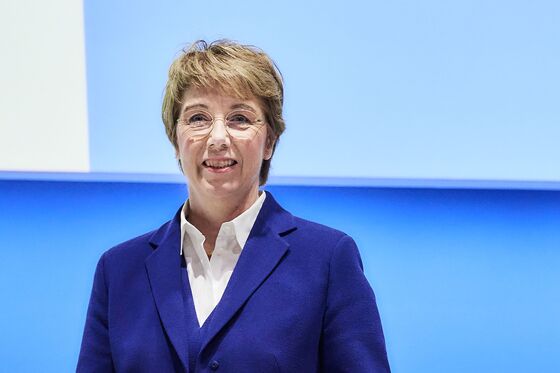 Merz's strategy is aimed at reviving the group after the $19 billion sale of its elevator unit closes later this year. The firm had hoped to use some of the proceeds from that deal to boost ailing units, although worsening finances are gnawing at the lifeline. Merz, who took over the helm of Thyssenkrupp after consecutive years of CEO departures, said the company needs to be leaner and fitter to survive once it no longer has income from the elevator business.
"We need to lower costs, and improve performance across all our business units," Merz said on a conference call on Tuesday.
Thyssenkrupp's descent from steel royalty is quickening. The Krupp and Thyssen dynasties were at the heart of Germany's industrial leap forward in the 19th century. The company made steel for the spire of New York's Chrysler building, guns for the Nazi war machine and factory components that helped drive Germany's 20th century economic miracle.
In September, the firm tumbled out of Germany's blue-chip DAX index. It was replaced by jet-engine manufacturer MTU Aero Engines AG, emblematic of how Europe's industrial future rests with high-tech, high-margin players rather than steelmakers.
Thyssenkrupp shares rose 5.1% as of 11:21 a.m. in Frankfurt, after jumping more than 12% on Monday. That pared the stock's decline this year to 57%.
The steel unit, the traditional heart and soul of the company, burned through more than 1 billion euros ($1.09 billion) in cash in the six months ending March 31. It's struggled for years against cheaper competition from Asia. Thyssenkrupp's European steel business had sales of 4.37 billion euros in the six months through March.
Merz said Thyssenkrupp would consider mergers with German, European and Asian rivals, and could envisage the unit concentrating on new technologies such as carbon-free green steel production from hydrogen.
"There are no taboos left on steel," Merz said. "All players must consider steel options that were thought closed due to egos and cultural differences."
Thyssenkrupp held exploratory steel talks with Salzgitter AG, people familiar with the matter said last year. Chinese and Indian peers had also expressed interest in its European steel operations, the people said. Sweden's SSAB AB is also among the potential partners, one of the people said.
The firm's steel division was already wrestling with a global glut and a sputtering German economy before demand took a further hit as the coronavirus outbreak spread in March, leading to automotive and other factory shutdowns.
While the European Commission blocked a planned merger of Thyssenkrupp Steel with Tata Europe last year, both companies could revisit a deal and potentially sell or close steel plants to allay antitrust concerns, some of the people said.
The company said a cluster of loss-making businesses, including its plant technology unit that constructs factories, would also be dropped from its portfolio, with outright closures of heavy plate steel and battery solutions divisions an option. It will look to develop its raw materials distribution and its components units.
"The announced restructuring plan is an important step for Thyssenkrupp," said Lars Foerberg, founding partner of Cevian Capital -- the company's second-largest shareholder, which has pushed for a break-up. "It is now crucial that this plan is implemented with urgency and decisiveness."
Merz's strategy echoes that of Siemens's boss Joe Kaeser, who is quickening the pace of transformation at another German industrial icon. Kaeser plans to carve out Siemens sprawling power assets, the backbone of the Munich-based company for decades, later this year.
Thyssenkrupp's rising debt underscores the shrinking room for maneuver. The company's net debt stands at 7.55 billion euros, according to earnings released last week, a figure likely to rise as the fallout from the pandemic cripples the global economy.
More on Thyssenkrupp's crisis:
Thyssenkrupp's Dismantling Begins With a $19 Billion Sale
Thyssenkrupp in 'Extremely Difficult Situation,' CEO Says
Thyssenkrupp said it was in intensive discussions over a merger of its Marine Systems business, which builds submarines and other military ships. A combination with a national or European competitor is one option. The unit, which had sales of 235 million euros in the six months to March 31, has run into project overruns in recent years.
"We have left no stone unturned in very carefully examining the individual development potential of each business for Thyssenkrupp," said Merz. "The sale of the elevator business gives us the capacity for action."