Thyssenkrupp Open to Range of Offers for Elevator Business
(Bloomberg) -- Thyssenkrupp AG informed potential buyers of its elevator business that the crisis-hit firm will consider a range of bids for the unit, according to people familiar with the matter.
The company sent a letter Wednesday to potential investors in the elevator division, indicating it would be open to both minority and majority offers for the unit, said the people, who asked not to be identified discussing private information. The company had previously said it planned a minority public listing for the elevator business.
A range of investors are interested in acquiring all or part of Thyssenkrupp's elevator unit after the company in May said it was interested in listing the division to shore up its ailing balance sheet. Chief Executive Officer Guido Kerkhoff envisaged a listing of a minority of shares that would allow the submarine-to-steel conglomerate to keep profits generated by the unit which is riding a global megatrend for urbanization.
"We have clearly stated that, in addition to preparing for the IPO, we are also examining expressions of interest from potentially interested parties," the company said Wednesday. "We are doing this diligently. We have therefore initiated a structured process to evaluate offers from strategic and financial investors ensuring a decision that is sustainable and the best for Thyssenkrupp and its stakeholders."
Thyssenkrupp shares rose as much as 5.5% to 11.21 euros, and traded at 11.03 euros at 2:21 p.m. in Frankfurt.
Related Coverage
Thyssenkrupp Is Said to Weigh Deals With German Steelmakers
Among industry rivals, Finnish elevator maker and longtime suitor Kone Oyj has expressed interest in the division, people familiar with the matter have previously said. Private equity firms including Advent International, Bain Capital, CVC Capital Partners and KKR & Co. are also interested, the people have said. Analysts have also suggested Hitachi Ltd. may be a good match.
Thyssenkrupp is poised to open a data room for potential buyers this month, the people said in July. The German conglomerate, when examining bids, will need to balance the goal of seeking the highest price as well as risks to completion. Kone, for example, is keen to buy a majority of the elevator business, but Thyssenkrupp is concerned about a lengthy antitrust review and rejection of a merger, people have said.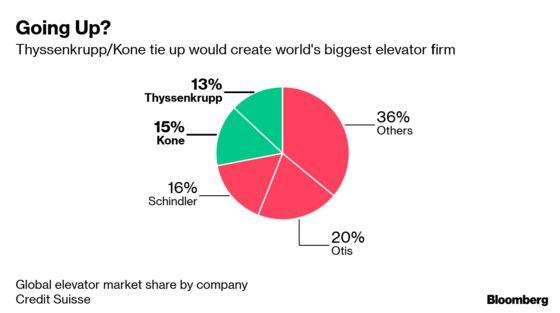 The division, Thyssenkrupp's crown jewel, makes parts used in elevators, escalators, moving walkways and stairlifts and could be worth about 15 billion euros in an IPO or sale, according to Bloomberg Intelligence analysts.
Thyssenkrupp, among the last of Germany's giant conglomerates, last month cut its profit outlook and said it was considering a major breakup as Europe's economic slowdown bites. The stock has lost 27% this year, making it the second-worst performer on Germany's benchmark DAX index this year.