Thyssenkrupp Power Vacuum Is Just the Start of the Breakup Fight
(Bloomberg) -- It's not often that the Catholic church intervenes in a German corporate crisis, but Thyssenkrupp AG isn't just any company.
The embattled industrial icon is part of Germany's heart and soul. And so Bishop Franz-Josef Overbeck defended the conglomerate as activist investors led by Elliott Management Corp. and Cevian Capital AB seek to render it asunder, calling their efforts "unethical."
Amid one of the biggest challenges in the group's 207-year history, Thyssenkrupp has garnered support not only from the Catholic church, but also labor unions, local politicians and even Chancellor Angela Merkel. Such backing reflects the complexity that Elliott and Cevian still face, even after scoring a major victory with the shock ouster of Chief Executive Officer Heinrich Hiesinger and Chairman Ulrich Lehner this month.
To fill the posts, headhunters need to find candidates that can win a consensus among Thyssenkrupp's diverse power players, which includes a foundation set up by descendants of the founders that up to now has defended the status quo. The candidates also need to play nice with labor leaders, win over impatient investors and navigate a company with operations spanning steel, submarines and elevators -- most of which underperform their peers.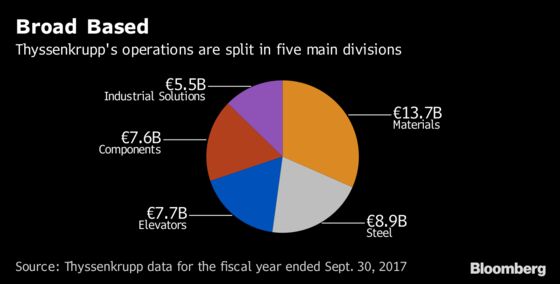 There's also an urgency to get results. Thyssenkrupp burned through 758 million euros ($889 million) last year, the fifth time it posted negative cash flow since 2011, when Hiesinger took charge. The stock has lost 27 percent of its value over the past seven years, while the DAX Index surged 74 percent. As industrial peer Siemens AG successfully implements an overhaul that includes spinning off various entities, Thyssenkrupp's vague turnaround plans made it ripe for attack.
Merkel called for Thyssenkrupp, which employs 60,000 people in Germany, to remain "as broadly based as possible." The defense stems from the company's role in helping establish Germany as an industrial powerhouse.
"A breakup of Thyssenkrupp would create too many losers and too few winners," Bishop Overbeck, who preaches at the Gothic cathedral in the company's hometown of Essen, said last Friday in a rare public foray into corporate strategy.
There's also structural hurdles to a carve-up. Thyssenkrupp's largest shareholder is the Alfried Krupp von Bohlen und Halbach Foundation, which owns a 21 percent stake and is committed in its mission statement to defend the company's "unity."
That creates a natural alliance with employees, who occupy half the seats on the supervisory board as in other big German companies. Labor representatives are not keen on strategies that favor shareholder value over job security. Combined, the two could scuttle aggressive moves.
The sudden shakeup at Thyssenkrupp -- coming just weeks after Bloomberg reported on Elliott building a stake -- reflects deeper issues with corporate Germany's traditional approach to decision-making. This requires executives to reach a consensus with labor unions and shareholders before moving ahead. While it helped in rebuilding from the ashes of World War II, German companies have been caught flat-footed in the fast-paced era of globalization and digital technologies.
"This problem in German corporate governance goes back years, but has become much worse and obvious since the 2008 financial crisis," said Harold James, a professor of economic history at Princeton University. "Thyssenkrupp exemplifies it."
When global steel prices started collapsing in 2011 due to oversupply from China, Thyssenkrupp struggled to adjust. While ArcelorMittal, South Korea's Posco and U.S. Steel Corp. responded with stinging job cuts, the German manufacturer's workforce remained broadly unchanged at around 30,000 people amid fierce union opposition.
"Despite cost pressure, it is always our concern to implement cost-cutting measures in a responsible and socially acceptable manner," Thyssenkrupp said in response to Bloomberg questions, declining to comment on internal discussions and the search for new leadership. Elliott and Cevian also declined to comment.
With layoffs all but ruled out, Hiesinger shifted gears and sought a joint venture with India's Tata Steel Ltd. Negotiations were characteristically slow. By the time the deal was finally ready to be consummated, the balance had shifted in the German company's favor.
But the executive failed to renegotiate the terms, drawing renewed ire from investors, according to people familiar with the matter. Just days after the prized deal was announced, Hiesinger was out.
Pressure had already spilled over to Lehner. At a board meeting in the company's cube-shaped headquarters days before the CEO's departure, a power clash erupted between Lehner and fellow board member Ursula Gather, said the people, who asked not to be identified discussing closed-door meetings.
The influential representative of the Krupp foundation, the traditional guarantor of boardroom order, challenged Lehner's authority by calling on the company to reconsider the Tata deal and pursue other options. That left Lehner, a Germany Inc. veteran, with little support after previously blasting Elliott and Cevian in an interview with Die Zeit newspaper as "locust" investors whose methods resembled "psychological terror."
The first step for the company to move ahead is filling the power vacuum as soon as possible. Then the difficult task of defining a strategy starts, which could stoke fresh tensions.
"After the recent turmoil, Thyssenkrupp now needs to get into calmer waters and work on improving its performance," said Ingo Speich, a fund manager at Union Investment.