Thyssenkrupp Is Considering Splitting Into Two Companies
(Bloomberg) -- Thyssenkrupp AG surged the most in nine years after the company unveiled plans to split into two, separating its industrial and materials divisions in a sweeping overhaul of the German conglomerate.
One company, called Thyssenkrupp Industrials, will combine the elevator business, automotive supplies and plant construction. The other, called Thyssenkrupp Materials, will run steel, materials trading and steel-related processing operations.
For Thyssenkrupp, once an icon of German industrial might, the restructuring follows months of turmoil sparked by executive resignations, pressure from activist investors and losses at its industrial division. Shareholders including Cevian Capital have blamed a complicated business structure for the company's weak performance. Thyssenkrupp is also without a permanent chairman and chief executive officer.
"The break-up is the best way forward even though it may sound unusual," Interim CEO Guido Kerkhoff told journalists Thursday, adding it was overdue to address the question where the company was headed.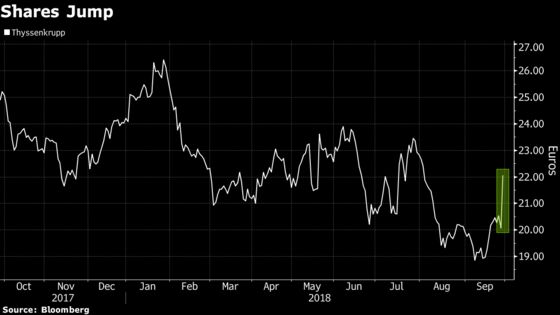 The company's shares jumped 9.9 percent in German trading on Thursday, the most since April 2009.
Thyssenkrupp's largest shareholder, the Alfried Krupp von Bohlen und Halbach Foundation, voiced its initial support for the plan, saying "the foundation is duty-bound to do what's best for the company and won't rule out any option that finds a good balance between keeping the firm competitive on a sustainable basis and secures jobs for the future."
Cevian, Thyssenkrupp's second-largest shareholder, said that it backs the decision to split.
"This will reduce complexity, promote entrepreneurial freedom and agility," said Lars Forberg, co-founder of Cevian. "This strategic decision is an important step to tackle the underperformance of the past."
The separation would happen via a spinoff and give investors shares in both companies, which will trade on public exchanges, Thyssenkrupp said in a press release on Thursday.
"Investors who focus on industrial goods are interested in stable cash flows and attractive growth prospects," the company said. "The materials businesses, on the other hand, are of interest to investors who are more interested in cyclical business and consolidation."
Thyssenkrupp also considered a merger of its elevator unit with a rival but decided against it because the remaining company could no longer have had control over the operations' cash flow, Kerkhoff said.
"This would have been like an amputation," he said.