Thyssenkrupp Falls Most in Two Years After Profit Warning
(Bloomberg) -- Thyssenkrupp AG shares plunged the most in two years after cutting its profit forecast, another sign that the crisis at the German industrial giant is far from over.
The company said there could be "substantial adverse consequences" because of a German investigation into steel-price fixing, and cited weakness at its elevator division. The company has also been affected by shipping delays due to low water levels in the Rhine river.
The shares sank 12 percent to 16.84 euros in Frankfurt. Net income will be less than half last year's level, according to a statement released late on Thursday.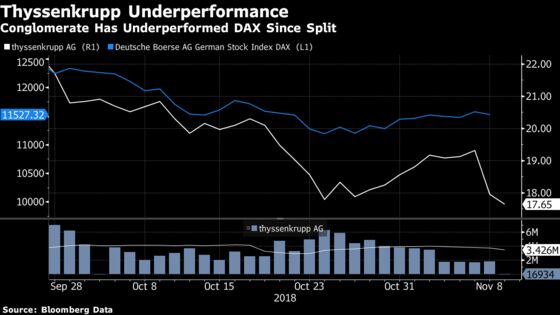 For Thyssenkrupp, once an icon of German industrial might, the profit warning compounds a turbulent year marked by executive resignations and losses at its industrial division. In September, the company announced a plan to split itself in two after months of pressure from activist shareholders disgruntled at the firm's earnings, complicated business structure and declining share price.
Kerkhoff, who was previously chief financial officer of Thyssenkrupp and acted as CEO since mid-July, was given a five-year contract, the company said Sunday. The latest writedowns are a continuation of the cleanup under the new CEO, and likely set the firm up for "a clean slate" in the coming financial year, Citigroup Inc. analysts said in a note.
While Kerkhoff's decision to split the company received early plaudits, the stock has continued to slide. About a third of Thyssenkrupp's value has been wiped away this year.
Adjusted Ebit for 2018 will be 1.6 billion euros ($1.8 billion), down from 1.8 billion euros guided in August
Net income for 2018 estimated at 100 million euros, down from 271 million euros in 2017
Full earnings figures will be released on Nov. 21
Germany's antitrust office has been investigating the steel industry for colluding on prices. In July, the office levied 205 million euros in fines on several companies.
The probe isn't expected to affect the Tata Steel joint venture, Thyssenkrupp board member Donatus Kaufmann said in a letter to employees seen by Bloomberg.