Thyssenkrupp CEO Banks on Elevator IPO to Buy Time for Turnaround
(Bloomberg) -- When Guido Kerkhoff stepped into the top job at Thyssenkrupp AG last July, he had the unenviable task of calming a company in chaos. He set out on a path to appease activist shareholders and staunch unionists, and for a few months, it seemed like he might just be able to pull it off.
But in the face of plunging profits and a share price in freefall, Kerkhoff was forced to abandon his strategy of splitting the company. He's now embarked on a new path -- using an initial public offering of the elevator division to buy time to solve the company's cash crunch. In meeting with shareholders in London this week, he's urged them to be patient and temper expectations for quick turnaround.
Competitors may have other ideas. Reuters reported that Kone Oyj is exploring a bid for the unit, sending Thyssenkrupp shares rallying as much as 7.9%. However, analysts say an outright sale is unlikely because the division is the company's most profitable operation, so management wants to keep it as a crutch, especially when earnings at the steel and materials units are falling.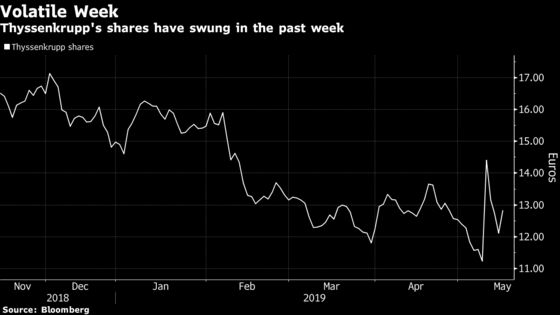 A merger with Kone would also risk another antitrust challenge from the European Commission. Regulators torpedoed plans to merge Siemens AG's and Alstom SA's rail operations to create a "European champion" and Thyssenkrupp's own plan for a joint venture with Tata Steel Ltd. was jettisoned. That's spurred speculation that Margrethe Vestager, the antitrust chief, is taking a stringent approach to mergers.
"We believe the IPO of a minority stake remains TKA's Plan A," said Alan Spence, an analyst at Jefferies International Ltd.
Proceeds from the elevator division, which Bloomberg Intelligence said could be valued as much as 15 billion euros ($16.8 billion), would be enough to shore up Thyssenkrupp's balance sheet.
A Thyssenkrupp spokeswoman said there's been no change in the company's plans. A Kone spokeswoman said the company doesn't comment on rumors, but consolidation in the industry would be welcome.
What Bloomberg Intelligence Says

"Kone's consideration of a bid for ThyssenKrupp's Elevator Technology (ET) unit may not result in an acquisition, given the size of the transaction and antitrust concerns. A merger before ET goes public is more viable. Getting regulatory clearance may take time, and a delayed deal is less appealing to cash-strapped ThyssenKrupp."

--Mustafa Okur, industrials analyst
Click here to view the research
Part of Kerkhoff's challenge is Thyssenkrupp's sprawling business model that's been battered by the ailing auto industry, falling steel prices and higher labor costs. But perhaps an even thornier problem is the chasm between shareholders and unions.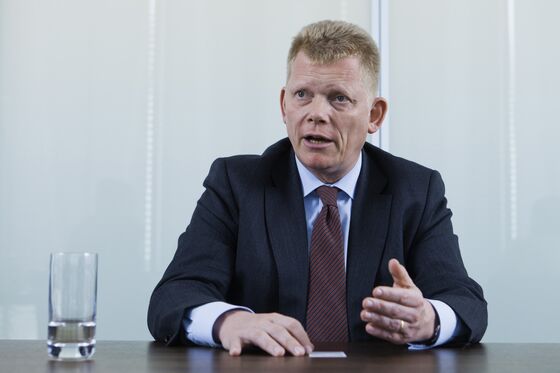 Investors have made no secret of their disdain and have called for a radical overhaul, using terms that are unusually harsh for Germany's coalition-based business culture. Unionists, on the other hand, have called for a slower approach and vowed to stop any attempt to close key steel plants.
"We urgently need a fundamentally new direction," Lars Forberg, founding partner of Sweden's Cevian Capital, the company's second-biggest shareholder and activist investing firm, said in an interview with Swiss news website The Market. "There is no other way if you want to get the businesses back to growth."
Spooked by last year's turbulence after Thyssenkrupp Chairman Ulrich Lehner quit, the supervisory board in February appointed Martina Merz as chairwoman. She's taken a more hands-on approach, holding regular meetings with management and is supportive of Kerkhoff's U-turn last week, according to people familiar with the situation.
The key vote at the company remains the Krupp von Bohlen und Halbach-Stiftung foundation, which was set up for the heirs of the Krupp family and ranks as the biggest shareholder. The foundation also backs Kerkhoff and wants to give him more time, said the people, who asked not to be identified discussing confidential matters.
"I fully understand that unions want a 'calmly and carefully crafted' solution, but would imagine that also a carefully crafted solution might have to include a reduction of headcount," said Ingo Schachel, an analyst at Commerzbank AG.