Thyssenkrupp Fills Leadership Vacuum as Spinoff Plan Confirmed
(Bloomberg) -- Thyssenkrupp AG filled vacant senior leadership roles and confirmed a plan to split into two listed companies as the German industrial conglomerate seeks to move past months of turmoil.
The company's supervisory board named Bernhard Pellens as its chairman and Guido Kerkhoff as chief executive officer. The board also approved a plan announced last week to split the company: Thyssenkrupp Industrials will manage the elevator, automotive supplies and plant construction businesses, while Thyssenkrupp Materials will run steel and metal-focused operations.
"This strategic dilemma is now gone," Kerkhoff, 50, said in a Bloomberg TV interview. "With the materials and the industrials now clearly focusing on their two markets, which are clearly different to each other, we can create a lot more value for our shareholders."
For Thyssenkrupp, once an icon of German industrial might, the restructuring caps a turbulent year marked by executive resignations, breakup pressure from activist investors and losses at its industrial division. Shareholders including Cevian Capital blamed a complicated business structure for the company's weak performance, and calls for change grew louder after the group issued a profit warning in August.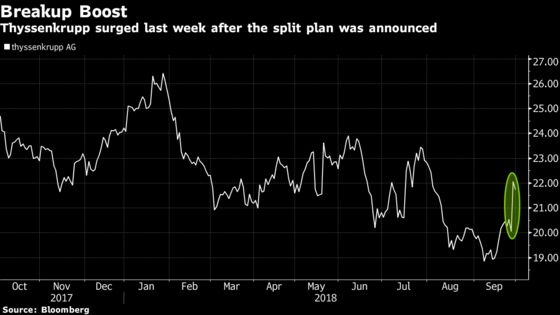 Kerkhoff, who was previously chief financial officer of Thyssenkrupp and acted as CEO since mid-July, was given a five-year contract, the company said Sunday.
"While many investors voiced skepticism over the summer that Kerkhoff was not best suited to lead Thyssenkrupp, arguing that an external candidate would be preferable, sentiment has recently improved," analysts at Jefferies International wrote in a note. "Kerkhoff has emerged as a driving force behind the planned business separation, drawing a clear line in the sand between himself and his predecessor."
It's still unclear who will lead the second business created by the split, and which company Kerkhoff will join, they said.
The spinoff must still be approved by shareholders. Ursula Gather, chairwoman of Thyssenkrupp's largest shareholder, the Krupp von Bohlen und Halbach-Stiftung foundation, called the plan a new direction for the company.
"This proposal possesses a convincing industrial logic," she said.
The separation would happen via a spinoff and give investors shares in both companies, which will trade on public exchanges, Thyssenkrupp said in a press release on Thursday.