Three Questions You Should Be Asking After the Sell-Off: Taking Stock
(Bloomberg) -- The question of why we tanked on Tuesday isn't something we should obsess over. The mainstream media cited that "Tariff Man" Trump tweet, and while I even wrote as recently as last week that it could be "President T' that could derail the whole thing, there were many more elements at play yesterday that culminated in the swift and sudden drop.
At least nine different reasons were blamed by market participants, and no two traders that I spoke to corroborated each other's account as to what the one key catalyst was to blame. This goes to show that no one, not even those with their eyes and ears closest to the pulse of the market, really knows what the true culprits were for the heavy selling throughout the afternoon session.
The bigger questions to ask at this juncture are 1) why the futures were down so little in the morning despite all of the negatives, 2) what could get this market to reverse back to the upside, and 3) whether this is this even a selloff that merits true concern.
We Should Have Been Down More
I have no answer for the first part because I spent the better part of the morning pulling teeth to find anything positive to explain the mere ~5 handle decline on the spooz, and failed miserably.
So much bad was out there from the get go, starting with the plethora of skeptical reports related to the just-completed trade truce, the spiraling fears over the various flattening and inverted yield curves (and what that even means for recession prospects, which was the topic of yesterday morning's Taking Stock), and concerns that technical resistance at ~2,800-2,815 was becoming a harder ceiling to break through than initially thought.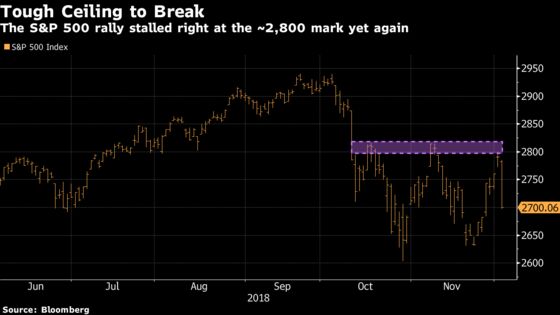 Honing in on the micro didn't yield much better results either, as we received weaker-than-expected orders from one of the biggest homebuilders in the country in Toll Brothers while another Apple supplier, Cirrus Logic, added fuel to the smartphone demand flame with a slashed forecast.
There was also an earnings blowup from near $30 billion market cap discount retailer Dollar General, while a slew of negative analyst notes crushed the Transports (TRAN had its worst day in years, with UPS and FedEx weighing on Amazon encroachment fears).
Not One Concrete Catalyst
So we opened down only about a handful of points, but ended up going out at the lows with a decline of ~90 handles, or the worst percentage decline in almost two months. Despite not knowing what the real cuprit was (Trade? Brexit? NATO? CTA deleveraging? Jamie Dimon?), a risk off trade spread throughout the market.
Treasuries ripped, with the 10-year yield dipping below its 200-day moving average for the first time in over a year, while defensive sectors outperformed and any stock on the smaller cap side or anything deemed momentum got obliterated: Russell 2000 fell 4.4% (worst day in seven years) while the poster child for the momentum movement, Square, got punished to the tune of 12%.
What could get this market working for the bulls again is, for one, China needing to acknowledge that something did get accomplished last weekend. Comments from the Ministry of Commerce overnight that the Trump-Xi meeting was "very successful" and reports that Beijing is starting to quickly implement specific trade initiatives that were agreed upon is probably the reason why futures reversed higher by ~12 handles (though I'm careful to pin any market action on one particular piece of news) -- oh, and the 2- and 10-year spread needs to stop dead in its track on its way toward inversion.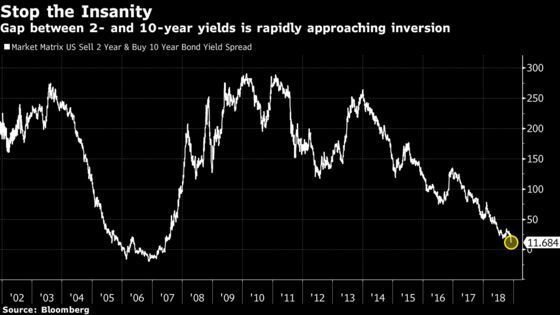 Whether Tuesday's plunge in the equity markets is one that merits concern is another thing. Superlatives abound, but as my colleague Andrew Cinko points out, the 3.3 reading on the ARMS index, or TRIN, hasn't been seen since the February meltdown and could be a sign that some of the weaker hands involved in the market have been flushed out, as the chart below shows.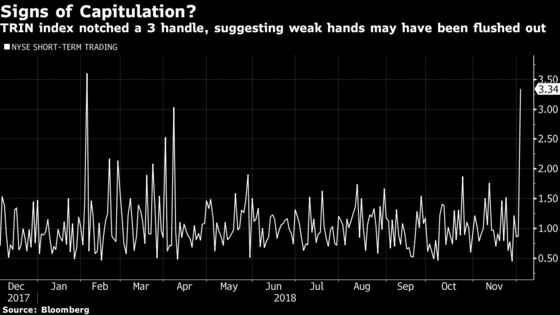 And while so many charts look awful on close-up inspection, when you zoom out and take into account the last week and change, we've basically retraced a bit more than half of the gains achieved on the S&P 500 during its most recent bounce (the S&P is still up 2.6% over the past seven days). Maybe the lack of trading today will end up being a good break for the tape.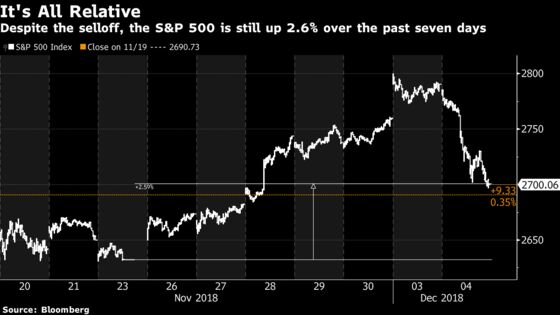 Not Your Usual Market Holiday
The day of mourning definitely throws a wrench into things. While the NYSE is closed, the futures aren't (at least for another couple hours) and there are still plenty of important events on the calendar that could impact trading in a big way tomorrow.
The laundry list of aforementioned negative news on the micro front from yesterday (you can throw in Schlumberger's midday warning too) could grow today given all of the company presentations on the schedule -- see the calendar at the bottom of this story for some of the bigger names on tap for the day.
One name to watch is chip stock Skyworks Solutions, which has yet to cut forecasts despite the recently reduced iPhone sales expectations that have made their way through the Apple supply chain (some say Apple accounts for nearly 50% of SWKS's total revenues). We'll be paying close attention when they speak at Barclays in the afternoon.
But Given That It Is a Market Holiday...
Since it should be a slow drawl for those who made it into the office today, here's some year-end links to get you through the day:
100 Notable Books of 2018 from the New York Times
Books of the Year 2018 from the Financial Times
Best Tech Gifts 2018 from the Wall Street Journal
2018 Holiday Gift Guide from Forbes
10 Best Movies of 2018 from Vanity Fair
Best Movies of 2018 from New York Times
Best New Restaurants in America 2018 from Esquire
Best Albums of 2018 from NPR
Best Songs of 2018 from Ringer
Best of 2018 (apps, movies, games, tv shows) from Apple
The research shops are more or less closed for business today, and thus there is very little to talk about in terms of interesting calls out there.
The few and far between include 1) the bulls and bears tussling over the weaker Class 8 orders in November (some note that this is first monthly y/y decline since Dec. 16), which could hit shares of Cummins, Paccar and Navistar tomorrow, 2) semiconductor bear Morgan Stanley still knocking Western Digital after yesterday's analyst day, noting that the company is "clearly signaling that conditions in NAND remain tough, with some risk to near term #s and also the target of recovery by mid 2019," and 3) pot stock and new short seller target Aphria was downgraded by Canada's Eight Capital (the short will be on Bloomberg TV later this afternoon to talk about his thesis).
Tick-by-Tick Guide to Today's Actionable Events
Today -- U.S. stock markets closed; futures will stop trading at 9:30am
Today -- Deutsche Bank homebuilding and building products conference; PHM, MTH, LGIH, POOL are scheduled to present
Today -- AKRX/Fresenius appeals court hearing (see preview)
7:40am -- MPC CEO Gary Heminger on Bloomberg TV
7:45am -- DPZ at Barclays eat, sleep and play conference
8:00am -- BF/B, JW/A earnings
8:00am -- YUM investor day
8:00am -- BLK at Goldman Financial Services conference
8:45am -- BHC at Citi health care conference
9:35am -- JNPR at Raymond James tech conference
9:45am -- CRM at Wells Fargo tech summit
10:15am -- JNJ at Citi health care conference
11:00am -- EW investor meeting (day two of two)
11:00am -- MSFT at Barclays TMT conference
11:30am -- SYMC at Barclays TMT conference
11:40am -- IBM, SYMC, HPQ at Wells Fargo tech summit
11:45am -- LVS at Barclays eat, sleep and play conference
12:00pm -- NOW at Barclays TMT conference
12:30pm -- TXN at Barclays TMT conference
1:30pm -- MAR at Barclays gaming, lodging, leisure conference
2:00pm -- Fed Beige Book
2:00pm -- C at Goldman Financial Services conference
2:00pm -- TWTR at Barclays TMT conference
2:30pm -- VMW at Barclays TMT conference
2:40pm -- Quintessential Capital's Gabriel Grego (APHA short) on Bloomberg TV
4:00pm -- MXIM at Barclays TMT conference
4:05pm -- OKTA, SNPS, FIVE earnings
4:15pm -- CLDR, GEF earnings
4:45pm -- MDB at Wells Fargo tech summit
5:00pm -- YELP at Barclays TMT conference
5:55pm -- NOW at Wells Fargo tech summit
7:00pm -- CRM at Barclays TMT conference
8:15pm -- Fed's Quarles speaks at State of the West event