Three Hedge Fund Favorites Command Your Attention: Taking Stock
(Bloomberg) -- Though the bullish tech sentiment (off the MLNX/NVDA merger) and risk-on environment from Monday extended to Asia, the moves have been substantively more muted in the European session. S&P futures are well off their highs (though still positive) as the other theme from Monday, the Boeing jet crisis, continues to weigh, with Singapore and Australia now joining China and others in placing restrictions on the aircraft.
Airline stocks broadly shrugged off the crisis, with only Southwest (with the highest number of the jet model in question) ending the day in the red. The tape was clearly more concerned with taking last week's 3.4% breather/consolidation/mini "correction" as an excuse to get long early in the week. Analysts in recent weeks had been pointing to a lack of participation among many individual investors in the January rally, and so that dip, and the payrolls overhang removal (maybe even a clearing event?) may have been that excuse to jump in.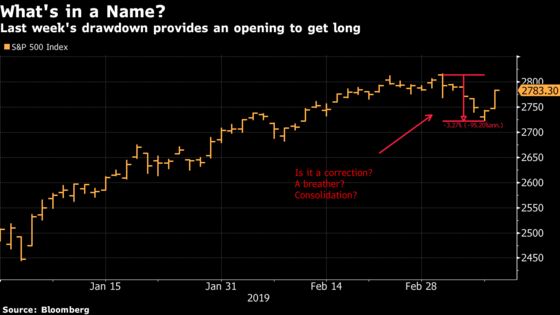 Morgan Stanley strategists did caution early Monday that the "correction" was likely not over. They wrote one shouldn't trust the "strong" rally off "bad" fourth quarter results, and that the correction won't end until pressures on margin stabilize. Mike Wilson has been cautious for a while, and has one of the lowest S&P targets for year-end 2019, so the call for defensives to "resume leadership" shouldn't come as much of a surprise. That being said, the analysts are only referring to the S&P 500 now as just "modestly" overvalued. They get "more interested" below 2600.
The post earnings season exhaustion is likely setting in, and with the exception of Broadcom, Adobe and Oracle later this week, stock-specific plays become fewer and further between. But today's action brings opportunities in four names widely followed by the Street (three of them hedge fund hotels): Wells Fargo, in which Warren Buffett holds a sizable stake (>$21 billion as of WFC's last close) goes before the House of Representatives, while earnings from three relatively recent IPOs (with wildly different performances since their offerings), Stitch Fix, Coupa Software and Switch Inc. are digested.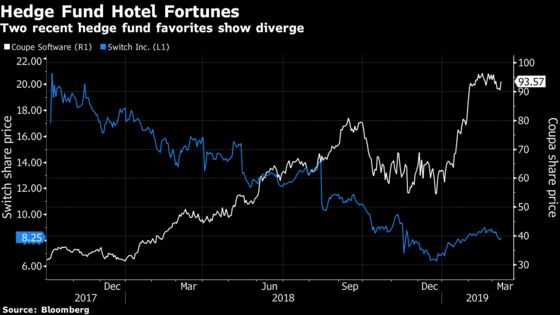 Wells Fargo shares may come under some additional pressure (no surprise it was the 3rd worst performer in the BKX Monday), with only CMA and NYCB performing worse (they faced their own demons in the form of a weaker than expected slides presentation and a downgrade, respectively) as the megabank will be the subject of hours-long scrutiny from Congressional members of the House of Representatives that will surely look upon the megabank will less favor than the prior Republican-held Congress. The title of the hearing should tell you all you need to know: "Holding Megabanks Accountable: An Examination of Wells Fargo's Pattern of Consumer Abuses." More about WFC's and the upcoming hearing can be found here.
Coupa Software (with 18% of its shares held by hedge fund managers, according to data compiled by Bloomberg) reported post market, and, despite the expected volatility that had been priced in, is looking flat in the pre-market. Analysts from Morgan Stanley noted a beat on billings and margins and that the company deserves its premium, but ultimately the risk/reward is "balanced.". The software developer serving the public and private sector will also host an analyst day later today. Needham analysts heading into the print wrote that expectations were "high" given its "premium valuation," and would be buyers on any weakness. Forecasts were a little light for 2020 earnings, but Coupa for the most part exceeded expectations.
To add to confusion today, Stitch Fix (24% held by hedge funds including Bill Miller's Miller Value and Jackson Square Partners; its also a favorite short seller target), reported post market (not to be confused with and ahead of fellow hedge fund hotel Switch Inc., which reports later today), and blew out expectations for revenue, Ebitda, net revenue forecasts. Piper Jaffray analysts "remain on the sidelines" despite the better than expected results, citing the company's "muted" plans to compete in U.K. while the valuation assumes "above industry terminal EBIT margin." The high short interest may be responsible for the share movement in the pre-market, with a possible mini squeeze with shares up more than 25%.
And Switch, due later today and boasting 35% of its outstanding shares held by the hedge fund community is in for a ride, with options pricing in an implied move of nearly 14%. BMO analysts earlier in the week wrote that they had been "disappointed by the lack of revenue visibility" in the name, but noted the company's ramping eBay business could offset some of its other sales delays.
Hewlett Packard Enterprise was cut to sell at UBS, which also slashed its price target to a Street-low of $13 as it expects the company's on-premises hardware sales to face a rising headwind from cloud-computing growth. Increased cloud adoption "will likely grow into a bigger headwind as it moves up from a 20% share," analyst John Roy wrote. The 15% average selling price growth HPE's serves saw "is unlikely to repeat," and "we do not see a 2H19 recovery." UBS is expecting a revenue decline of 2% in 2019, compared with growth of 7% last year. Shares are down about 2.5% pre-market.
HSBC expects Cola-Cola to go flat, downgrading the stock to hold and dropping its target by $14 to $50. The firm sees "both new and unresolved old problems" as the company transitions to a total beverage model, and is skeptical of how well it can execute the move. "Coke is trying to grow the pie, requiring it to drive revenues but with low-margin brands that may take years to scale up," analyst Carlos Laboy wrote, adding that KO "can afford to do it only if bottlers go along." However, "convincing bottlers to believe is getting harder" as the brands with the fastest growth aren't profitable enough, and "the brands that pay the bills hardly grow." In addition, HSBC sees new competition from brewers, who are "increasingly integrating beer and soft drinks to compete better," along with rising sugar taxes and regulation.
Also in the beverage space, BMO Capital Markets cut its view on Monster Beverage to market perform from outperform, seeing "limited upside" to the company's, ahem, "monster premium." The current valuation "may be as good as it gets given cloudier growth outlook and dwindling likelihood" of a long-hoped-for buyout by Coca-Cola. Analyst Amit Sharma also sees "modest, if any" gross margin expansion in the U.S due to inflation, a greater contribution from lower-margin products, and the risk that the company may have to promote more in order to protect its volume share. Meanwhile, Red Bull is expanding its price cuts while the energy drink Bang is capturing a lot of the category's growth, "with MNST being the biggest share donor."
Titanium Dioxide and chemical makers after VHI and KRO results led both shares to decline approximately 4% post market
Home security firms (ARLO, ALLE) after ADT's results whiffed on EBITDA forecasts, sending shares down nearly 13%
Plane suppliers and airlines (LUV, ALK, UAL) as the Boeing jet woes continue with further restrictions from Singapore and Australia (HXL, SPR, TGI)
Tick-by-Tick Guide to Today's Actionable Events
U.K. Parliament Votes on Revised Brexit Deal With EU
USTR Lighthizer testifies on the role of the WTO before Senate Finance
Susquehanna Technology Conference; companies include ACLS, BKI, CEVA, CHKP, LASR, LSCC, MXL, SIMO
RBC Capital Markets Financial Institutions Conference, New York (day 1 of 2): ACGL, BBT, C, CMA HTGC, KEY, WRB
Institute of International Bankers holds third day of annual Washington conf.
07:30am -- DKS earnings
8:00am -- MOMO earnings call; Citi equity strategist Tobias Levkovich on Bloomberg TV
8:30am – Feb. CPI; DFRG earnings call
9:00am –- COUP analyst day
9:00am -- AJG investor meeting
9:00am -- BRT investor meeting
10:00am -– DKS earnings call
10:00am -- House Financial Services Committee hearing on WFC: "Holding Megabanks Accountable: An Examination of Wells Fargo's Pattern of Consumer Abuses."
12:00pm -– EIA's Short-Term Energy Outlook; TOL investor meeting
4:01pm -- ZAGG earnings
4:15pm -- SWCH earnings; Gundlach Speaks on DoubleLine Total Return Bond Fund Webcast
5:00pm -- SWCH, ZAGG earnings call
Deutsche Bank Media, Internet & Telecom Conference, Palm Beach (day 2 of 2): AMT, CONE, QTS, SBAC, UNIT