Three Charts That Show Why Londoners Are Being Told to Stay Home
The National Health Service, Mayor of London Sadiq Khan and the police urged residents of the U.K. capital to stay at home over the holiday weekend to help stop the spread of the pandemic.
With good weather expected for much of the four-day holiday, authorities want to avoid people gathering in groups for recreation. Data compiled by Google show that sunshine last weekend led to a surge in the number of Londoners visiting parks compared with the previous weekend, even if it still remained below the longer-term average.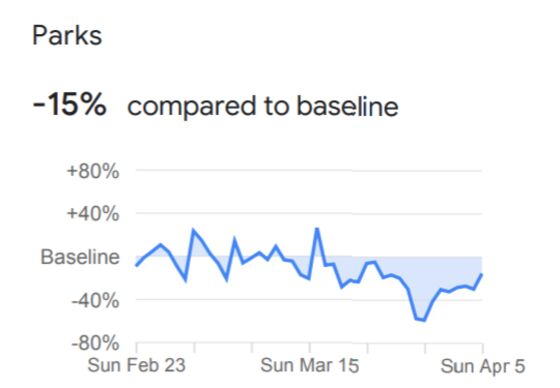 "The only way to show your loved ones and our NHS that you care is to stay at home and not leave the house unless it's absolutely necessary to do so," Mayor of London Sadiq Khan said on Friday. "That means only using parks for essential exercise – not as places to sunbathe, picnic or meet up with friends or family."
Lambeth Council closed London's popular Brockwell Park last weekend after more than 3,000 people visited, many of them to sunbathe, while police forces faced criticism on social media for ordering people to move on.
Scenes like that led Health Secretary Matt Hancock to warn last Sunday that he would tighten the country's lockdown if needed to halt the spread of the virus, including possibly banning all outdoor exercise.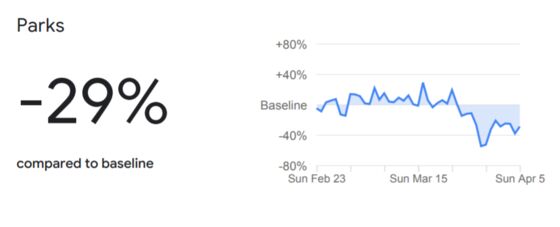 People in the U.K. visited parks at a far lower rate than in London last weekend, according to the Google report. The company creates the insights using aggregated and anonymized data from users who have switched on their location history setting.
The baseline is the median value, for the corresponding day of the week, during the five weeks through Feb. 6. The U.K. began its lockdown on March 23. The definition of parks includes public beaches, marinas and plazas.
The number of people in critical care is still increasing in London, government data show. Among those to have received oxygen is Prime Minister Boris Johnson, who was released from intensive care Thursday evening and remains in hospital.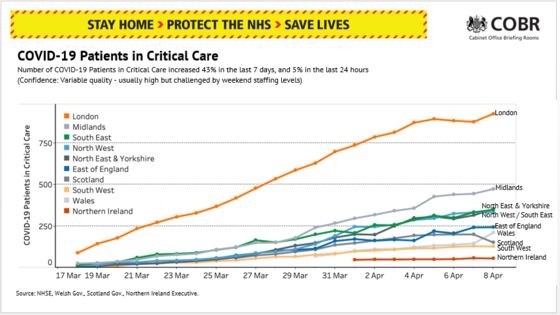 The U.K. reported 881 more deaths from coronavirus on Thursday, taking the overall total to 7,978, as the country struggles to fight the disease.
"Sadly, the number of people who have died in London hospitals is more than 2,000 and this is expected to increase until the rate of infection peaks." Vin Diwakar, the NHS's medical director in London, said in a statement on Friday. "We understand how difficult this is, but we can work together and come through this if we stay at home, protect the NHS and save lives."