Three Charts That Explain Boom in Southeast Asia's Net Economy
(Bloomberg) -- Southeast Asia's internet economy is on pace to expand 37 percent this year to $72 billion and is projected to exceed $240 billion by 2025, according to a joint research report by Google and Temasek Holdings Pte.
The region's internet economy is being fueled by 350 million online users who are buying airline tickets and goods, ordering rides and food with their smartphones across Indonesia, Malaysia, the Philippines, Singapore, Thailand and Vietnam. The annual research report covers gross merchandise value in four sectors of the internet economy: e-commerce, ride-hailing, online media and travel.
In last year's report, Google and Temasek, Singapore's state investment company, had estimated the Southeast Asian internet economy would reach $200 billion by 2025.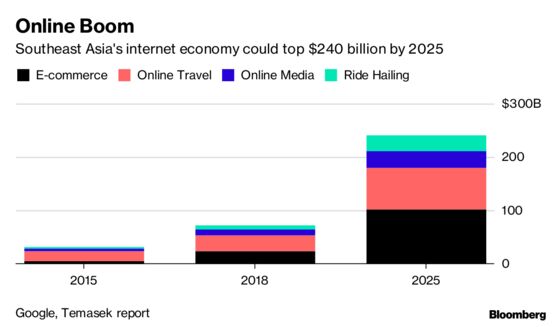 Southeast Asia's internet companies attracted a record amount of capital from venture capitalists, private equity firms and corporate investors in 2018, raising $9.1 billion in the first six months of the year, compared to $9.4 billion in all of 2017.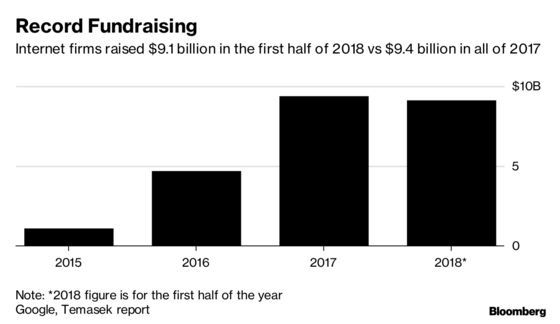 The region's ride-hailing market will expand to about $7.7 billion in 2018 and is expected to reach $28 billion by 2025, underscoring the ambition of Go-Jek and Grab to become Southeast Asia's super apps. Google and Temasek began including online food delivery in this category for the first time this year, given the growing importance of that business.
Online travel is the largest and most established among the four sectors of the internet economy, accounting for about $30 billion in bookings in 2018. About 41 percent of all travel bookings made in Southeast Asia were completed online, up from 34 percent in 2015. By 2025, 57 percent of the bookings will be made online when the market is projected to reach $78 billion.
Online shopping has been the fastest growing sector of the internet economy, reaching $23 billion in 2018. It's expected to exceed $100 billion by 2025.
The year 2018 has been a "year of transformation" for the ride-hailing services in Southeast Asia after Uber Technologies Inc. exited from Southeast Asia after a deal with Grab, and Indonesia's Go-Jek expands outside its home turf.
Ride-hailing services are popular in Singapore, the second-largest market in the region by value, worth an estimated $1.8 billion in 2018.
Indonesia's internet economy, the largest and the fastest growing in the region, reached $27 billion in 2018 and is poised to grow to $100 billion by 2025.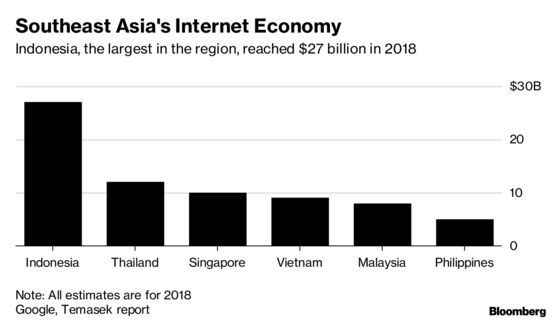 Vietnam's internet economy is booming as e-commerce almost doubled from a year earlier in 2018 and online advertising and gaming growing at more than 50 percent. Online travel market has "huge headroom for growth'' because of the lowest penetration of online travel bookings in the region.
This year's report included the areas of the internet economy that were not covered in previous research reports such as online vacation rentals, subscription music & video on demand and online food delivery.