Threat of New Cold War Looms Large in Balkan Vote
(Bloomberg) -- Arguments over Brexit, the rise of nationalism and how to deal with Russia are consuming Europe, but there's one dispute that's been edging toward a resolution – and it's in a region where there's much at stake for the world order.
The Republic of Macedonia will hold a referendum on Sept. 30 on changing the former Yugoslav state's name to Republic of North Macedonia. The insertion of the geographical denominator is key to settling a 27-year-old row with Greece, which claims the country misappropriated the ancient kingdom of Macedonia in northern Greece. Polls show most people support the change.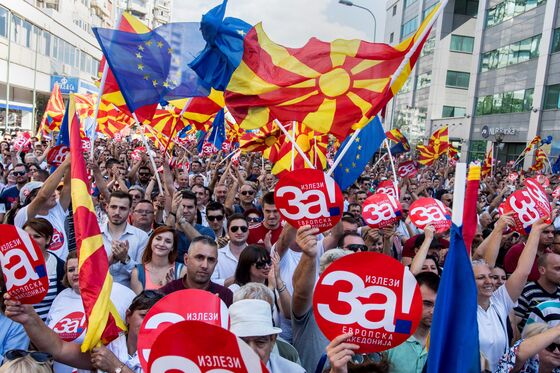 The Balkans is a theater of tug-of-war between the West and Russia and resolving the dispute would be a rare victory in a volatile region where nations still struggle to mend ties going back to the bloody conflicts of the 1990s. Greece has agreed to drop its objection to the Republic of Macedonia joining the European Union and NATO as part of an agreement struck in June.
Russia, a staunch opponent of further NATO expansion, wants to prevent that and is trying to meddle in domestic affairs, according to the government in Skopje, the capital. Moscow has backed the local nationalist opposition, which governed for a decade before being unseated last year by Prime Minister Zoran Zaev. Greece, an EU and NATO member with traditionally among the warmest relations with Moscow, expelled two Russian envoys after accusing them of bribing officials in an attempt to block the deal.
"Russia has publicly said that it is against Macedonia joining NATO, so they'll do whatever it takes to prevent this process," said Bujar Osmani, Macedonia's deputy prime minister in charge of EU affairs. I'm expecting "a crescendo of their influence here as we get nearer to the referendum day," he said. 
One government official said any Russian efforts at influencing the vote were confined to social media, though Osmani said there's no proof Moscow has been involved. The Transatlantic Commission on Election Integrity, a group founded this year that monitors votes, said in a report on Wednesday that automated Twitter accounts are backing an effort to curb turnout in the referendum.
A survey published by the Societas Civilis Institute for Democracy in Skopje on Sept. 10 showed more than two-thirds would support the deal with turnout seen at 58 percent.
There's robust support among the country's ethnic Albanians, who make up about 25 percent of the 2 million population, and are strong backers of joining NATO. The risk is that a low turnout among the country's Slavic majority may leave "some bitter feeling" about the name deal, Osmani said.  President Gjorge Ivanov, who is backed by the opposition party, said he won't vote in the referendum. He tried to block the deal in June and said it threatens the country's "national identity."
Even though the tiny nation was largely unscathed by war after the implosion of Yugoslavia, its economic and political progress stalled because of the dispute over the country's name and claims over cultural heritage.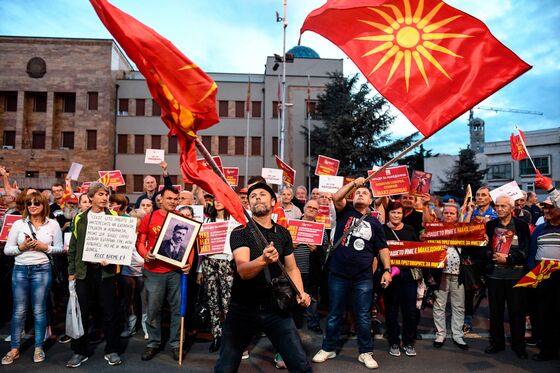 Mile Petrovski cast his vote for the Republic of Macedonia's peaceful secession from Yugoslavia in 1991, but he didn't expect his family and construction machinery business to be in a rut for the large part of three decades, he said.
"We desperately need a change," said Petrovski, 60, who struggles to collect payments from his clients and is dependent on financial aid from his son who works as a chef in Germany. "If the referendum succeeds, there will be some future for us."
That said, there's been opposition to the deal to end the name dispute in the Republic of Macedonia and Greece, with factions in both countries claiming too much was given away. Tens of thousands of marched in the streets in the northern Greek city of Thessaloniki in June and a smaller group of protesters clashed with police this month.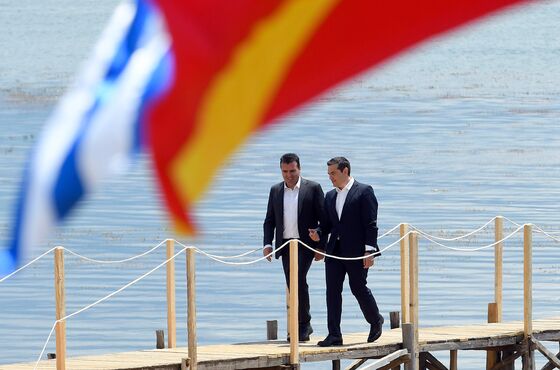 The deal faces a rejection from Prime Minister Alexis Tsipras's coalition partner, Independent Greeks. But with his Syriza party trailing in the polls before an election next year, Tsipras and his allies are keen to build on a summer that also saw Greece finally exit its international bailout package.
Zaev, meanwhile, will have to clinch a two-thirds majority in parliament to approve the constitutional change, meaning he needs help from opposing parties to make up the numbers. That's if his referendum passes at the weekend. As incentives, the country was promised that it may sign an accession protocol with NATO as early as the winter, Secretary General Jens Stoltenberg said on Sept. 6. The EU has given a conditional date for the start of accession talks in June.
"The government sees membership in these organizations as critical to the country's future prosperity and security," said Steven Meyer, a professor at the Daniel Morgan Graduate School of National Security in Washington. "The Balkans have become a playground for Russia and the U.S. that is essentially a continuation of the Cold War."