Thomas Cook's Dismal Year Gets Worse With New Profit Warning
(Bloomberg) -- Thomas Cook Group Plc lost as much as one-third of its value, suffering fresh fallout from the U.K. tour operator's botched execution during the all-important summer travel season.
Annual profit missed guidance that had already been cut twice earlier in the year, the company said Tuesday. Thomas Cook suspended its dividend, saving it a cash outlay of about 9 million pounds ($11.5 million) as it heads into the slower winter months and a travel outlook next year made uncertain by Brexit.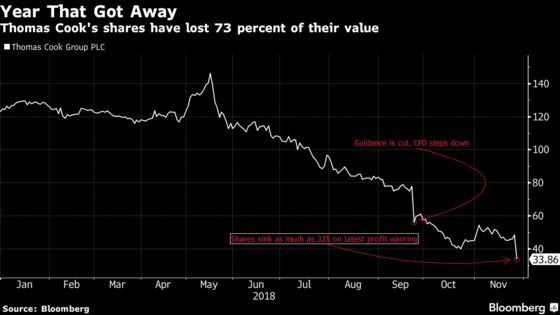 The shares were down 24 percent as of 10:15 a.m. in London, after earlier dropping the most since November 2011. The company's 400 million euros ($453 million) of bonds due July 2023 declined 8 cents on the euro to 76 cents, the lowest on record, according to data compiled by Bloomberg.
Thomas Cook failed to plan properly for one of the hottest European summers on record, bulking up its jet fleet and locking up hotel rooms based on misplaced optimism. Soaring temperatures led millions of potential customers to holiday at home, forcing the company into heavy discounts to sell last-minute packages. Profit dropped by almost one-fifth for the year, well short of even the company's latest targets.
"This looks particularly shocking" considering the previous trading update was just six days before the financial year ended on Sept. 30, Stuart Gordon, an analyst with Berenberg, said in a research note. "The focus moving forward will be reported operating profit and cash flow, which smacks of the company taking one-off items into this year to give themselves a boost for 2019."
With a market value of 572 million pounds, Thomas Cook has lost three-quarters of its value since May. In September, the company replaced its chief financial officer after the errant travel forecast forced the tour operator to slash its outlook twice in three months.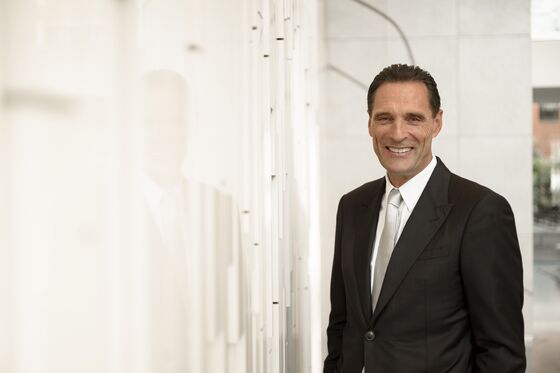 On a conference call, Chief Executive Officer Peter Fankhauser said the company also underestimated what he called "transformation costs" to streamline its business and deliver on cost savings. The heatwave hurt profit margins, as did higher hotel costs in Spain, which crimped margins in the U.K. tour business.
The company, with debt maturities until 2022, has no cash problems and no issue with debt covenants, said new Chief Financial Officer Sten Daugaard.
Unlike bigger rival TUI AG, which has broadened from being just a tour operator, Thomas Cook has failed to reduce earnings seasonality -- meaning most profit is made from July through September. That leaves the company more vulnerable if business doesn't go as planned. TUI shares fell as much as 8.6 percent.
Thomas Cook is making preparations for Brexit and has contingency plans in place in case there are any unexpected shocks, Fankhauser said on the call, though U.K. bookings for next summer are currently running ahead of a year ago.
"We have to get the balance right between capacity and demand, which is not as easy as it looks, especially when you have shock after shock," Fankhauser said on the call. "It's been an absolutely disappointing year-end. We have evidence that we are delivering, but we have to speed it up and be more vigorous on the execution.'