Thomas Cook Cuts Forecast on Summer Travel Slump
(Bloomberg) -- Thomas Cook Group Plc replaced its chief financial officer after a botched travel forecast for an extraordinarily hot European summer forced the tour operator to slash its expectations twice in two months.
The shares fell the most in two years after the London-based company said underlying profit for the year ending Sept. 30 will be 13 percent lower than the bottom end of a July 31 forecast that already represented a downgrade. Finance chief Bill Scott will step down after less than nine months on the job as the company brings in Sten Daugaard, a former Lego executive, on an interim basis.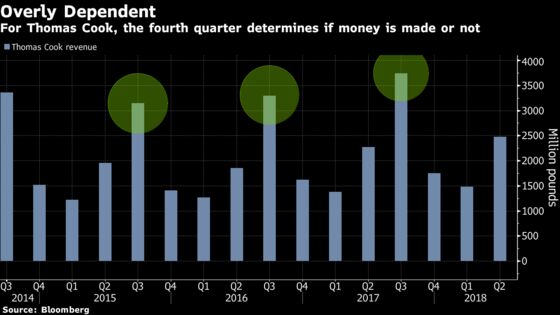 Unlike bigger rival TUI AG, broadened from being just a tour operator, Thomas Cook has failed to reduce earnings seasonality -- meaning most profit is made from July through September. That leaves the company more vulnerable if business doesn't go as planned. The hot weather this summer served as a disincentive to Europeans in usually sun-deprived England, Germany and Scandinavia to take trips to warmer climates.
"Many customers spent June and July enjoying the sunshine at home and put off booking their holidays abroad," Chief Executive Officer Peter Fankhauser said on a conference call. "Our recent trading performance is clearly disappointing."
Thomas Cook said Monday it offered discounts larger than usual to entice travelers to still go to its hotels across the Mediterranean. Increased bookings came at the cost of profitability. Further, as many potential travelers burned vacation days enjoying the local weather, there will be a spillover weighing on the winter season as well, the company said. The company said it has cut capacity offered in its Nordic markets by 5 percent.
The shares dropped as much as 26 percent in London, the most since the day after the U.K.'s vote to leave the European Union. Thomas Cook was down 15 percent to 62.35 pence at 12:05 p.m.
Underlying operating profit will amount to about 280 million pounds ($366 million) in the year ended Sept. 30, the company said in a statement. Eight weeks ago, the company forecast it would come in at the lower end of a range of 323 million pounds to 355 million pounds estimated by analysts.
"The CFO leaving was a surprise. Reading between the lines you have to ask whether it is related to the profit warning," said Stuart Gordon, an analyst with Berenberg, in an email. The hot weather "does hamper tour operators," he said, "but I am shocked at the magnitude."
Scott joined Thomas Cook in 2012 and had held various senior finance positions, including head of financial control and planning, before becoming CFO. Daugaard will join on Oct. 1 and take over as finance chief on Dec. 1. The company also started the search for a new long-term CFO.
Summer bookings are up 12 percent with 90 percent of program sold
Average selling prices for summer are down 5 percent as the group's airlines sold more short-haul tickets
Winter bookings are 2 percent down, while average selling prices are up 1 percent; 43 percent of the program has been sold
Company can't predict impact of death of a British couple in Hurghada, Egypt, in August on its business