Ocado's Warehouse Robots Are Three Times Faster Than Amazon's
(Bloomberg) -- David would win against Goliath in an automation faceoff in the U.K. online delivery market.
Warehouse robots travel three times faster at Ocado Group Plc than at Amazon.com Inc., Peel Hunt wrote in a report on Friday. Analysts James Lockyer and Damindu Jayaweera said they were "underwhelmed" by the global giant's automation investment after a visit to its warehouse in Tilbury, England, its largest and most technologically advanced in Europe.
Ocado, whose market value is about a hundred times smaller than Amazon's $936 billion, has gone from being Europe's most shorted stock to one of its best performers. The British online-only grocer's shares have jumped 72 percent this year alone, after almost doubling in 2018.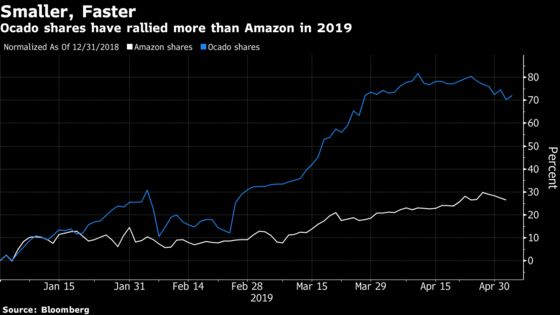 Peel Hunt's analysts also noted Amazon's greater reliance on mechanical conveyor belts and a lower utilization rate compared with Ocado, saying they are now "even more positive" on Ocado.
The company has automated-warehouse agreements with supermarkets operators including Coles Group Ltd. and Kroger Co. Earlier this year it formed a joint venture with Marks & Spencer Group Plc in an effort to outpace Amazon with deliveries. The service, called Zoom, aims to deliver to major British cities in less than an hour, compared to within two hours for Amazon.