Hedge-Fund Veteran Shuns Volatility Wagers This Time Round
(Bloomberg) -- Stephen Diggle, who co-founded a hedge fund that made $2.7 billion on volatility wagers during the global financial crisis, isn't betting on similar fluctuations now even as central banks begin to roll back years of extraordinary stimulus.
Governments and central banks worldwide now see themselves as "guardians of the capital markets" and will always be ready to provide liquidity to prevent a repeat of the unprecedented price swings a decade ago, said Diggle, the chief executive officer of family office Vulpes Investment Management. Increased trading by computers and algorithms will also smother fluctuations, he said in an interview.
"Generally we'll have less super liquidity in future, so I expect generally slightly more volatility," said Diggle, who is based in Singapore. But "we won't get a spike like 2008 for a very long time," he said.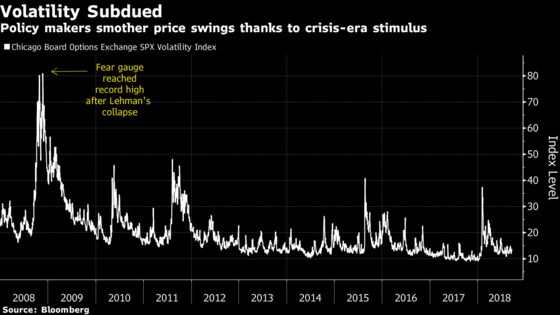 A decade after the fall of Lehman Brothers Holdings Inc., investors are girding for greater volatility as policy makers around the world, led by the U.S. Federal Reserve, attempt to unwind support measures. While a resilient dollar and global trade skirmishes have fueled a rout in emerging markets, the risk of "true contagion" is much lower now than in 1997, Diggle said. The collapse of the Thai baht in July that year set off a financial crisis across Asia and eventually rocked emerging economies from Brazil to Russia.
Diggle is "far more worried" about an escalation in trade tensions between the U.S. and China than the sell-off in emerging-markets. Even as the turmoil centered on Argentina and Turkey has spread, many developing nations have "pretty decent fundamentals," he said.
READ: Who Needs Cash? Ranking EM Financing Gaps
Diggle set up Vulpes in 2011 after liquidating the volatility funds at his previous company, Artradis Fund Management, as stimulus by central banks damped price swings. A graduate of Oxford University, Diggle worked at Lehman before co-founding Artradis in 2001. He manages about $500 million of assets.
The CBOE Volatility Index, known as the VIX, was at 12.79 Tuesday, compared with the 10-year average of about 20. The so-called fear gauge spiked above 50 -- but only briefly -- during a stock-market rout in February and in the aftermath of China's shock devaluation of the yuan in August 2015. It rose to almost 90 at the height of the financial crisis in 2008.
There are "too few good instruments" to bet on volatility, Diggle said. Allegations that the VIX was being manipulated -- which the CBOE said were unfounded -- have drawn the attention of regulators this year.
"The VIX itself is too complex, too short term and too controlled by a group of large players," Diggle said. Meanwhile, the market for over-the-counter derivatives has shrunk since 2008 and "what's on offer for the buyer is much less appealing."
Still, the market is "in many ways" worse than in 2008 following regulatory changes, according to Diggle.
"Buyers of financial assets are now forced to choose between expensive equities, super-expensive bonds and often insanely expensive property," Diggle said. "That can't but be a consequence of central bank intervention."
The world's debt load has ballooned to a record $164 trillion, a trend that could make it harder for countries to respond to the next recession and pay off debts if financing conditions tighten, the International Monetary Fund said in April. The Fed has raised rates seven times since 2015 and investors are expecting it to tighten again when policy makers meet on Sept. 26.
"The world must prepare itself for more expensive money," Diggle said. "Many of those players, whether highly leveraged dollar-indebted emerging-market corporates or leveraged-to-the-gills residential-property buyers, seem woefully unprepared for that. That's clearly our biggest concern of all."
Diggle said he has been buying put options on the S&P 500 to hedge some of his holdings, with the U.S. stock benchmark trading just off its record high. The VIX derives its price from S&P 500 options. Goldman Sachs Group Inc. and JPMorgan Chase & Co. have warned about the danger to corporate America if a full-blown trade war erupts, highlighting the possible hit to earnings.
"It's been the last major index to be reaching new highs and is a very good barometer of global risk sentiment," Diggle said. "We own assets so we want to hedge the risk of asset prices falling. To some extent we don't care about volatility anymore."