This Pot Stock Mania Isn't Even Close to Dying Out: Taking Stock
(Bloomberg) -- Stocks are looking lower to start the day, potentially to the point of erasing most of the Nafta-related gains from Monday's session.
Italy is the culprit for the early weakness, with Europe's Stoxx banks index slipping as much as 2.2 percent at one point (though now well off lows) with selling spilling over from Italian banks to the rest of the complex. The country's bonds fell to their weakest level in over four years after the head of the European Commission warned of a Greek-style crisis.
More often than not though, stocks in the U.S. tend to dip early on these types of jitters only to quickly rebound into or after the open. PepsiCo could be one distraction that helps, as shares are now in positive territory after results -- the initial reaction to the reduced earnings forecast was negative, but there's FX impact to be aware of and the boosted organic growth view is probably what the Street will be more focused on.
The "Something Alarming" section in Friday's column talked about the potential for negative preannouncements in the near term given the recent barrage of troubling reactions to earnings and qualitative commentary. Since then, beleaguered industrial bellwether GE said it would fall short of its yearly earnings forecast, Irish airliner Ryanair cut its profit outlook, London's Royal Mail plunged to a record low after a surprise warning, Swiss HVAC name Ferguson dropped on weak numbers, egg distributor Cal-Maine reported a monster miss, and high-flying hedge fund hotel Stitch Fix cratered more than 20% after results.
Sectors to watch today include the pot stocks, as wild rallies on Monday continued after the close (see more on this in the next section), automakers with monthly auto sales coming out (and following a Nafta bump in Monday's session), the truck machinery names like Cummins and Navistar with preliminary orders expected sometime today (recall last month was another monthly record), and the airlines with a possible update at JetBlue's investor day (space has seen awful action since the beginning of last week).
Pot Stock Mania, Part Two
A lot of people wrote off the pot stocks the second Tilray set off volatility halt after volatility halt in a downward spiral that occurred on Wednesday, September 19, just seconds after the stock top-ticked at $300.
They said this was exactly how the crypto craze of late last year died out, like when Longfin had a similar super spike to $142.82 only to quickly reverse and spend the rest of the year slow crawling to sub-$3. Same thing with Riot Blockchain, the biotech firm formerly known as Bioptix that surged on a name change only to bust later on. And then, of course, we had the sad tale of Long Island Iced Tea, the beverage company whose shares shot up after becoming Long Blockchain only to fizzle out to its current state as a penny stock. If only they waited a year to become Long CBD-Infused Tea!
But if you thought the pot stocks craze was going to go away that easily, you're probably wrong. For one, these companies seem to have much more obvious (and seemingly legitimate) ties to the underlying product than say, some of the bitcoin/blockchain hanger-ons from 2017. Also cannabis is much more easily understood by Wall Street and the masses than crypto, whose uses are still misunderstood by the general public.
But I think all you have to do is go to the videotape to see that the mania isn't dying down. Just look at Tilray's chart -- the stock did have a $200 per-share reversal from its September intraday peak, but it hasn't fallen further, and hasn't even consolidated. It's actually recovered by a lot -- shares are up 66% in the past five sessions and the market cap is back to a hefty $15.4 billion, which is higher than that of MGM Resorts, Nasdaq, and the second-largest publicly traded homebuilder, Lennar.
Meanwhile, the stocks of some of the Canadian bellwether pot plays haven't faltered. In fact, they're trading near their recent highs, and their market caps aren't anything to sneeze at either, like Canopy Growth at ~$11.2 billion and Aurora Cannabis at ~$9.3 billion.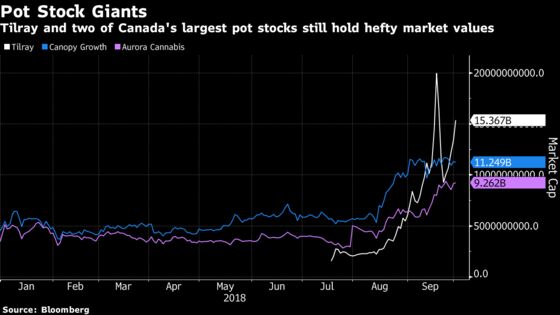 Plus traders now have a few new (much smaller) toys to play with in the space, for example CBD names New Age Beverages and Alkaline Water are up 463% and 81% in the past two weeks, respectively. Meanwhile, the real insanity can be seen in cannabinoid biopharma company India Globalization Capital, which has soared more than 2,000% since the end of July (and is up another ~30% in today's pre-market trading).
And while there's pump-and-dump schemes in every stock mania and this could all end in tears for the fanatic cannabis investor crowd, I'm a believer in the current sentiment that is being conveyed in the charts, which suggests this whole thing doesn't appear near played out - and as such, I think this mania probably has some legs to it and the longs can laissez les bons temps rouler, at least until the Oct. 17 Canada legalization catalyst.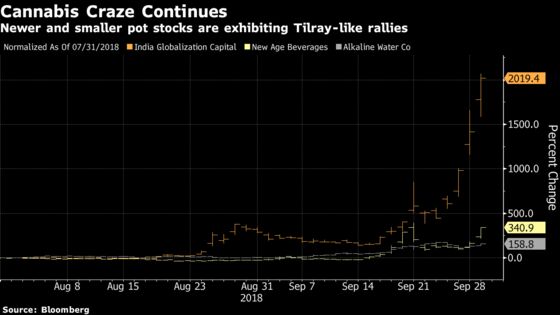 Notes From the Sell Side
Here come the upgrades for GE (shares up 2.4% pre-market after rallying over 7% on Monday):
First we have Deane Dray at RBC moving to an outperform and a price target of $15, saying that a floor has now put in with the launch of the Larry Culp era (amazingly Dray says their note last week outlined the likelihood of a large Power impairment charge, a 2018 guidance cut, and the prospects that Culp may some day be named CEO)
We also have Nigel Coe at Wolfe Research lifting his rating to an outperform and price target to $16 on confidence in execution with Culp at the helm and the Street likely to focus on SOTP upside.
Now if only Steve Tusa at JPMorgan became less bearish!
See our Street Wrap from Monday for more post-Culp takes
Wolfe Research's Rod Lache, who recently joined from Deutsche Bank, launched his big autos initiation, assigning a market underweight rating for the autos, auto parts, and auto dealers sectors ("the auto cycle is in its 8th or 9th inning") and market overweight for the more disruptive companies included in the "Auto 2.0" group. Outperforms go to GM, American Axle, Aptiv, BorgWarner, Lear, Magna, Goodyear, Carvana, and KAR Auction while the four underperforms are Autoliv, Cooper Tire, Veoneer, and AutoNation.
Square is getting another dose of analyst love, with Keybanc bumping its price target to $115 from $75 after surveying 20 sellers: "The biggest standout was the fact the sellers now expect to adopt 3.4 value+ products on average over the next 12 months, which is a 105%+ increase from current levels and a notable up-tick from our survey last year."
In FAANG land, Goldman is pumping its bullish call on Netflix two weeks before earnings, noting that Street subscriber estimates remain too low. Deutsche Bank sees heightened risk to consensus estimates for Facebook in 3Q, 4Q and 2019 given mixed channel feedback coming out of the first day of AdWeek.
Deutsche Bank is turning more cautious on steel stocks as most positive data points and catalysts have largely played out. They downgrade both U.S. Steel and Reliance Steel to hold and separately move Century Aluminum from a buy to a hold due to a correction in the alumina price taking longer than expected.
Tick-by-Tick Guide to Today's Actionable Events
Today -- TSLA 3Q deliveries may be released
Today -- U.S. auto sales for September
Today -- Preliminary Class 8 truck orders from A.C.T. (may impact CMI, PCAR, NAV)
7:00am -- Tesla bull Ron Baron scheduled to appear on CNBC
7:45am -- PEP earnings call
8:30am -- LW, PAYX earnings
8:30am -- JBLU investor day
9:00am -- Senators Jeff Flake, Chris Coons speak at The Atlantic Festival
9:00am -- SPLK CEO Merritt keynote address at .conf18
9:00am -- AHT investor day
9:20am -- PepsiCo CFO Hugh Johnston on Bloomberg TV
9:30am -- GTLS call on VRV Group acquisition
10:00am -- Fed's Quarles testifies at Senate committee
11:00am -- BLL investor meeting
12:00pm -- Fed Chair Powell speaks at NABE conference
1:15pm -- JPM CEO Jamie Dimon at American Enterprise Institute
2:00pm -- PCG at Wolfe Research utilities and energy conference
3:35pm -- I at Deutsche Bank leveraged finance conference
4:00pm -- MSFT hardware event
4:05pm -- LNDC earnings
4:15pm -- ELGX investor meeting
4:30pm -- API oil inventories
5:00pm -- NG earnings
5:30pm -- WDAY analyst day
6:40pm -- Trump hosts MAGA rally in Southaven, Miss.
Tonight -- IPO scheduled to price: Upwork (UPWK)