This Is What's Killing Australia's Property Boom
(Bloomberg) -- A potent combination of nervous buyers, cautious lenders and retreating investors has turned Australia's once booming housing market to dust.
The optimistic view is that with employment still growing, the declines will stay orderly and help return some affordability to a stretched housing market. The nightmare scenario is that the downturn accelerates, piling further pressure on banks and putting Australia's near-record 27 years of unbroken economic growth at risk.
These six charts show how the downturn is playing out: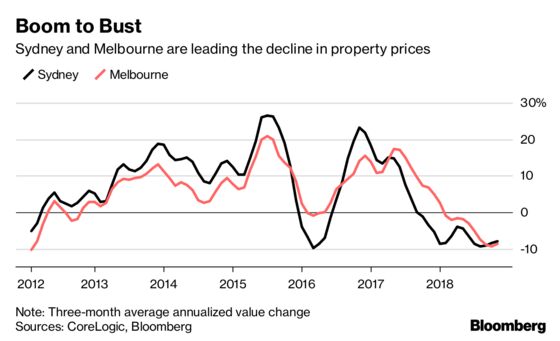 While the plunge in prices may be welcome news to first-home buyers who feared they had been priced out of the market, the past two months have seen a marked drop in loans to owner-occupiers, suggesting people are happy to stay on the sidelines until the market has settled.
It's also got much harder to get a loan. All the major banks have tightened lending criteria and introduced stricter expense verification, lengthening the time it takes to get approval and reducing the maximum amount that can be borrowed. Analysts at UBS Group AG believe more credit tightening is almost inevitable, and the outlook for banks hasn't looked as challenging since at least 2008.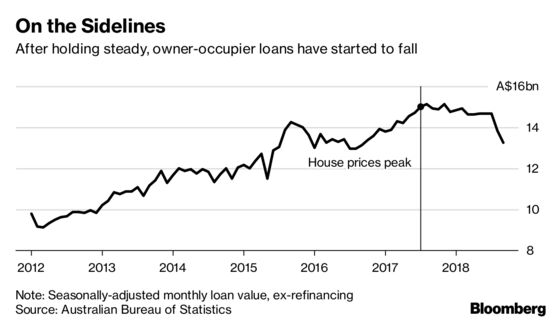 That's coming on top of a steep decrease in investor credit after lenders responded to a regulatory crackdown on risky advances by tightening loan criteria, and property stopped being a one-way bet to riches.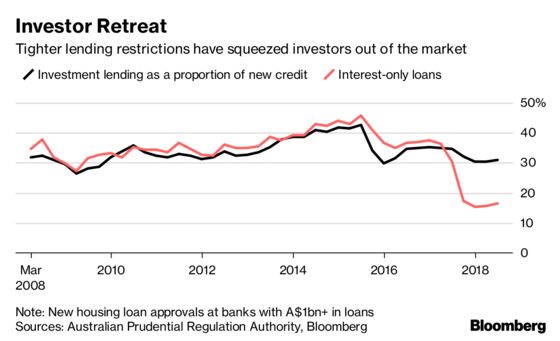 At this rate, the downturn is on track to become the largest peak-to-trough decline in home prices in more than 30 years. The biggest recent drop was in 1982 when Australia, along with most of the developed world, was in the grip of a crippling recession. UBS said this week that house prices could drop 30 percent in a "deep recession" scenario.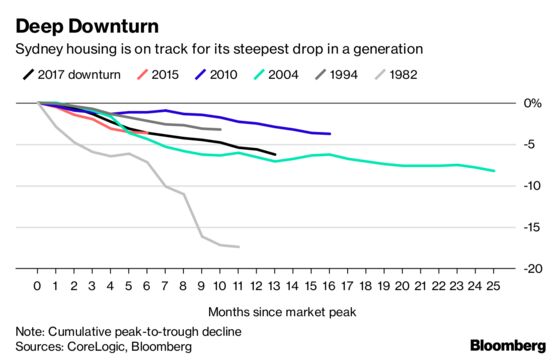 As prices decline, fear of missing out has turned to fear of paying too much. Clearance rates at Sydney auctions -- a popular way of selling properties in the city -- in November plunged to 42 percent, near levels last seen during the global financial crisis. At the height of the boom, weekly auction clearance rates regularly topped 75 percent.
Gone are breathless newspaper reports of houses selling for hundreds of thousands of dollars above the reserve price. Instead, auctioneers are struggling to get an opening bid. While sellers are starting to lower their price expectations, buyers are adjusting theirs even faster.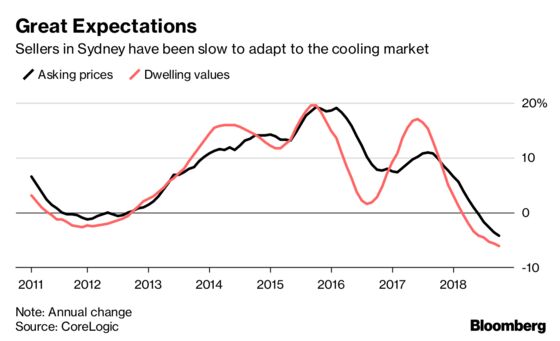 With the economy still humming along, the number of forced sellers is low. However, the stand-off over prices means houses are now taking an average of almost two weeks longer to sell than at the start of the year. That's creating a logjam of unsold homes -- the number of total listings in Sydney is 19 percent higher than last year according to CoreLogic -- further reducing pressure on buyers to make a quick decision.
Still, the boom was so explosive, prices are only back to where they were a few years ago, meaning few borrowers are underwater. With the average house in Sydney still fetching more than A$1 million ($722,000) and wages stagnating, the city's unwelcome status as the world's second-least affordable housing market isn't under serious pressure.