This FX Veteran Predicts the Dollar Will Plunge
(Bloomberg Markets) -- The biggest currency trade in the world can fit on an index card, according to a 40-year veteran of the foreign exchange market.
Ulf Lindahl, chief executive officer of A.G. Bisset Associates LLC, predicts the dollar will plunge about 40 percent against the euro by 2024. The currency manager's reasoning is straightforward—since the 1970s, the dollar has been repeating a 15-year cycle of losses and gains, and the pattern is replaying now. To some, Lindahl's call may seem outlandish and his reasoning overly simple. But after last year's 9 percent slide—and with Bridgewater ­Associates' Ray Dalio in September predicting a dramatic dollar drop—Lindahl's view may not be as far out as it once appeared.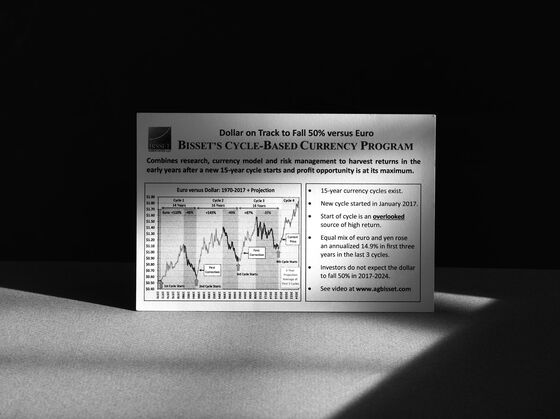 "We should see a very substantial decline in the dollar," the 64-year-old says in an interview in August at his five-person office in Norwalk, Conn. "It has massive implications for all the financial markets," potentially triggering a sell-off in stocks and a rally in ­commodity prices. Investors piled into the greenback this year, ­boosting it almost 2 percent as U.S. growth outpaced that of its global peers and the Federal Reserve raised interest rates.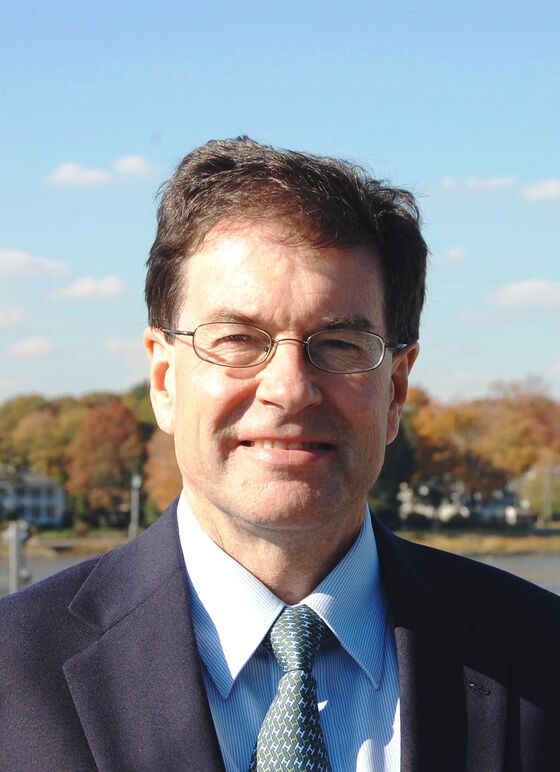 Lindahl, who hedges foreign exchange risk for pension funds and family offices in the U.S. and Europe, turned negative on the currency in 2016, bucking a strong bullish consensus as the dollar rose. To illustrate his contrarian view, he printed out index cards charting the dollar's long-term pattern against the euro and handed them out at industry conferences and cocktail parties. His prediction for a huge dollar slump was often met with: "Are you serious?"
But others found the picture compelling. It sparked meetings with potential clients and prompted debates with existing ­customers. Lindahl was emboldened in 2017 when the dollar sank and speculators bet that synchronized global growth would spur other central banks to catch up with the Fed.
"When investors learn about the 15-year cycle, they are initially skeptical and doubt it exists," even though they acknowledge other patterns such as the business cycle, Lindahl wrote in an August report. The failure to accept this logic, alongside the potential ­correction in equities, creates the "riskiest investment climate in 45 years" for non-U.S. investors who haven't adequately hedged for the currency's reversal, he says.
The dollar's decline last year was only the beginning, according to Lindahl. He sees it falling as far as $2 per euro and 75 yen per dollar by 2024, declines of about 41 percent and 33 percent, respectively, from September. That's a big departure from the median forecast of analysts surveyed by Bloomberg, who see the euro at $1.28 in 2022.  The dollar slid 0.2 percent to 1.1587 per euro as of 11 a.m. Monday in New York. It was down 0.4 percent at 111.76 yen.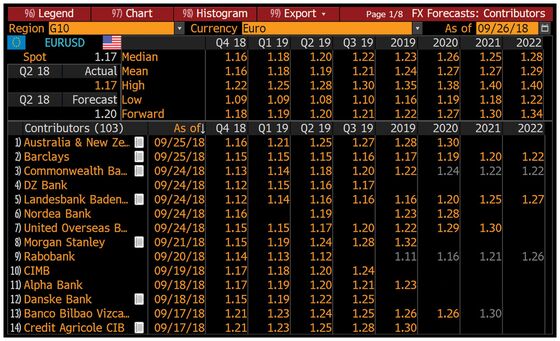 That outlier call contrasts with Lindahl's self-professed "steady Eddie" disposition. In his spare time, he collects and ­exhibits Ethiopian stamps, inspired by a childhood spent in the African country before returning to his native Sweden. His office walls are decorated with framed letters from clients responding to the firm's predictions, which were later proved right. A.G. Bisset's approach has helped its clients pick up about 100 basis points per year on their portfolios over the last 25 years, Lindahl says.
Yet he's no stranger to bold moves. As a college student at the Stockholm School of Economics in 1977, he answered a ­bulletin board ad for a job on Wall Street. Lindahl got an interview on a Thursday, picked up a visa on Friday, bought a suit at H&M over the weekend, and landed in New York on Monday. After a few years at an investment adviser analyzing currencies and equities, he co-founded A.G. Bisset in 1981.
These days, the foreign exchange manager only trades currency forwards every two to four months. And even though he's convinced the dollar will drop in coming years, he sometimes makes tactical bets to buy it over several weeks when it's fallen too far or too fast.
The dollar's impending sell-off comes down to a model of its historical pattern and the idea that the currency will revert to a mean when it gets too cheap or too expensive, Lindahl says. While these are well-worn concepts in markets and economics, he says investors still resist that logic, arguing that an historical pattern isn't a good enough reason to place a future bet.
For those clients who seek an economic rationale, Lindahl points to bearish factors that will weigh on the greenback: a likely slowdown in U.S. growth that will curb Fed interest-rate increases, peaking U.S. equities and Treasury yields, political turmoil, and the dollar's overvaluation on a purchasing-power-parity basis against almost all major currencies.
But really, the dollar should drop simply because it's going to follow the rhythm of the past four decades, says Lindahl, who cites as an influence The Great Wave: Price Revolutions and the Rhythm of History, by historian David Hackett Fischer. Even though the greenback has climbed this year, defying his view, Lindahl's conviction in the 15-year cycle hasn't wavered. "I don't feel lonely and in the wilder­ness," he says. "I never lose sleep."
Nguyen covers FX at Bloomberg News in New York. With Owen Minde