Think U.S. Tech Is Having a Bad Time? It's Even Worse in Europe
(Bloomberg) -- Apple Inc. might be barreling toward bear-market territory, but most European blue-chip tech stocks have been exploring dark depths of their own for a while.
In the U.S., the FAANG giants were the market's driving force for the bulk of 2018, with the Nasdaq 100 Index ascending to an intraday record at the beginning of October. The subsequent sell-off was accompanied by a range of worries over a U.S.-China trade war, the impact of higher interest rates, a possible peak in the semiconductor cycle and privacy concerns, coupled with some disappointing earnings.
While the Nasdaq is down 13 percent from its Oct. 1 record, the spillover has been even worse in Europe, with the Stoxx 600 Technology Index dropping 16 percent in the same period.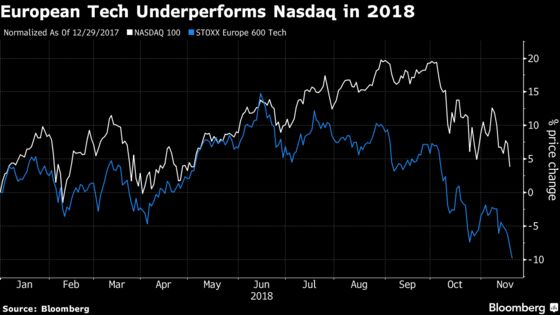 In fact, only a handful of heavily weighted stocks have stood between the European tech benchmark and a deeper rout. The sector's worst-performer, iPhone supplier AMS AG, has dropped a staggering 80 percent from this year's record as the outlook for Apple's entire supply chain darkens with diminishing orders. The California giant itself is somewhat shielded against lower handset volumes, thanks to its other revenue sources, such as streaming music and its software business.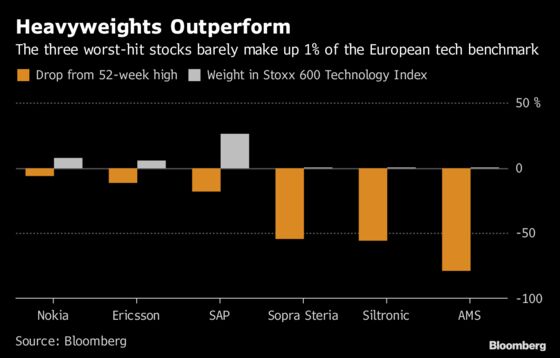 Even so, Apple's dominance means the monetary impact of its share slump is acutely felt by investors, and a drop of almost 20 percent from Oct. 3's record close pushed the market value lost to beyond $200 billion. That's more than the combined value destruction in all 30 constituents of the European tech benchmark since their respective peaks.