Thin Mints Via Drone Help Girl Scouts Leapfrog Over Covid Limits
(Bloomberg) -- The coronavirus pandemic has put a significant dent in annual Girl Scout cookie drives this year, but Alphabet Inc.'s Wing unit is offering to deliver thousands of packages via drone to a Virginia community.
Wing's 14-propeller, custom-built drone has in recent weeks begun dropping boxes of Samoas, Thin Mints and other varieties to customers' homes in a contactless transaction that bypasses the traditional booths and door-to-door sales.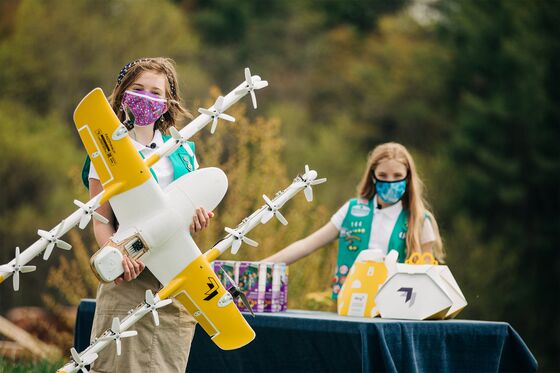 "It's exciting for the industry," said Nikki Williams, chief executive officer of the Virginia Skyline Council Girl Scouts. "It's exciting for us. But really what it's most exciting for is the girls, to really see innovation and participate."
The company has agreed to purchase 3,000 boxes of cookies as the scouts' fund-raising drive winds down this year, helping the 16 troops in the Christiansburg area of southwestern Virginia limit the losses they expect, Williams said. They expect sales to be 40% below last year, she said.
Wing's drone delivery service -- which has some operations in the U.S., Australia and Finland -- grew by more than 500% in 2020, at least partly because Covid-19 restrictions led to greater demand, the company said in a statement.
The growth has continued this year. Wing has made more deliveries in the first three months of this year than in the last six months of 2020, the company said.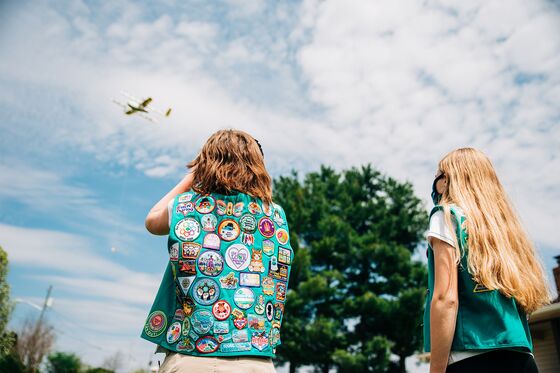 Wing is one of a number of large and small companies, including Amazon.com Inc. and United Parcel Service Inc., that are racing to master drone technology and obtain government permission for the novel technology of using small, remote-controlled aircraft to deliver goods to people's homes.
The U.S. Federal Aviation Administration has allowed limited tests of various delivery models, but is still wrestling with how to create a new regulatory framework that ensures safety for routine robotic flights.
As part of its help on the cookie drive, Wing has promised to give girls in the Christiansburg area access to its drone operations to help with science and technology education.
Limits in Virginia on large gatherings during the pandemic have meant that only a handful of the girls have been able to participate so far, but Williams said they plan to have larger field trips as restrictions are lifted.
A promotional video released by Wing shows two girls watching a drone hover over a lawn and lower a box holding cookies.
"We are the first council to deliver cookies by drone and that is pretty awesome," said 11-year-old Gracie, wearing a badge-festooned vest.