Thiel-Backed Palantir Soars as Biden Inches Closer to Win
(Bloomberg) -- Palantir Technologies Inc. surged on Friday on speculation that Democrat Joe Biden -- nearing victory in the U.S. presidential race -- would rein in military spending and spur demand for the company's lower-priced surveillance technology.
The stock rose as much as 26%, the most since its direct listing in September as many investors expect defense spending would be cut under a Biden administration.
Palantir, which was co-founded by Peter Thiel, counts the U.S. Defense Department among its largest customers and could benefit from budget cuts because its software often costs less than similar offerings from traditional defense contractors.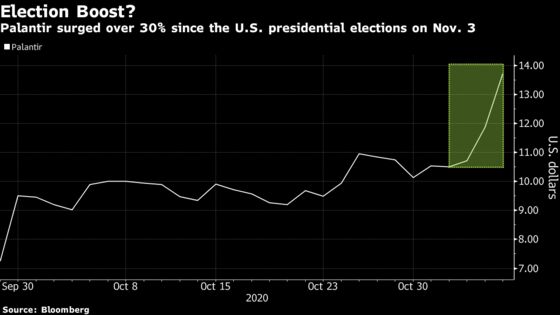 Its shares could also be benefiting from short sellers exiting their positions as the stock rises, according to Melius Research analyst Carter Copeland, who called the stock's volatility "stunning."
"Given that the rest of the defense and industrial security complex hasn't reacted in the same way, one would conclude there's an element of short covering here," he said in an interview.
About 6% of Palantir shares that are available to trade are being sold short, according to the latest data from financial analytics firm S3 Partners. That's down from about 9% on Oct. 28.
Palantir has now gained about 32% since the U.S. election was held on Nov. 3, adding more than $5 billion in market value. The company is scheduled to report financial results for the first time as a publicly traded company on Nov. 12.