These Drugmakers May Be Next to Make an M&A Splash in 2019
(Bloomberg) -- Biotechnology investors who eagerly waited for a much-hyped takeover boom in 2018 just got their gift of the new year -- Bristol-Myers Squibb Co. agreeing to buy Celgene Corp. for $74 billion in cash and stock.
As health care-focused investors hunt for innovative and fairly valued stocks, heavyweights from Bristol-Myers to AbbVie Inc. have been under pressure to make a deal. After a sector-wide slide punished high-flying small- and mid-cap stocks, the difference between bid and ask prices may be narrower than in the last few years, specialists say.
Celgene's management agreed to $102.43 a share, a 54 percent premium to the stock's closing price on Jan. 2 but 30 percent below its peak in October 2017. Bristol-Myers shares fell 15 percent last year. "If anybody should be in the middle of M&A either as a buyer or a seller, it should be Bristol," Brad Loncar, chief executive of Loncar Investments, said in a recent phone interview. "They need to find a way to get something done in a different space or risk getting acquired."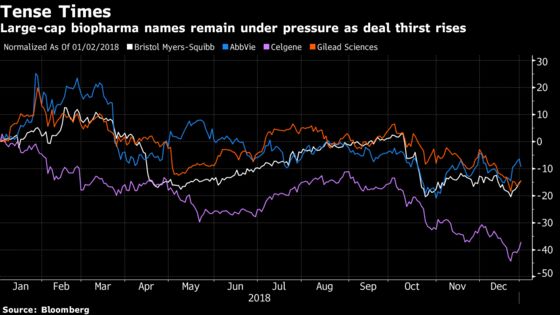 Here are some other companies that analysts and investors expect could make a splash in 2019 mergers and acquisitions:
Haves: AbbVie makes the world's best-selling drug, Humira, with $12.3 billion in U.S. sales during 2017 and expectations that it will top $20 billion in 2018. Sales of its Hepatitis C franchise are beginning to taper while its cancer drug, Imbruvica, should maintain blockbuster status for the time being.
Needs: The drugmaker probably has to diversify as copycat threats to Humira become more of a reality, giving investors pause. A number of business development hiccups have placed the company "deep in the penalty box," Loncar said, noting a deal could be perceived as a negative next step by the Street.
What's next: AbbVie's Humira concentration is a headwind for some investors who want the drugmaker to broaden its pipeline. Credit Suisse analyst Vamil Divan said by phone that speculation surfaced last year linking it to rare-disease names like BioMarin Pharmaceutical Inc. and Alexion Pharmaceuticals Inc., though smaller deals may be its best option.
Haves: Gilead's antiviral portfolio remains stable with Genvoya, its HIV combination, expected to remain its top-selling drug. Its $12 billion purchase of Kite Pharma Inc. in late-summer 2017 provides the company a pipeline within an asset, but as Bloomberg Intelligence analyst Asthika Goonewardene put it, the deal is "still in buildout mode."
Needs: Analysts have highlighted Gilead's need to expand its cancer footprint with names like Incyte Corp., Exelixis Inc., Clovis Oncology Inc., Neon Therapeutics Inc. and Gritstone Oncology Inc. potentially fitting the bill.
What's next: Wall Street applauded the naming of its new chief executive, Daniel O'Day, looking for new leadership to prompt an uptick in deals. O'Day's expertise with cancer, arthritis and respiratory drugs open the number of potential avenues for Gilead. Gilead recently announced pacts with Agenus Inc. and Scholar Rock Holding Corp. to expand its portfolio offerings.
Haves: Merck has been crowned the winner in the battle of immuno-oncology assets, as sales of its juggernaut medicine Keytruda are expected to top $15 billion by 2022.
Needs: Some investors and analysts have tempered hopes for another leg higher in shares, given the dependence on Keytruda. "If Merck did a deal outside of oncology, I think it would be very well received," Loncar said, though he doesn't see worries surrounding Keytruda.
What's next: Investors are itching for the drugmaker to spin off its animal health unit in a similar fashion to Eli Lilly & Co.'s Elanco Animal Health Inc. and Pfizer Inc.'s Zoetis transaction. A couple of smaller deals would win praise, according to analysts, with some highlighting Amarin Corp.'s Vascepa as a simple addition that would be logical.
Haves: A portfolio of more than five blockbusters, a plethora of cash and a dividend that helps it at times act more like a pharma company than a biotech heavyweight. Recently launched cholesterol and migraine drugs will be closely watched as keystone drugs face future competition from copycats.
Needs: A number of oncology companies could help "provide a potential leap for Amgen," BI's Sam Fazeli wrote. Amgen has recently brought a handful of products to the market though launches for drugs including Repatha, Imlygic, and Corlanor haven't lived up to expectations while Evenity suffered setbacks, BI's Goonewardene said.
What's next: With one of the larger war chests -- nearly $30 billion in cash and equivalents on hand at the end of September -- Amgen is at the top of Jefferies trading specialist Jared Holz's list to participate in deals in the next year. Some investors speculated the drugmaker could make a push for Bristol-Myers to pick up a checkpoint inhibitor.