These Are the Six Best European Media Targets After Sky Deal
(Bloomberg) -- Comcast Corp.'s $39 billion takeover of satellite TV company Sky Plc shows how much U.S. media companies are prepared to pay for European assets that help them compete with streaming giant Netflix Inc.
That's got bankers and analysts wondering who will get swallowed next in the hunt for original content and new audiences.
Walt Disney Co. could be on the prowl after losing a bidding war for Sky. Disney is starting a streaming service to rival Netflix next year and would benefit from more European shows and movies.
Discovery Communications Inc. is another potential buyer and John Malone's cable TV giant Liberty Global Plc will have spare cash after selling its German and Eastern European units to Vodafone Group Plc. Even Netflix and streaming rival Amazon.com Inc. could get in on the game, using M&A to gain local expertise and stop the best content going to other platforms, said OC&C Strategy Consultants senior adviser Mary Ann Halford.
Sky is rare in being a pan-European broadcaster. Most of the industry is a patchwork of companies making local-language shows for national audiences, so it would take more than one takeover to build a player with international clout.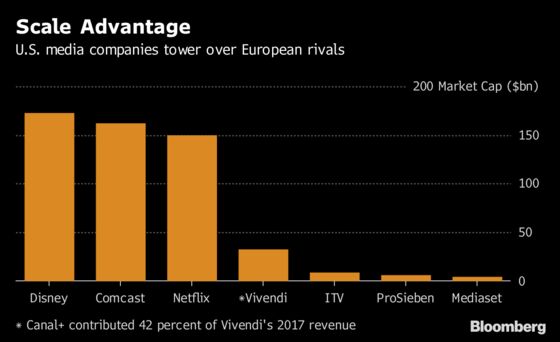 Cultural sensitivities are also at play. Governments may block takeovers by U.S. media giants for fear they would harm the unique variety of Europe's film and TV scene.
Here are some possible takeover targets. The companies declined to discuss their M&A prospects, or could not be reached for comment:
Britain's biggest free-to-air commercial broadcaster has a mass-market advertising business and a production unit that made hit shows such as 'Bodyguard' and 'Love Island'. Liberty Global has a 9.9 percent stake in ITV and has been mentioned as a potential bidder. ITV is very U.K.-focused, leaving any buyer exposed to the risks around Brexit, said John Enser, a media lawyer at CMS Cameron McKenna Nabarro Olswang in London.
Vivendi SA's pay-TV channel is a gateway to the euro area's second-biggest economy. With about 8 million subscribers in France, Canal+ "definitely has to be coming up on people's radars," said Kepler Cheuvreux analyst Conor O'Shea. Sky is absent from France so Comcast may see Canal+ as a way in. Cost cutting at Canal+ suggests Vivendi may be dressing it up for sale, O'Shea said. Yet politics could be an obstacle -- Canal+ is the biggest investor in the French film industry and a symbol of France's "cultural exception."
Endemol Shine transcends national borders with hit TV franchises such as "Big Brother" and "MasterChef", which are sold to broadcasters who then produce them for national audiences. The company is up for sale and is said to be drawing interest from Hollywood talent agency Endeavor and France's Banijay Group SAS.
Italy's largest commercial broadcaster Mediaset SpA has been on the lookout for a cross-border deal to combat the competitive threat from Netflix and Amazon's Prime Video. Its future outside Italy has been unclear since a partnership with Vivendi collapsed in acrimony in 2016. It has been losing pay-TV customers since its founder, former Italian Prime Minister Silvio Berlusconi, decided to cut spending on sports broadcast rights.
Germany's second-biggest private broadcaster has lost almost a quarter of its market value this year. New CEO Max Conze is stepping up spending on shows and plotting an "all-out digital attack" to defend a customer base of 45 million households in Germany, Austria and Switzerland. It generates more than a billion online video views a month and owns a studio that makes shows including drama "Bosch" for Amazon. Unlike its rival, Bertelsmann SE's RTL Group SA, ProSiebenSat.1 has no controlling shareholder to block a takeover attempt.
Nordic Entertainment Group
Set to be spun off from Sweden's Modern Times Group AB in the first quarter of next year, Nordic Entertainment Group AB has exclusive rights to broadcast content such as English Premier League soccer and Formula 1 racing. Kinnevik AB's distribution of its MTG stake leaves Nordic Entertainment Group without a large controlling stakeholder, and therefore more easy to acquire.