These Are the Sectors to Watch After May Strikes New Brexit Deal
(Bloomberg) -- Want the lowdown on European markets? In your inbox before the open, every day. Sign up here.
It remains unclear how much extra support the changes will have earned May, but the pound jumped as much as 1 percent overnight. While sterling strength could once again weigh on the exporter-heavy FTSE 100 index, it's also worth keeping an eye on specific sectors with the greatest Brexit exposure.
These are the key equity industries to watch on Tuesday:
Housebuilders are one of the most sensitive sectors to Brexit, given the impact the uncertainty has had on house prices and consumer appetite to spend.
Analysts at Citi wrote Tuesday that while concerns of no-deal Brexit have eased more recently, a sharp recessionary scenario could drive sector down 25-30 percent. That said, sentiment in the analyst community since the turn of the year has taken an upward swing:
Back in January, JPMorgan analysts double-upgraded their recommendation on U.K. home builders, arguing that the risk of a no-deal Brexit has now fallen to a point where domestic stocks look cheap.
Bank of America Merrill Lynch analysts also turned more upbeat on the industry mainly on the assumption that the chance of a no-deal Brexit has fallen.
Morgan Stanley said at the start of the year that U.K. housebuilder shares now offer upside even against the most conservative sell-side targets and that the risk-reward on the sector is skewed to the positive.
Investors cut or stopped purchases of commercial property in London this year as Brexit negotiations lurched from crisis to crisis. Spending on U.K. offices, malls and warehouses plunged more than 40 percent in the first two months of this year, according to research firm Property Data.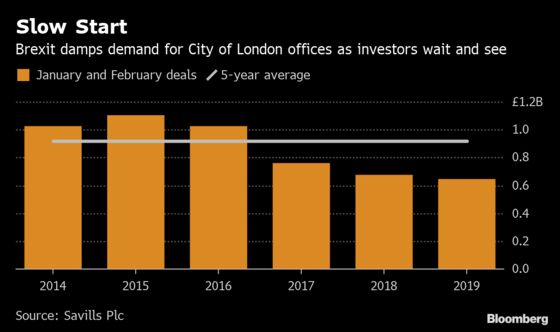 U.K. real estate share prices have been supported by an increased likelihood of an orderly Brexit through 2019, analysts at Liberum Capital noted in a note published Tuesday, while adding that the economic backdrop has arguably worsened and occupier demand is at risk from the divorce.
Berenberg is even more gloomy on the sector's outlook, saying in a February note that London's office market could be headed for a fall whether the U.K. leaves the European Union with or without a deal. Rich rents and prices, and a tough market for older buildings, means "the balance of risk is weighted firmly to the downside," it says.
Domestic lenders like Lloyds Banking Group Plc and Royal Bank of Scotland Group Plc would benefit from any certainty on the economic outlook and if consumer confidence was stronger.
Deutsche Bank AG noted in a recent note that U.K. bank shares outperformed their European counterparts in 2018 in part due to a narrowing of the "Brexit discount" baked into the stocks as the likelihood of a no-deal scenario diminished. Ultimately, Deutsche Bank analysts think the fundamentals are better for British lenders than for their continental peers and prefer U.K.-exposed names to more international companies like HSBC Holdings Plc.
Morgan Stanley strategists have said banks along with real estate, housebuilders, and retailers would outperform in the event of essentially anything but a no-deal. They also think the valuation of British stocks makes them particularly attractive.
Bank of America Merrill Lynch, however, has said there's little value in U.K. lenders under any scenario other than remain.
And S&P Global Ratings has said a no-deal Brexit could spark changes to credit outlooks for U.K. banks, albeit not rating downgrades in the short-term.
Retail, Leisure and Media
Brexit-related uncertainty has weighed heavily on the mood of British consumers. That impacts spending decisions and so has been a headwind for food and clothing retailers, airlines and tourism companies and even TV broadcasters.
The most recent trading updates from food retailers -- which covered the key Christmas period -- were peppered with Brexit, and both J Sainsbury Plc and Wm Morrison Supermarkets Plc sounded the alarm that British customers seem reticent to splash out. Tesco Plc, meanwhile, said it was holding talks to stockpile goods in the run up to the country's divorce from the EU.
Berenberg analysts highlight consumer stocks among the "unloved" U.K. mid-cap names that have been battered by Brexit-related uncertainty -- but where the fundamentals are holding up.
Kepler Cheuvreux analysts said a second referendum would be a "boon" for broadcaster ITV Plc, which has suffered from the downturn in advertising spend linked to Brexit.
The knee-jerk reaction to the unlikely event that the U.K somehow scraps Brexit would likely be positive across the board. But one area where that may not be the case is for those FTSE 100 names that earn the majority of their money overseas.
Anything that brings more clarity and doesn't point to an economic shock causes the pound to jump, reducing the value of money made outside Britain.
This would include the likes of drugmaker GlaxoSmithKline Plc, spirits maker Diageo Plc and big defensive stocks such as British American Tobacco Plc.
Oddo BHF strategists said they are betting on U.K. equities as the downside appears limited. A no-deal Brexit would likely hit the pound and would favor U.K. exporters, they said.
U.K. utilities would likely benefit from any market-positive outcome to the Brexit process, including remaining in the EU.
However, the no-confidence motion Labour has put forward raises the risk of new elections, which may be a headwind for water utilities in particular given previous Labour pledges to nationalize the industry.
In addition to U.K. water utilities and electricity companies, those running public transport like Stagecoach Group Plc or Go-Ahead Group Plc, postal service operator Royal Mail Plc and U.K. lender RBS have also been mentioned as possible nationalization targets by Labour.