These Are European Stocks to Watch in U.S. Vote
(Bloomberg) -- European renewable-energy, automotive and construction stocks are among those likely to benefit should Democrat Joe Biden win the U.S. election next week, while a second term for President Donald Trump might lift shares of fossil-fuel producers, drug companies and financial services firms.
That's the view from strategists, analysts and investors who are parsing the significant implications for trade, foreign policy and regulation from the vote on Tuesday. Polls show Biden beating Trump by 7.4 percentage points in the popular vote, based on an average compiled by RealClearPolitics.
Whether the outcome will be known in time for the start of European trading Wednesday is an open question, given a surge in mail-in balloting and the prospect of legal challenges.
While domestic monetary and fiscal policies will be the main drivers of European markets, "changes in the U.S. trade and regulatory frameworks could also influence prospects for certain sectors," said Frederique Carrier, head of investment strategy for RBC Wealth Management in London.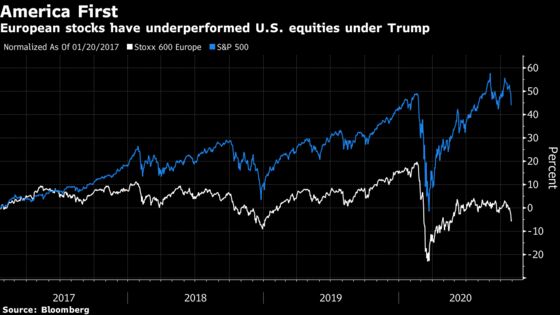 Here's a roundup of the key sectors to watch in Europe (all percentages mentioned are year-to-date performances):
Biden has outlined plans to spend $2 trillion on clean energy as part of his economic recovery plan. Europe has a global advantage in so-called green tech, said Rolf Ganter, head of European equities at UBS Global Wealth Management, predicting that the region's solar and wind energy leaders would get a major boost from a "blue wave" of Democratic victories.
Citigroup Inc. analysts said Vestas Wind Systems A/S (+63%) shares could drop 10% to 15% if Trump were to win as some of the strong performance in recent months for the Danish wind-turbine firm has likely been driven by the rising odds of a Biden victory.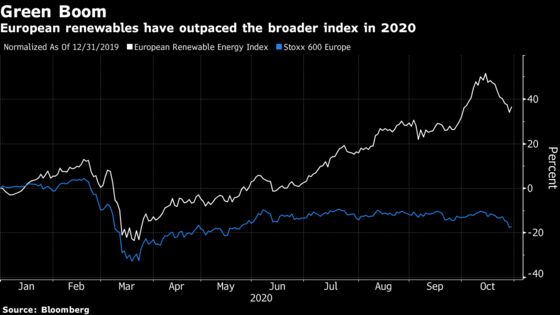 The Citi analysts said Vestas is the best-positioned to benefit from a Biden win, while other wind power plays like Siemens Gamesa Renewable Energy SA (+56%) and Nordex SE (+3.5%) could also get a boost. Germany's SMA Solar Technology AG (+7.6%) is another stock likely to gain, not only on the renewable push but owing to its expertise in large-scale battery power storage, according to analysts at Jefferies Financial Group Inc.
Other stocks to watch include renewables-exposed utilities like Iberdrola SA (+11%) and RWE AG (17%), National Grid Plc (-2.2%) and smaller green-tech stocks like Nel ASA (+107%), Ceres Power Holdings Plc (+163%) and ITM Power Plc (+224%).
In contrast to their greener peers, traditional oil majors would be among the biggest losers as Biden plans to accelerate the move away from fossil fuel, according to UBS's Ganter. That would add to pressure on the sector to go greener in Europe too.
Conversely, should Trump win a second term that could provide a relief rally for energy as the fear of greater regulation on the sector recedes, RBC's Carrier says. The key names to watch will be Europe's oil majors including BP Plc (-59%), Royal Dutch Shell Plc (-59%) and Total SA (-47%).
European carmakers are seen as the biggest beneficiaries of a Biden win from the reduced risk of a trade war between the U.S. and Europe, after Trump's threat to impose tariffs on the region's imported cars had put pressure on the sector.
Fiat Chrysler Automobiles NV (-20%), Michelin (-17%) and Daimler AG (-10%) are the most exposed companies to the U.S. market, according to UBS Group AG analysts. Volkswagen AG (-28%), meanwhile, has a smaller business in the U.S. than its peers but would benefit from a push under a Biden administration toward electric vehicles given its early investment in the sector, Jefferies analysts said.
The U.S. government further incentivizing electric vehicles would also bring benefits for that sector's supply chain, not just with cars but also opportunities in commercial vans, trucks and public transport, Berenberg analysts wrote in a recent note. Battery-cathode makers like Johnson Matthey Plc (-29%), Umicore SA (-24%) and battery manufacturer Varta AG (-11%) are among the stocks positively exposed to this trend.
Construction and Infrastructure
JPMorgan Asset Management fund manager Michael Barakos says both Biden and Trump are likely to pump money into infrastructure, so the outcome will be positive for European construction and infrastructure stocks either way.
Building-materials companies with high U.S. exposure are the best-placed, according to Jefferies. This includes building materials suppliers CRH Plc (-16%) and Ferguson Plc (+13%) and cement makers Buzzi Unicem SpA (-19%), HeidelbergCement AG (-25%) and LafargeHolcim Ltd. (-24%). Industrial-equipment rental firm Ashtead Group Plc (+17%) would also benefit from an increase in infrastructure work.
Biden's green plans could also provide a boost to companies involved in retrofitting offices, homes and schools to make them more energy-efficient, including using more LED lighting and new heating and ventilation systems.
Citigroup Inc. analysts said Dutch lighting firm Signify NV (+9.3%) should capitalize the most from increased adoption of LED lighting. Other electrical products groups like Schneider Electric SE (+14%), Legrand SA (-13%) and Rexel SA (-23%) also stand to benefit, as do insulation makers like Kingspan Group Plc (+39%) and Rockwool International A/S (+59%).
The pharmaceutical industry tends to face heightened scrutiny at election time. The intensity of this could be lower this year, as the race to develop a Covid-19 vaccine mean U.S. politicians will be less focused on drug industry reform, said Ketan Patel, a fund manager at EdenTree Investment Management.
But any relief for the drug industry is likely to be short-lived, particularly if there is a "blue wave" where the Democrats win the White House, the House of Representatives and the Senate. If that doesn't happen, health care will likely be a "big beneficiary" as current valuations in the sector don't match the strong fundamentals, likely due to policy-related uncertainty, Bloomberg Intelligence Chief Equity Strategist Gina Martin Adams said.
Most large European pharmaceutical groups get a big percentage of their sales from the U.S., but AstraZeneca Plc (+2.9%), Novartis AG (-23%), Roche Holding AG (-6.8%) and Novo Nordisk ASA (+7.9%) are all particularly sensitive to U.S. drug-pricing reform. Barclays Plc also highlighted relatively high Medicare exposure for H. Lundbeck A/S (-30%) and Genmab A/S (+46%).
For European banks, the most important outcome would be an uncontested election result that doesn't create a new bout of uncertainty for markets, Jefferies said. A Biden win would likely be a negative given the potential for tax hikes and new regulation on both the banking sector and capital markets.
Banco Santander SA (-55%), BNP Paribas SA (-44%), Barclays (-40%) and BBVA SA (-52%) all have material operations in the U.S. and so could be affected, the broker said.
UBS strategists see European technology stocks, and especially hardware companies, at risk from higher U.S. corporate taxes because the latter get 29% of revenue from the country.
At the same time, according to Allianz Global Investors' portfolio manager Marcus Morris-Eyton, if a Biden White House were to facilitate an easing of the U.S.-China trade war, this could be supportive for Europe's semiconductor sector.
Barclays analyst Andrew Gardiner added that companies like Infineon Technologies AG (+18%) and STMicroelectronics NV (+10%) would benefit from more electric vehicle adoption, while Ericsson (+22%) and Nokia Oyj (-12%) should also be boosted by greater U.S.-Europe collaboration as 5G technology is rolled out.
UBS added that a boost to U.S. consumer spending could also be a "strong positive" for the luxury-goods sector. It said Louis Vuitton owner LVMH (-2.9%) stands to benefit the most, along with eyewear group EssilorLuxottica SA (-22%) and sports-apparel maker Adidas AG (-11%).
But Jefferies said a Biden win implies likely tax hikes, which could hamper the spending power of middle-class consumers and, in some cases, wealthy ones too. As such, a Trump victory may be slightly more beneficial to luxury houses and it highlights Burberry Group Plc (-39%), Salvatore Ferragamo SpA (-41%) and Brunello Cucinelli SpA (-18%) as businesses with high exposure to the U.S. market.
A large infrastructure spending plan, most likely to materialize with a "blue Wave," also could increase demand for copper, steel and nickel, according to Bloomberg Intelligence senior analyst Daniel Kang. If such an outcome also results in better ties with China, that could help base metals demand too, he said. And green stimulus spending could boost sales of silver for solar panels and for copper and nickel in electric vehicles.
Jefferies said the best-positioned stocks in this scenario include Anglo American Plc (-18%), Antofagasta Plc (+12%) and Glencore Plc (-35%), while Oddo BHF's model notes steelmaker ArcelorMittal (-25%) among the beneficiaries of a Biden win.
A Trump victory, meanwhile, might be positive for gold, which has seen another bump recently due to election-related uncertainty, Kang said. That would continue to help high-flying gold miners in Europe like Polymetal Plc (+40%) and Fresnillo Plc (+80%).