These 3 Coal Plants Might Not Get Japan Funds Under New Rules
(Bloomberg) -- Three coal-fired power plants under consideration in Vietnam, Botswana and Mongolia supported by Japanese banks probably wouldn't be eligible for financing under more climate-friendly guidelines emerging from the Asian country's financial institutions, according to research by a climate-change advocacy group.
The facilities, with a combined capacity of 2,070 megawatts, fall short of some of the stricter financing guidelines set by Japanese banks this year because they fail to use more advanced air-pollution technologies, Market Forces said in a report to be published Tuesday. The Australia-based group, which advocates for climate-friendly investment, identified 10 coal-fired power projects for which at least one of Japan's three major banks are providing advisory services or considering loans.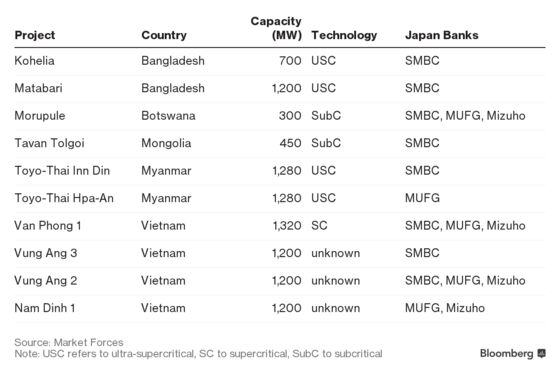 Market Forces analyst Bernadette Maheandiran said Japanese financial institutions that have announced stricter coal-financing policies should implement the new rules for projects under consideration.
"While the banks consider projects long before financial close, they are not committed until loan agreements are signed," she said in an email.
Read more: Nippon Life Takes Hard Line in Japan's Anti-Coal Finance Shift
Sumitomo Mitsui Banking said in June it wouldn't help finance new coal-fired generation if the emissions technology was below the so-called ultra-supercritical category. Policies for new projects announced by Mitsubishi UFJ Financial Group and Mizuho Financial Group would preclude their involvement in the Botswana and Vietnam ventures, Maheandiran said.
It's unclear what impact the policy shifts will have on projects already under consideration. Sumitomo Mitsui has said it would consider exceptions for projects where it has already committed support or where the Japanese government or multilateral development banks' support are confirmed. A spokesman declined to say if the power plants will be exempted from the bank's new policy.