There's One Word That Looms Large in Oil's Future: Plastics
(Bloomberg) -- A growing need for more plastics and petrochemicals in the developing world will be the leading driver of oil demand, outpacing planes, trains and automobiles, according to the International Energy Agency.
Petrochemicals will account for more than a third of the nearly 10 million barrels a day of oil demand growth through 2030, and nearly half of increased consumption through 2050, adding nearly 7 million barrels a day by then, the agency projected in its Future of Petrochemicals report.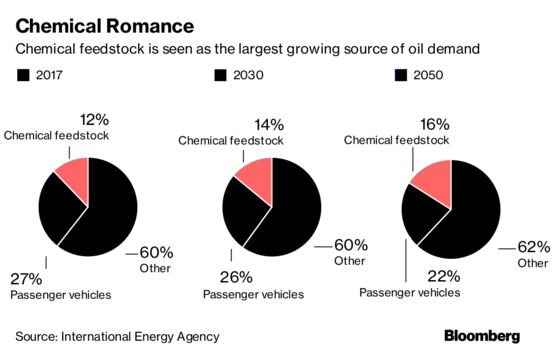 The demand growth underscores the increasing importance of petrochemicals to the oil and gas industry as traditional uses such as transportation and power are siphoned off by electric vehicles and renewable energy. Advanced economies like the U.S. used up to 20 times more plastic per capita than developing countries like Indonesia, underscoring the potential for growth in emerging markets, the agency said.
"The combination of a growing global economy, rising population, and technological development will translate into an increasing demand for petrochemical products," the agency said in the Oct. 5 report. "Petrochemicals are rapidly becoming the largest driver of global oil consumption."
Oil demand in the petrochemical sector comes from a few streams of the refining process, mostly naphtha, ethane and liquid petroleum gases, that are used as feedstock to make plastics and other specialty chemicals. About 12 percent of oil demand went into those in 2017, and that's seen rising to 14 percent in 2030 and 16 percent in 2050. Passenger vehicles account for the largest share, though that's seen falling from 27 percent in 2017 to 22 percent in 2050.
Demand for plastics is the key driver for petrochemicals. Packaging, from bottles to food wrappers, is the largest segment of the the plastics market, accounting for about 36 percent of global demand. That's followed by construction materials and clothing. As well, petrochemicals is the largest industrial consumer of energy, ahead of cement or iron and steel.
Recycling and efforts to curb plastic use in developed economies, such as banning drinking straws, will be outweighed by larger increases in consumption in emerging economies, according to the report.
The shale boom is giving U.S.-based petrochemical plants a feedstock advantage with abundant amounts of ethane that can be steam cracked into ethylene, a building block for plastics. China is projected to nearly double its capacity of a coal-based process to produced plastic building blocks from methanol by 2025. In the long run, Asia and the Middle East are seen as the big drivers for production growth.