There's More Than Just Bromance Helping Ruble Ignore Crude Slide
(Bloomberg) -- The day President Donald Trump met Vladimir Putin, oil collapsed to a three month low. Ruble traders didn't seem to care a jot.
The cozy performance by the two leaders at the Helsinki summit may have encouraged some investors that geopolitical tensions between Russia and the U.S. won't escalate. But Deutsche Bank AG, Rabobank and Morgan Stanley listed a host of other reasons why the ruble and Russian local debt can brush off the steep downturn in oil. While Russia's key export earner has slumped more than 10 percent this month, the ruble has so far posted a 0.4 percent appreciation.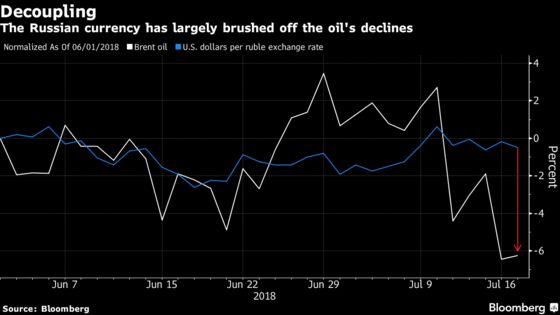 Meanwhile, the government's policy of buying up windfall oil revenue has snapped the ruble's traditional shackles to crude, regardless of which direction the oil price takes, according to Societe Generale SA.
"A conservative central bank, signs of commitment to fiscal tightening and efforts to reduce reliance on external demand for Russia's oil and gas are factors supporting the ruble," said Piotr Matys, an emerging-markets currency strategist at Rabobank in London. "The Trump-Putin summit marked the first important step on the long path that perhaps leads to a more constructive relationship between the U.S. and Russia, which would stimulate both capital inflows and foreign direct investments."
Morgan Stanley said on Monday it's staying bullish on local OFZ bonds because of their appeal as a carry trade, in which investors borrow in currencies where rates are low and invest in the local assets of countries where they are high. Local OFZ bonds have brought investors a 2.3 percent gain in dollar terms over the past 30 days compared with a 0.1 percent return for emerging-market local debt overall, Bloomberg Barclays indexes show.
The ruble closed up 0.4 percent on Monday after the summit, even as oil tumbled 4.6 percent amid concern about Saudi Arabia offering extra crude volumes on top of its contractual supplies.
Trump said a two-hour, one-on-one meeting with Vladimir Putin was a "good start" although he and Putin announced no progress on any matter where cooperation may have been possible, such as Syria. On Tuesday, Trump issued a public clarification of his remarks on alleged electing meddling, which had ignited a firestorm of criticism from both Democrats and Republicans.
The currency traded 0.7 percent weaker as of 11:34 a.m. on Wednesday and the benchmark MOEX stock index fell for a third day, dropping 0.7 percent to 2,295.85. Brent was down 1 percent little changed at $71.42 per barrel.
"The correlation between oil and the ruble is nothing like it used to be, you can forget about it," said Yury Tulinov, an analyst at Societe Generale's local unit Rosbank. Corporate tax payments and dividends are also helping the Russian currency, he said. SocGen on Wednesday recommended a long position in Russia's December 2021 local bond.
While the 30-day correlation between the ruble and oil is up to 0.4 from being negative in May, it remains weak--especially compared with the almost perfect correlation of 0.9 seen in 2016.
"The ruble benefits from high real rates, low and only gradual rising inflation pressure, a hawkish central bank, attractive carry, improved fiscal discipline and compared to peers low sensitivity to external shocks," Deutsche Bank analysts, including Christian Wietoska, who called the ruble their preferred currency within EMEA, said in a note.
The currency "remains cheap versus oil," he said.