The Tories Who Could Force May to Keep Britain Closer to Europe
(Bloomberg) -- Mark Pawsey faces a Brexit dilemma. While a majority in the Conservative lawmaker's central England constituency voted to leave the European Union, many of them work at nearby Jaguar Land Rover or its suppliers—and he fears trade barriers could put their jobs at risk.
So Pawsey, who has represented Rugby for eight years and voted Remain in the 2016 referendum, wants the government to keep Britain in a customs union with the EU after Brexit to prevent major new obstacles to trade.
And there are enough members of Parliament who think like him to force Prime Minister Theresa May to concede, in what would be a dramatic climbdown that could put her leadership in doubt.
"More and more MPs are beginning to mutter under their breath that they might have to act on the customs union, and actually put their head above the parapet," said former Culture Minister Ed Vaizey.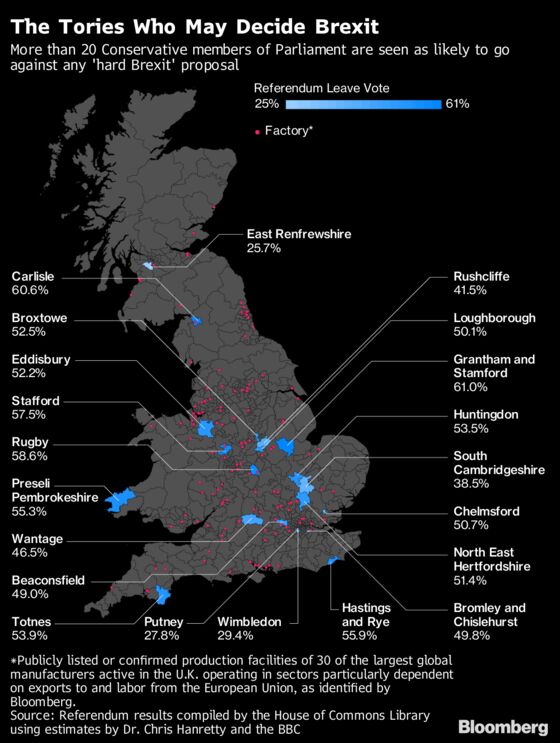 May needs to navigate the rival demands of Conservative lawmakers with wildly different views of what Brexit should look like. But while hardliners like Jacob Rees-Mogg share their views freely to apply pressure, many who back closer EU ties are keeping a lower profile.
It's those Tories, from areas with much to lose from a hard Brexit, that could ultimately decide what the U.K.'s future outside the EU looks like. Bloomberg calculations show that 20 or more could align with opposition parties to defeat May if she panders too much to Brexiters' demands.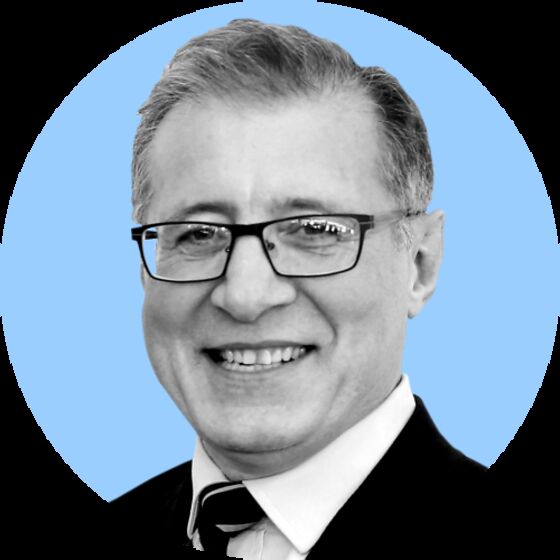 Some want to stay in the existing customs union, others seek a version with tweaks, and others would accept some variant of a union that minimizes new obstacles to trade. Rebelling is a big step, and many are giving May a chance to come up with a compromise on customs that they can live with.
"I'm keen to see us in a close trading relationship with the EU while respecting the vote of my constituents," Pawsey said.
With no parliamentary majority, May has stalled on putting Brexit legislation back in front of the House of Commons—but she will finally bite the bullet in June. Eleven Conservatives rebelled in December, defeating the prime minister and giving Parliament a meaningful vote on her final Brexit deal later this year.
Rebels have tabled amendments to her trade and taxation bills that would force her to try to stay in a customs union. That's in addition to the 15 changes to May's EU withdrawal bill inserted by the House of Lords—including one on the customs union. The common trading regime eliminates tariffs between members while imposing a common external tariff for imports from third countries.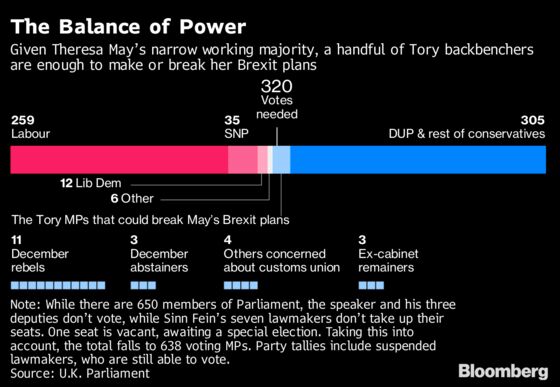 How the main opposition Labour Party votes is also key to the parliamentary arithmetic, and the party line is to seek a new customs union with the EU. But some of its lawmakers are pro-Brexit and could even support May—though only two did in December.
There's plenty of ammunition for pro-EU lawmakers to question the government's plans for Britain's post-Brexit ties to its biggest trading partner. A leaked government economic analysis in January showed that even the softest divorce would shave 1.6 percent off projected economic output in 15 years' time, with the worst-case scenario leading to a 7.7 percent hit.
The picture is even starker in northern England, Northern Ireland and parts of the Midlands—home to Pawsey's constituency—where the output loss could exceed 10 percent.
Antoinette Sandbach, who represents Eddisbury, near Liverpool in northern England, also worries about jobs—citing the government research. Many people in her constituency, which voted 52 percent in favor of Brexit, work for multinationals including Airbus SE in nearby Broughton, or at the PSA Group car plant in Ellesmere Port. One of 15 pro-EU Tories dubbed "mutineers" by the Daily Telegraph last year, Sandbach rebelled in the December vote.
"We must leave the political institutions, but we need to do it in a way that doesn't destroy the economy of the northwest," she said.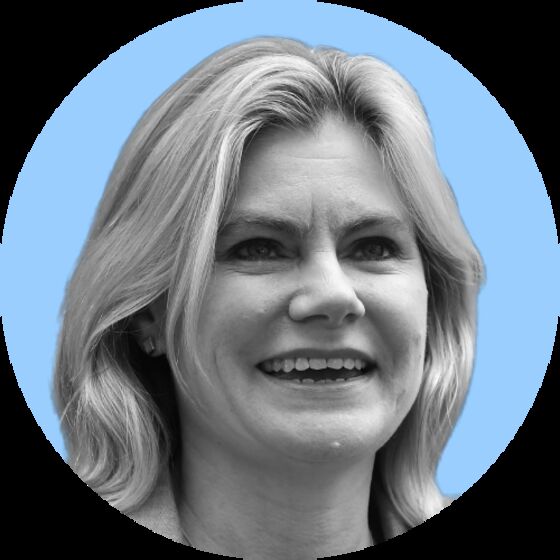 Former Education Secretary Justine Greening, who left May's Cabinet in January, may also join the rebel ranks. She told The Times newspaper that getting Brexit right "is above party politics," and that "the national interest has to come first."
Just over an hour by car from Pawsey's constituency is Stafford, represented by Jeremy Lefroy, where U.S. conglomerate General Electric Co. is a major employer, as are Jaguar Land Rover and Toyota Motor Corp. in nearby electoral districts.
Lefroy, along with Vicky Ford and Tom Tugendhat, was a Telegraph "mutineer" who ended up voting with the government in December. But he flagged the concerns of small- and medium-sized suppliers to the automakers, and said unions at major manufacturers have written to him about the loss of jobs if May doesn't secure a favorable Brexit deal.
"Customs arrangements need to be as smooth as possible; any friction not only wastes time, it wastes money," he said.
Lefroy supports May's preferred option for customs, a so-called partnership model in which Britain would levy tariffs at EU rates and provide refunds for goods destined to domestic markets if U.K. tariffs are lower.
It's one of two options being analyzed in Cabinet, but the prime minister is under pressure from the pro-Brexit camp to abandon it. Their preference is for "maximum facilitation," or trusted trader programs and technology to regulate Britain's border with the EU.
If cabinet ministers don't make their minds up soon, they may find that "Parliament will be making the decisions for them," former Work and Pensions Secretary Stephen Crabb told the BBC earlier this month.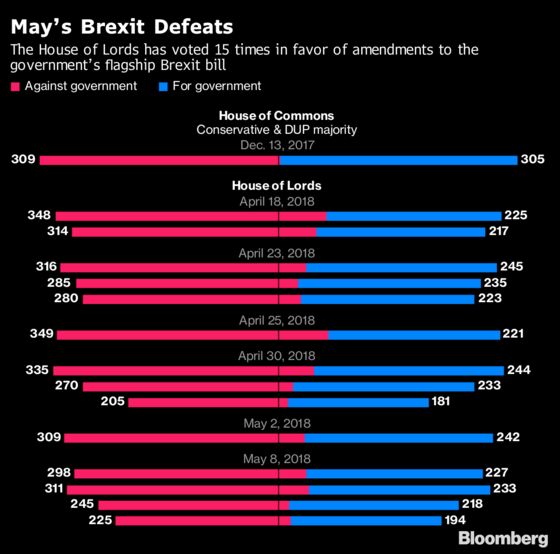 And if May eventually sides with the Brexiters, she's likely to face a rough ride. Britain's longest-serving MP and a leading anti-Brexit rebel, Ken Clarke, described their plan as "utterly fanciful."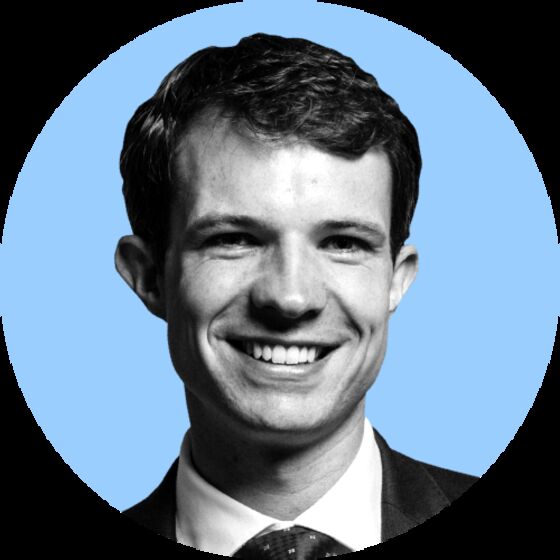 Andrew Bowie, one of 12 new Scottish Conservative MPs elected last year, said he supports May's partnership idea. While his West Aberdeenshire and Kincardine constituency harbors large oil companies such as energy giants Total SA and Abu Dhabi National Energy Co., he's concerned about smaller businesses which depend on the North Sea oil and gas industry.
Some rely on parts, machinery and labor from Europe and work to a "just-in-time" system that penalizes customs checks or delays, he said.
Even so, Bowie said he's "not going to die in a ditch" over the customs issue—a stance some predict will be the ultimate view of the bulk of Conservative MPs who decline to rebel.
Paul Masterton is another new MP in Scotland, and while his East Renfrewshire district, south of Glasgow isn't a hotbed of exporting or manufacturing, many constituents work in local universities and fear the loss of EU funding. His interest in customs reflects his broader concern about the economy. One of the Telegraph's "mutineers," Masterton abstained in the December rebellion.
"It depends on the scenario," he said when asked about rebelling. He wants to avoid tying May's hands, but views it as a "bulwark" against Rees-Mogg's group of hard Brexiters. If they force the premier to "artificially knock options off the table, then that's a tool that's there in the background," he said.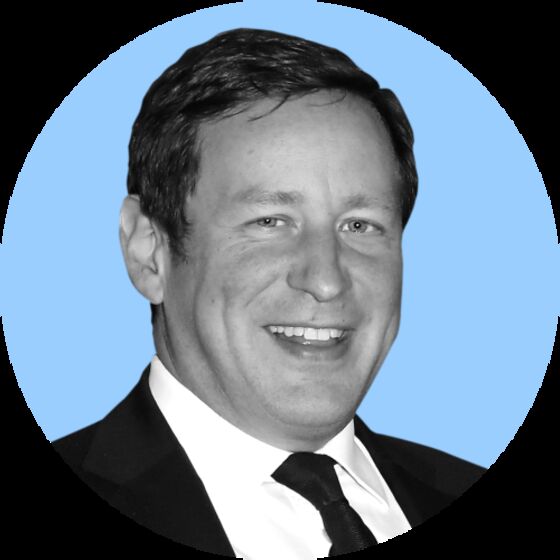 Vaizey also abstained in the last rebellion. His Wantage constituency near Oxford is a hub of innovation that includes the diamond light synchrotron—essentially a giant microscope—and Europe's largest technology business park. BMW AG also has a plant 20 minutes away. He said manufacturers and suppliers could be "decimated" without a customs agreement.
"I'm not a natural rebel," he said.
But his comments suggest he may become one.
"I'm keeping my powder dry on what I do on the customs union, because I want to give the prime minister some time to come up with a solution," Vaizey said. "I'm hoping the Brexiteers will be prepared to compromise rather than stamping their feet."