The 'Pain Trade' Anesthesia Was Patience All Along: Taking Stock
(Bloomberg) -- The good news this morning is that the gains seen on the back of the FOMC decision Wednesday are holding, even through what could have been disruptive official PMI figures from China. Italy also fell into a recession, but the U.S. for its part has largely ignored this factor.
China's figures instead pointed to a stabilizing deterioration, according to Bloomberg Economics' Chang Shu and David Qu. Its important to view its growth in the context of the high-level trade talks with the U.S., which are set to finish today. BI Economic Research estimates that the current tariffs will trim 0.5% off China's GDP over the course of the year, though China has launched a "proactive" fiscal policy to massage growth. To what extent these opposing forces work against one another may be key in determining how successful the talks go. Markets will likely be in a holding pattern until reports start to shade the outcome later today.
With this many FAANG stocks reporting in such close proximity, casualties of attention were bound to occur, and it just so happens that the 2nd largest company on Earth (AMZN edged MSFT out slightly Wednesday. The two giants are now within a $1 billion in market value) had to take a back seat. Also in the back seat was the company with one of the most eccentric leaders (though the big surprise for Tesla was another executive was leaving -- the CFO this time; their deliveries forecast of 360k to 400k missed Morgan Stanley's 412k estimate).
Facebook dominated post-market trading, and held to its substantive 12% gains after sending a signal that scandals failed to limit their growth (revenues and daily active users both beat expectations). A byproduct of scandals perhaps, was cost (headcount +42% y/y) , which notably rose at a faster pace than revenue, which could pose concerns if the trend were to continue. CFO Wehner on the call was quick to point out that after 2019, "we'll have expense growth more in line with revenue growth."
What's staggering about the move (yes, shares have been pummeled over the last year), is that it comes off a 4.3% gain in regular trading (a nearly 2 std-dev move), with just a little bump from the FOMC (though you can't deny the momentum). Facebook is now poised to open just above its 200-DMA average -- a level it hasn't seen since August. JPMorgan for one reiterated FB as a Best Idea, with the social network "back on the offensive."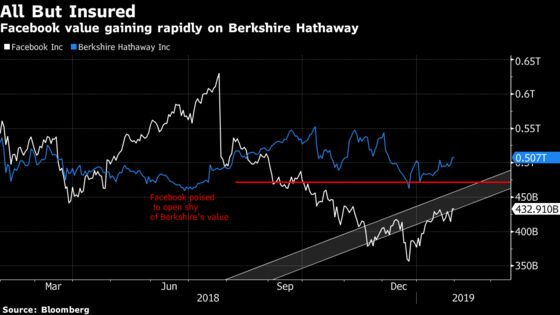 FAANGs took ownership Wednesday on the back of Apple results and you can see the monolithic buying -- Alphabet (which doesn't report until Monday) was up 2.6% (and another 1.4% pre market), Tesla rose nearly 4% ahead of its results, and even Netflix gained 3.6% (earnings were nearly two weeks ago).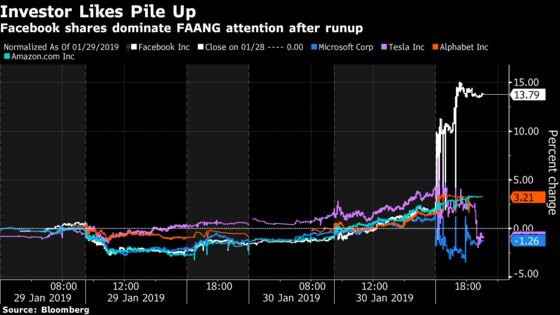 Amazon is next up post-market and it should aim to avoid Microsoft's fate. Though the operating system provider said cloud demand was intact for the quarter in their results (+48% y/y vs Keybanc's est. of ~45%), investors still punished the company for missing expectations. Nomura said they were "encouraged" by the Azure revenue growth. Tesla was also punished, especially after the CFO announcement, given shares were only down fractionally after results and comments from leadership indicated optimism about profitability in 1Q (vs "tiny profit" in 4Q). Options had been pricing in a larger than normal expected share move of 11%.
We also can't forget the other giant that looms over market sentiment. GE results. The only thing that matters is their assets and what they intend to do with them, so those looking for a middling report that may still boost shares (like we've seen with other recent industrials like MMM, CR, PCAR) be warned. Their revenue beat and they settled with the DOJ, likely providing a small boost to shares. JPMorgan's Tusa, the prescient bear (and now agnostic neutral) who called it all the way down to the bottom, still expresses frequent skepticism. The industrial isn't doing itself any favors with moves like amending the Wabtec deal, the adjusted terms of which had many scratching their heads.
The range bound market we've seen of late ahead of the FOMC meeting and major earnings catalysts has led a few on the Street to describe the "pain trade" as clearly to the upside. Nomura strategists describe seeing "some jittery price action" in response to major earnings, with limited longer term impact from the results failing to galvanize investors to action. The tendency in the S&P did feel higher over the past few days despite the consolidation, and as Bloomberg Chief Equity Strategist Gina Martin Adams wrote, the longer we remain above the 50-DMA and 50% retracement, the stronger signal that January's recovery is part of a new uptrend.
The Fed Wednesday then sent a message loud and clear.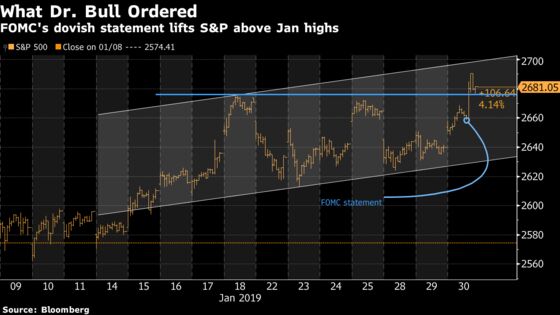 It was the best case scenario for stocks, with the " further gradual increases" language now removed and the Federal Reserve opting to "be patient" on additional interest rate moves. Ten-year yields dropped, and all sectors rose. Gold spiked, with some gold miners hitting "overbought'' levels, as my colleague Aoyon Ashraf wrote. Even the biggest laggards, media names (almost entirely off of weak pay TV subscriber trends disclosed at AT&T, according to Evercore's Vijay Javant), got a small lift. Goldman Sachs for one (and a slew of other analysts) lowered their odds for a hike in 2Q to 25% from 55%.
I'm sure there's a conspiratorial tendency to assume the action was some special nod to President T (who had been overtly critical of the Fed Chief and a tightening Fed for some time), but I'll go ahead and note that the decision was a unanimous 10-0, so that would have to be some serious coordination.
Casinos (LVS, MLCO, PENN, BYD) after Wynn's growth and revenues exceeded expectations
Gold stocks after they spiked following the FOMC's rate decision.
Electronics manufacturing stocks (SANM, BHE, FN, PLXS) (again) after Flex Ltd.'s results beat the highest estimate
Staffing companies as Manpower reports following RHI's intraday performance Wednesday that was the best in 6 years (others to watch ASGN, KFY); Barclays asked if RHI's results were "as good as it gets" after citing the strong labor market and maintained revenue growth
Steel names, as X gave back some of its Wednesday gains after it rose+22% in Jan (Bloomberg data noted that revenue estimates had outpaced industry data)
Payments companies after Visa and Paypal results disappointed, MA reports shortly
Software cloud names like SPLK, PFPT, CTXS after ServiceNow's subscription revenue and billings growth beat
Packagers after a series of earnings and BERY's consideration to create a rival bid for RPC Group (watch BMS (just reported inline), WRK (just beat), IP, BERY)
Semi cap and memory names LRCX, AMAT, AMAT, MU after Samsung echoed Hynix's view that memory chip demand will likely pick up in the 2H of 2019
In some of the few actions out of earnings, Citi rates Bilibili as a new buy given its position as a "Go-to" entertainment platform for Generation Z. The $22 price target is a Street high, and analyst Hillman Chan sees minimal direct competition for the company. Expects monthly active users (MAUs) to rise to 140 million in 3 years from nearly 93 million now.
Telsey is "constructive" on the apparel segment, and upgrading Ralph Lauren to outperform. Expects the top line to improve along with margin expansion. The analysts cite the strength of the consumer, healthy inventory levels and product enhancement in the space. Sees companies in apparel as likely having plans in place to minimize the impact from tariffs. PVH is still their top pick.
Tick-by-Tick Guide to Today's Actionable Events
Things Conference
Waste Management Phoenix Open is played at TPC Scottsdale
7:30am -- Jan. Challenger Job Cuts
7:30am -- GE earnings call
8:00am -- DWDP earnings call
8:30am -- X earnings call, UPS earnings call
8:30am -- 4Q Employment Cost Index
8:30am -- Weekly Initial Jobless Claims, Continuing Claims
9:00am -- MA, MO earnings call
9:45am -- Jan. Chicago Purchasing Manager
9:45am -- Weekly Bloomberg Consumer Comfort
12:00pm -- COP earnings call
5:30pm -- AMZN earnings call